Startup Fukuoka City case study:
More efficient communication using Typetalk
Executive Summary
Fukuoka City is Japan's fastest-growing startup hub, and the municipal government actively promotes and supports local startups through initiatives such as the Fukuoka Global Startup Center. At international events, for example, they organize an exhibition booth called STARTUP CITY FUKUOKA.
They were using email for event coordination, but it was messy and inefficient, leading to miscommunication issues. Typetalk's design and function made it easier to communicate, organize information, and retrieve messages when needed. Its mobile app also made it convenient for them to work on-the-go, especially when abroad.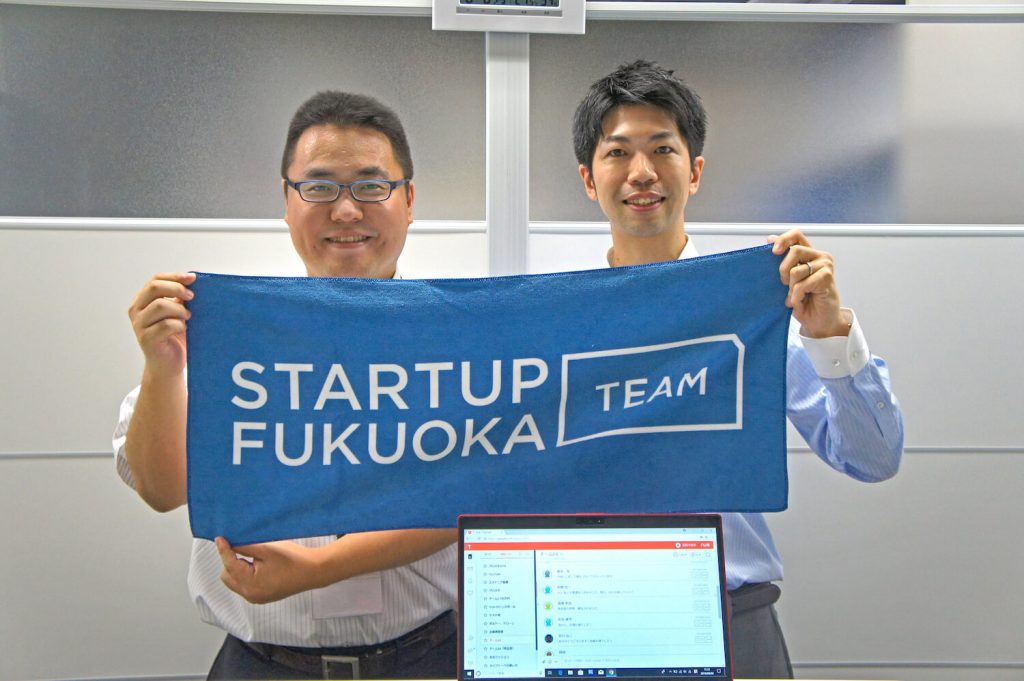 From left:
Koji Inokuchi – National Strategic Special Zone, Startup Promotion Program Chief, Planning & Coordination Department, General Affairs & Planning Bureau of Fukuoka City.
Daisuke Hiura – National Strategic Special Zone, Startup Promotion Program IC (In-Charge), Planning & Coordination Department, General Affairs & Planning Bureau of Fukuoka City.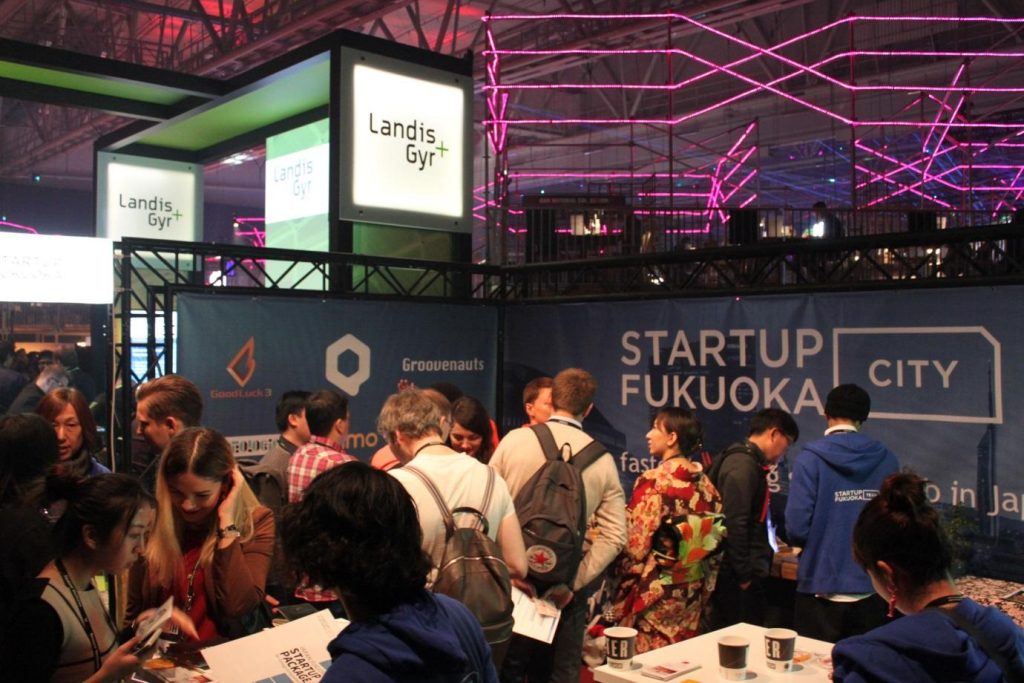 STARTUP CITY FUKUOKA exhibited at Slush in Helsinki, Finland.
Challenges
To prepare for overseas events, they communicated and shared promotional materials such as publicity images, schedules, and event location maps using email. But information and files were scattered across various emails, making it difficult to find and organize.
This resulted in frequent miscommunication and long response times. Such issues were compounded during overseas work trips as they were on the move with limited time to sort through emails.
While they were looking for a solution, they came across Typetalk which was listed as a certified Excellent Trial Product by Fukuoka City Hall in 2017. The certification recognized Typetalk as an outstanding product by a local SME (small and medium enterprise) and verified that it passed rigorous security reviews by the government.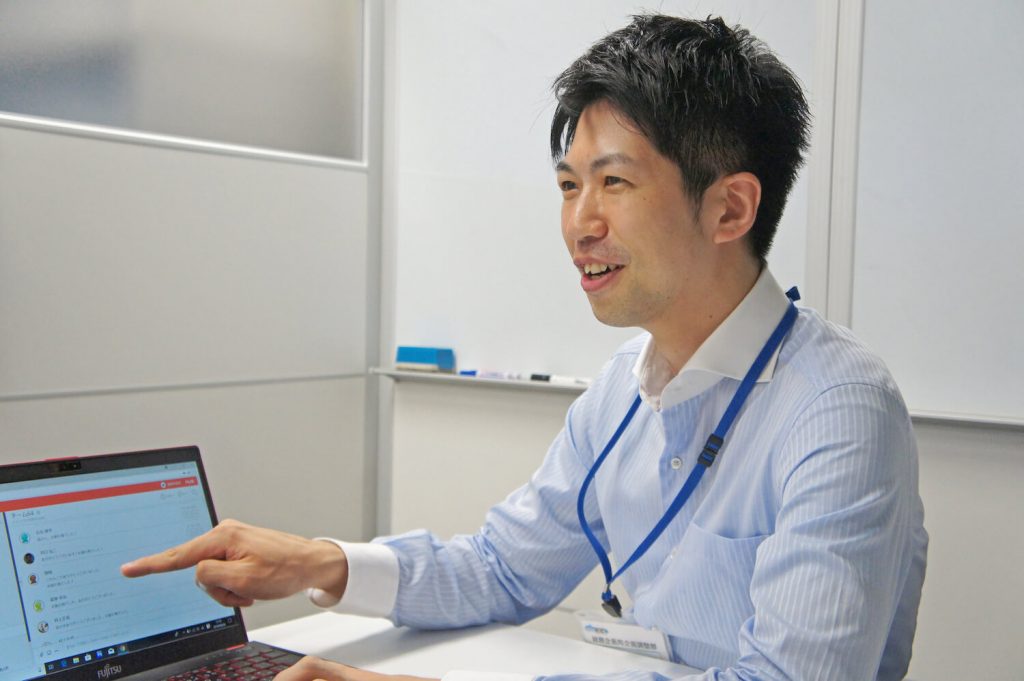 Daisuke Hiura, Startup Promotion Program IC
"I used to use e-mail before, but when I was traveling abroad, it took excessive time to exchange and find the necessary information."
How Typetalk Helped
Typetalk has great searchability: Messages can be searched by keyword, member, date, and file attachment.
Its visual design and functions like @mention and reply threads help make conversations highly readable and smooth to follow without confusing users.
Furthermore, Typetalk messages can be given tags, e.g. #presentationMaterial, making it easy to recognize relevant messages at a glance and aggregate important information under a single, labeled location.
Such features have made organizing and retrieving information in Typetalk a breeze for the team, especially when traveling. Since they often travel for overseas events and exhibitions, they love having the convenience of the Typetalk mobile app that allows them to exchange messages and files, and stay in touch with the central office from anywhere.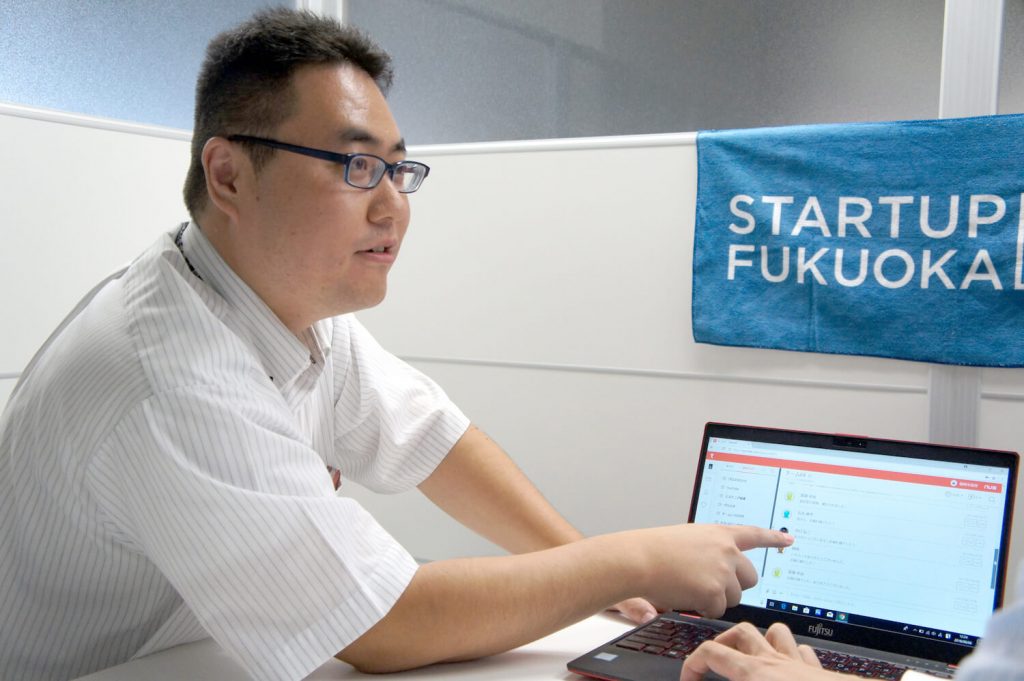 Koji Inokuchi, Startup Promotion Program Chief
"I sometimes still use email, but Typetalk can send images and materials with just a few taps, making it much easier to use."
As for security requirements, Typetalk is ISO certified and has various measures implemented to protect user data, so they are confident in its security for work.
All in all, they feel that Typetalk has had a positive impact on their work – it's easier now to find and share information, and previously frequent issues with miscommunication are resolved
Future plans
After the success of Typetalk in the startup promotion program, other departments in Fukuoka City Hall, such as the Content Promotion Section, have followed suit. They would like to continue spreading the usage of Typetalk to more teams and departments.
In addition, they hope that more associated startups are introduced to Typetalk so that they can centralize their communication in Typetalk when conducting work on overseas events.
"We use Typetalk for communication between Fukuoka City Hall staff, and email for communication with external parties, such as startups. However, companies that we have introduced to Typetalk prefer to use it to communicate with us."

The Planning & Coordination Department of Fukuoka City Hall is in charge of organizing activities to promote local startups.