Advice for college grads from 4 top tech CEOs
Guest Post
August 13, 2018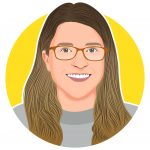 Maddie Davis is a co-author of Enlightened-Digital and a tech-obsessed female from the Big Apple. She lives by building and re-designing websites, running marathons, and reading anything and everything on the NYT Best Sellers list.
Graduating from college can send you on a rollercoaster of thoughts and emotions. You'll feel excited about the future, but also afraid of making mistakes. When it comes to building confidence in your early career choices, a little guidance from someone who has been down the same path — and found success — can make all the difference.
Tech industry leaders are often eager to share their wisdom with young minds. If you're a college student currently preparing for the upcoming school year, reflect on the following advice from top tech CEOs as you start looking to the future.
Jeff Bezos
Jeff Bezos, the CEO and founder of Amazon, built his company on his love of learning. Amazon began as an online bookseller but has since evolved into an eCommerce giant. Its success has made Bezos the wealthiest man in the world. His business ventures have brought him incredible wealth as well as extensive knowledge.
Millions of people all over the world look up to Bezos. His advice? The next generation of brilliant minds should follow their passions. Passion was at the core of his speech at a forum on leadership in Dallas earlier this year:
"You don't choose your passions; your passions choose you." 

"All of us are gifted with certain passions, and the people who are lucky are the ones who get to follow those things." 

"You can have a job, or you can have a career, or you can have a calling, and if you can somehow figure out how to have a calling, you have hit the jackpot, 'cause that's a big deal."  

Bezos and his wife, MacKenzie, also hope to extend their love of learning to immigrants working towards a college education. They've donated $33 million to TheDream.us, an organization that helps Dreamers — a group of undocumented immigrants who were brought to America as children — pay for a college education. Bezos's parents also founded the Bezos Family Foundation, which "supports rigorous, inspired learning environments for young people."
Elon Musk
South African-born entrepreneur Elon Musk has been working since becoming a self-taught computer programmer at the age of 12. Musk is currently the CEO of SpaceX, Tesla, and Neuralink. And he's recognized as one of Forbes' World's Most Powerful People.
Known for his outspoken opinions on the future of technology, Musk is never shy about sharing his advice. As someone who believes that everyone has the choice to be extraordinary, Musk recommends setting a meaningful goal:
"Don't just make your goal to 'make a lot of money' or 'get promoted to X.' Have a goal that's both compelling and meaningful. Figure out how to make things better or to do something significant. If the company or product doesn't exist yet, be on the forefront of making it real."
Elon uses his wealth to fund education-related charities. For example, he recently donated $15 million to the Global Learning XPRIZE, which develops methods to give children without access to education the means to teach themselves to read, write, and do math.
Mark Hurd
Oracle's CEO Mark Hurd leads one of the world's largest corporations and has more than 30 years of experience in the technology industry. Fortune Magazine has recognized him as one of the 25 Most Powerful People in Business, and the San Francisco Chronicle named him as their 2008 CEO of the Year.
As a father of two, Hurd recognizes and appreciates the energy young people can bring to their work when first starting out their careers. To harness some of that energy while giving college grads a solid foundation for professional development, he created Oracle's Class Of Program in 2013. Hurd encourages the next generation of business leaders to always perform to the best of their abilities:  
"It's hard to look smart with bad numbers; you have to focus on the underlying substance. There is no way to disguise poor performance. I've tried to follow that advice throughout my career. Deliver good numbers, and you earn the right for people to listen to you."
The Oracle Class Of Program has recruited more than 10,000 college graduates to engineer and sales positions since it launched. Hurd believes that young employees are invaluable to the workplace, stating, "When you are around all that enthusiasm, it's infectious to the whole company." This positive energy is what Mark strives for as a leader of Oracle.
Bill Gates
Bill Gates, founder and original CEO of Microsoft, is one of the world's most well-known people. Recently, Gates switched his focus to philanthropy after stepping down as Microsoft's CEO in 2000.
By remaining on Microsoft's executive board, Gates continues to involve himself in the latest technology developments, but his full-time role is now with the Bill & Melinda Gates Foundation. For those starting out as tech professionals, Gates shares his opinion on which direction to take:
"AI, energy, and biosciences are promising fields where you can make a huge impact. It's what I would do if I were starting out today." 

"Intelligence takes many different forms. It is not one-dimensional. And not as important as I used to think." 

The Gates Foundation focuses on (among other things) dramatically increasing the number of young people who obtain post-secondary degrees and on improving the college completion rate among low-income students.
Final thoughts
A little guidance is always beneficial, no matter what route you choose to follow after graduation. Following leaders in your field of professional interest can help you stay knowledgeable about the latest trends and can also help you decide what career path you really want to take.
We hope these small insights from big tech players inspire you as you embark on your next journey!