Back to School contest with Cacoo
We're back with another contest for our Cacoo users! To promote our new Cacoo for Education plan, we will be holding a weekly diagram contest from August 17 to September 30.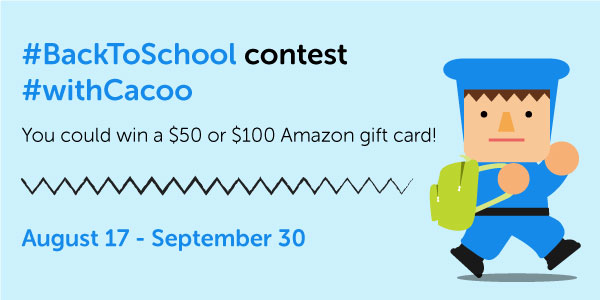 Every Monday, a theme or subject will be announced on Facebook and Twitter. You must create a diagram in Cacoo based on this theme and submit it by the following Sunday, 10 a.m. EST.
Prizes
Student: $50 Amazon gift card
Teacher/Educator: $100 Amazon gift card
Eligibility
You can submit a diagram if you are one of the following:
Currently enrolled in school or a continuing education program (e.g., General Assembly, Flatiron School, etc.)
Currently employed as a teacher or educator
If you are selected as a winner, we will require some form of eligibility verification.
Weekly submission guidelines
IMPORTANT:
1 submission per user
When sharing diagrams as a link, set to "Open diagram to public by URL" so that we can view your diagram.
Send a tweet
When you tweet your diagram, be sure to mention us @cacoocom and include the hashtags #BackToSchool and #withCacoo.
Examples:
"Check out this diagram I made #withCacoo for @cacoocom's #BackToSchool contest!"
".@cacoocom I'm ready to go #BackToSchool. #withCacoo"
Post on our Facebook event
We will create Facebook events for every week of the contest. Simply post your diagram on the Facebook event wall.
Submit on our Tumblr page
Our lovely Tumblr page is where we share diagrams that we at Cacoo find to be creative and inspiring. Submit your diagram and select the tags #withCacoo and #BackToSchoolContest.
Email us directly
Please email your diagram submissions to us at community@nulab.com only if you cannot send it via Facebook or Twitter. Submissions must be sent from a school-assigned email address with the subject "Back to School with Cacoo." If you don't have an email address ending in .edu, you may use a personal email address. Again, we will require eligibility verification if you are selected as a winner.
Judging criteria
We will pick the winner each week based on the diagram we think is the most creative and best shows Cacoo's abilities. You don't have to be the next Picasso, you just have to show your heart is in the work!