Cut your work time in half with Cacoo's custom stencils and templates
Creating a diagram from scratch takes time. Creating that same kind of diagram, again and again, may develop your design skills, but it's certainly frustrating.
The number of people willing to put this amount of effort into their diagrams is a small number—in fact, there's only one member of our staff that does this. Most people will use shortcuts like copying an existing diagram or copying elements they need from a diagram one by one.
Fortunately, there's an even shorter shortcut for reusing diagram layouts and elements. In addition to saving your work as a diagram, you can save what you've created as a stencil or template.
Saving as a Stencil or Template
Stencils
When you create something in Cacoo that's not quite a complete diagram but an object you can see using in future diagrams, don't let your work go to waste. Save it as a stencil!
Click on "Save Diagram." Next, choose the Type by selecting "Stencil."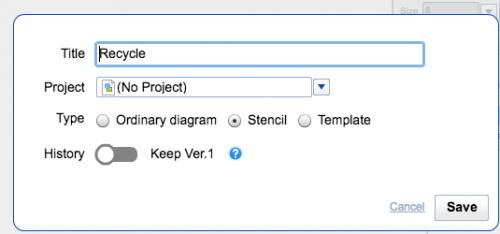 Tip: Do you need to use an object that's not in our Stencil menu but is too complicated to create yourself? Download a picture of the image from the internet. Then insert the image into the Editor as a PNG, and save as indicated above.
Templates
If you've created a whole diagram you can see using in the future, change the type to "Template."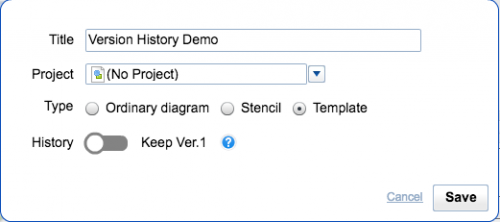 Tip: Have a favorite template that you've created outside of Cacoo? You can insert the file as an SVG or Visio file, and edit the template in our Editor.
Locating Stencils and Templates on the Dashboard
The stencils and templates you create can be found on your Dashboard.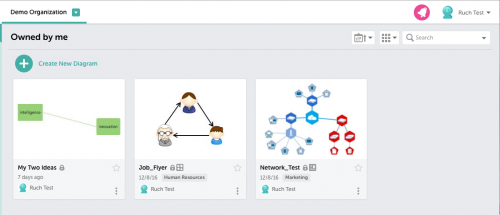 If you're wondering, "How do I tell which files are diagrams and which are stencils or templates?" It's simple:
Your templates and stencils have icons next to the titles. These icons identify the diagram as either a stencil or a template.
This is the icon used for stencils:

And this is the icon used for templates:

Filtering for Stencils or Templates
To find your stencils and templates faster, use the filter to sort your dashboard by file type.
If you know the name of the file you're trying to access—even better! Just type the name in the search bar.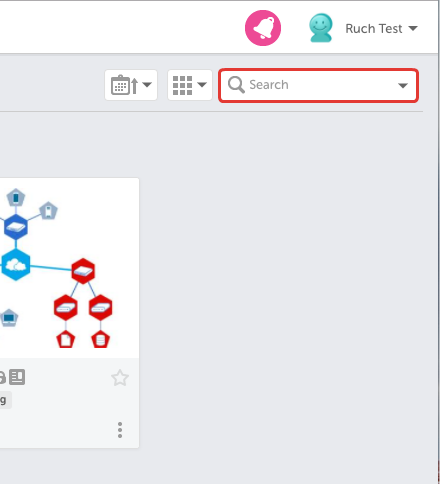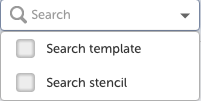 Finding your Stencils and Templates in the Editor
The stencils you create in Cacoo can be found in the "User Defined Stencils" folder in your Stencil menu.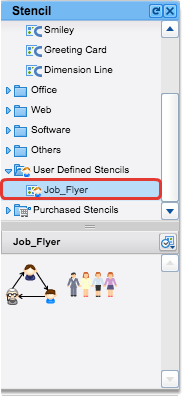 Drag and drop your original stencils onto the canvas, just as you would with any other stencil.
Similarly, the templates you create in Cacoo can be found in the "User Defined Templates" folder in your Template menu.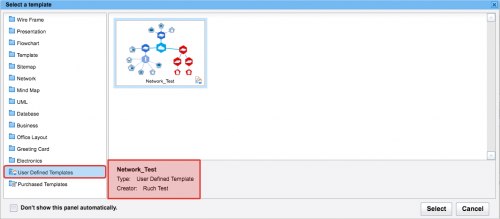 Select the template, and it will appear within the Editor, just as any other template would.
Creating Stencil and Template "Libraries"
If you create a variety of stencils and templates for a specific theme, a great way to organize them is to save them in a single file with multiple sheets.
For example, if you create a bunch of graphics for a job flyer, you can put them onto different sheets of the same file, and save that file as a single Stencil. When you click the file name under User Defined Stencils, you'll see every stencil contained in that file, as if it's its own Stencil "Library." Even though they are one file, you can drag and drop them individually into the Editor because they are on separate sheets.
A template "library" can be created the same way. For example, if you create several floor plan templates, you can put them onto different sheets of the same file, and save that file as a single Template. When you click the file name under User Defined Templates, you'll see all of the floorplans you created in that file. You will then be able to insert them individually into your diagrams.
Final Thoughts
We do our best to anticipate what our users need with pre-loaded stencils and templates, but we understand that your work is often so precise and meticulously crafted that the general stencils and templates we provide may not always cut it.
Creating and housing your stencils and templates in Cacoo allows you to be as creative as you need while cutting your expended time and energy in half.