Tools to launch your startup
You've been gravitating toward it for months, years even, but you've finally come up with an idea that you want to rocket into the vast marketplace of the commercial universe. Great! You are ready to join the ranks of the stellar visionaries who have forged their way to startup stardom. But before you launch your company into orbit, you will need to embark on the proper training to prepare you for the journey ahead. From research to mapping out your course of action, there are plenty of tools that can prepare you for a successful mission. So grab these tools and start your flight training and you'll be ready to blast off your ideas faster than the speed of light.
Creating a Business Plan
The business plan is your solid blueprint for charting out your mission – detailing the scope, process and goals of your endeavor. It is your north star and will always guide you wherever you are along the way.  Your initial research will inform your startup's goals and direction. Use Cacoo to visualize your data and to organize and store your research. In one diagram, you can create individual sheets to organize your research into topics under each sheet heading. Cacoo can be the home base for your research, allowing you to keep it all together in one organized location. 
Research
Crafting a strong business plan is important and in order to do this you will need to know your product from every angle. Research is key. With Cacoo on your radar, you can illustrate your research and use diagrams to further detail and organize your process.
Know your product. Identify what exactly your product or service will be and the goals that you plan to accomplish. A mind map might be helpful in brainstorming the depths of your product and how the goals connect back to the original concept. 
Know your market. Now that you know what you are, you can see where in the market your company will fit, what needs it will satisfy, and how you stand against other products and services. Tech Republic points out that market research can give insight into the strength of your own product and if it is a worthwhile pursuit. One way to get some feedback, they suggest, is reaching out to potential clients with a survey. You can also use market research to sift out where you have an edge or advantage in the market. A great way to illustrate your market research is with a SWOT diagram. You can identify your strengths, weaknesses, opportunities and threats, and use this to evaluate your product even more.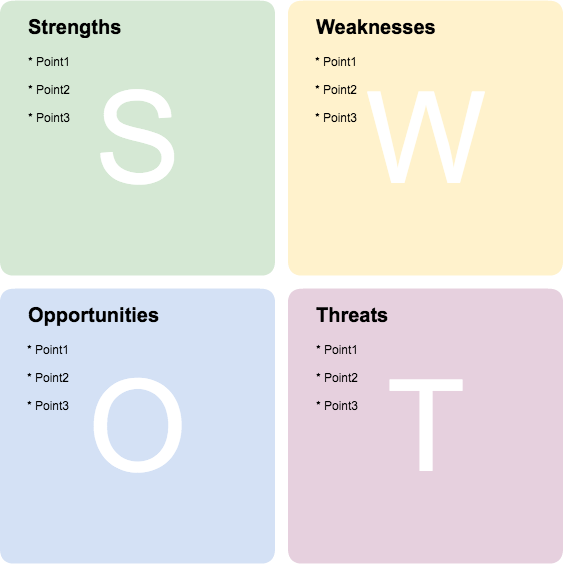 Know your process. Mapping out the process for your product or service will deepen your understanding of what you will need and who you will need in order to start your business. By detailing the step-by-step procedure(s) you can also anticipate possible outcomes and combat possible issues in advance. A flow chart will outline and reveal any and all paths in your process. You can draw up a clear picture of your work flow and further strengthen your business plan.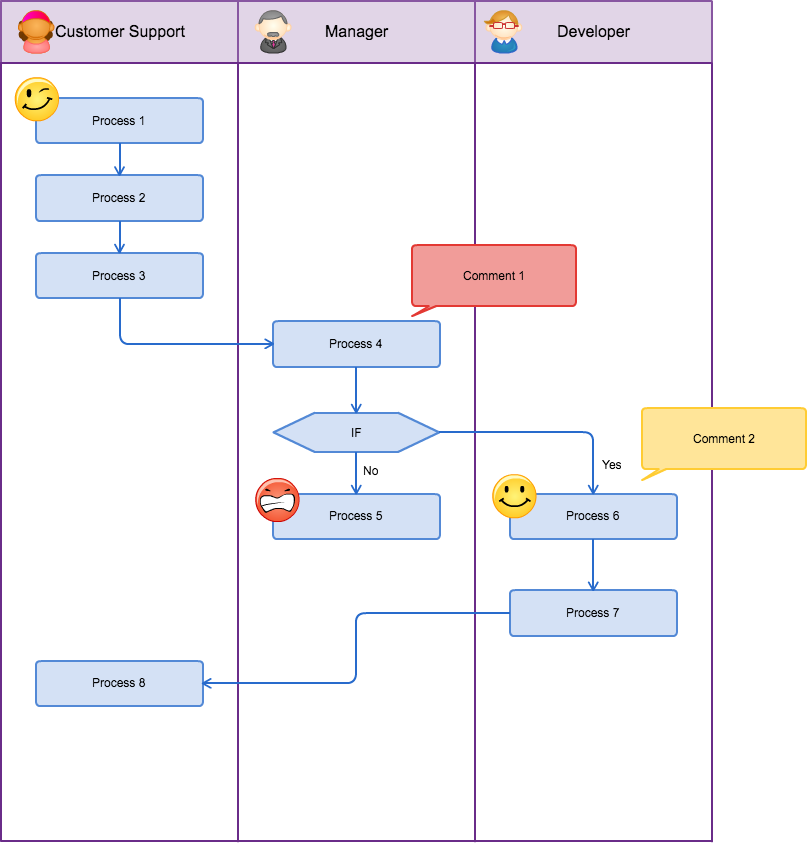 Know the job roles. The flow chart gives insight into what roles are needed to make the process run. Using an organization chart, you can identify the job positions you will need to fill and you can also establish the structure of your crew.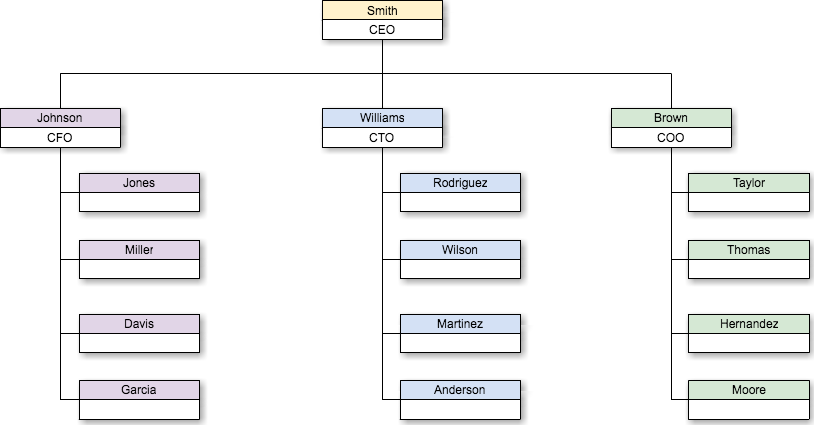 Build Your Brand
Logo
Every great mission has a logo, and your startup should embrace this branding mark. With prefabricated stencils and drawing tools, the blank Cacoo canvas is a digital sketchpad for you to prototype and design a logo, experiment with color palettes, and explore the range of iconic imagery that you want to bring to your product. 
Wireframing & Prototyping  
When Chika Tsunoda, the CEO of the the skill-sharing service ANYTIMES, hatched the idea for the company, her business plan was incomplete without a wireframe. She used Cacoo to prototype her product, which was an invaluable step in the launch of her startup.  Wireframing is one of Cacoo's standout features.  You can use it to prototype your app or website, utilizing the many templates available or by creating your own unique designs with the tools and stencils provided.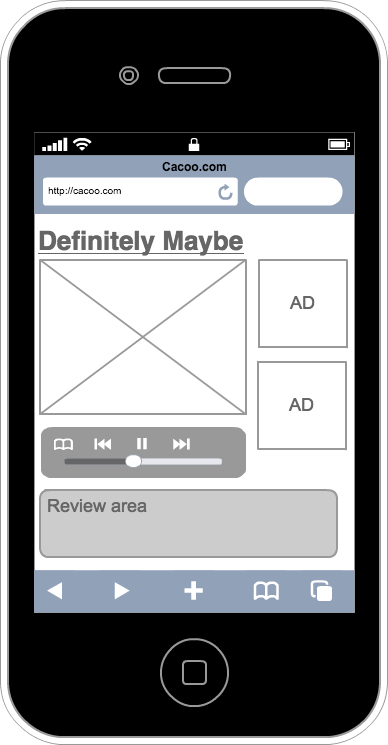 Before diving into the wireframe, consider creating a sitemap or flow chart for your app or website. Diagramming this flow will inform your design choices, and open the door for a more robust and detailed prototype.
Like outer space, the options are endless, so be as creative with your prototype as you can.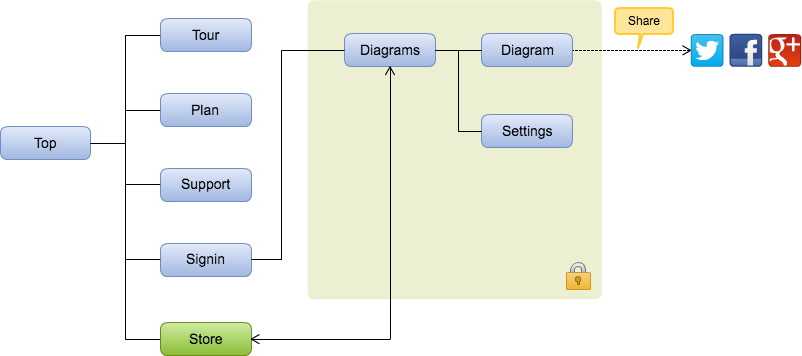 Communication
When your startup begins to materialize and you fill the roles outlined in the business plan, communication between everyone involved will become vital. Copy that? Good! Cacoo provides a rich environment for communicating with your collaborators. You can share your documents and edit the prototypes together. Access the built-in chat feature in the bottom right of app to further communicate with your copilots about the document you are working on. You can accomplish a lot by working together simultaneously through editing and chat, or at separate times by leaving a comment on the diagram page. You will be able to communicate easily with your team no matter how many light-years away you may be.
Timeline 
Keep on target by creating a timeline for the launch. When it comes to accomplishing big milestones,  Forbes says to set up daily, weekly and monthly goals and focus on accomplishing those tasks on time. Little by little you will reach your final destination. Carefully calculate the target times and goals for the project and create a gantt chart in Cacoo that illustrates the schedule. The clock is ticking, so stick to your goals and get ready for the countdown. 
3…2…1…
With this basic startup training and diagramming toolkit, you should be better prepared for lift off. So buckle up and get ready to rocket your company into zero gravity.
Over and out. 
*Cover Photo courtesy of and copyright Free Range Stock, www.freerangestock.com, Photo by Jack Moreh