Find Issues
There are 4 ways to find issues.
Search by Keywords
Simple Search
Advanced Search
Search from all projects
When you access "Find issues" of the project, you will see the search results of "Simple Search". You can change the search conditions by selecting "Status", "Category" and "Milestone" in the "Search conditions" box on the top of the page.

When you want to narrow the search result, please click "Advanced Search" link. You'll be able to filter with more conditions. Multiple conditions can be selected so that you can find the issue you are looking for.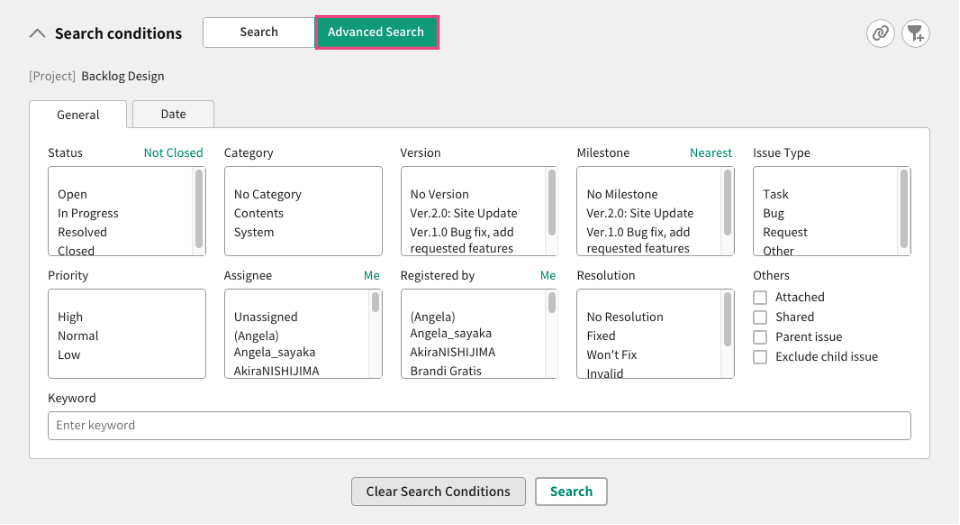 Search box for "Search by Keywords" is always on the header.

If you are involved in multiple projects and need to find issues across them, you can use "Find Issues" on the dashboard.

Search by Keywords
Search issues by typing search box on the header. Typing multiple words will give you results with issues includes all keywords (AND search). If you want to search issues includes one of the keywords, you can put OR between words (OR search).

Besides, NOT search, which gives results don't include specified words, is also available.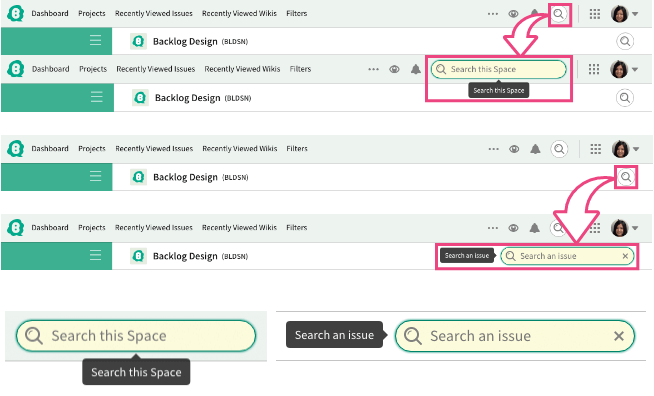 Simple Search
By clicking "Search", you can search with few options.
When "Advanced Search" is displayed, clicking "Search" will switch to Simple Search.

Advanced Search
When "Simple Search" is displayed, clicking "Advanced Search" will switch to Advanced Search.
Clicking "Me" will eliminate the issues assigned or registered by you quickly.
"Date" tab on the left will let you search by dates, such as Added Date, Updated Date or Due Date.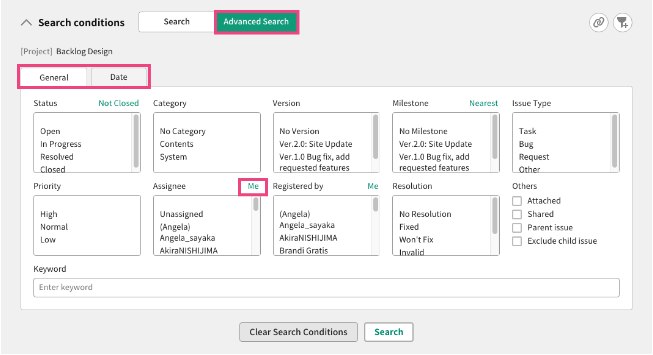 Search from all projects
"Find Issues" on your dashboard is used to search issues from all projects you are involved.
You can select multiple projects.
For those involved in many projects, this feature would be very useful.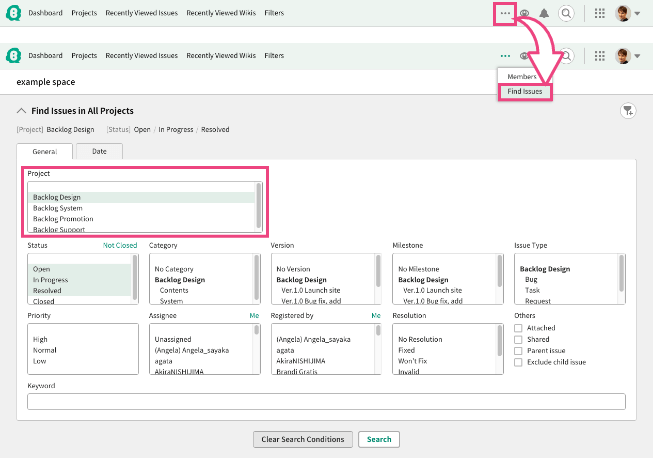 Customize the view of search results
You can customize the view of search results.
Clicking "Customize Search Result" will pop up a small window. You can select the information you want to see in the search result.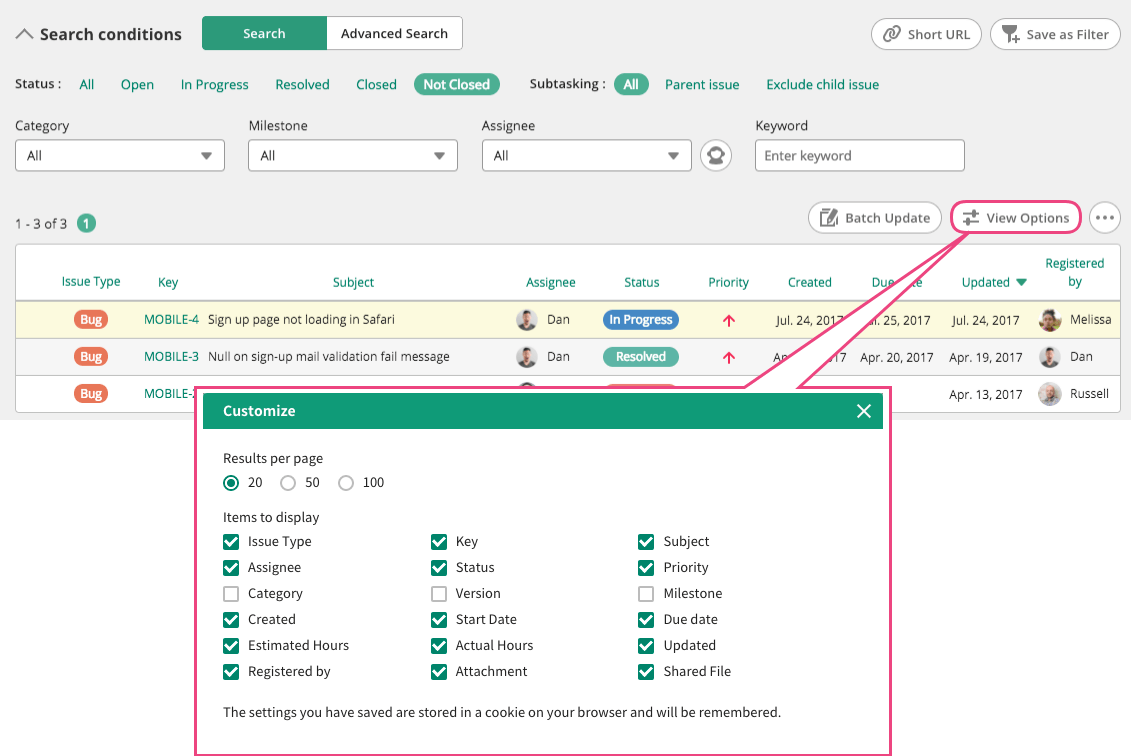 Saving search criteria
Often used search conditions can be saved. To save search criteria, first filter the issues by selecting search conditions and entering keyword on Find issues page. Then click "Save search criteria". On the Issue filters panel, you can name the criteria.
The saved search criteria is stored under "Issue filters" on Global Navigation. For more details, please refer "Issue filters".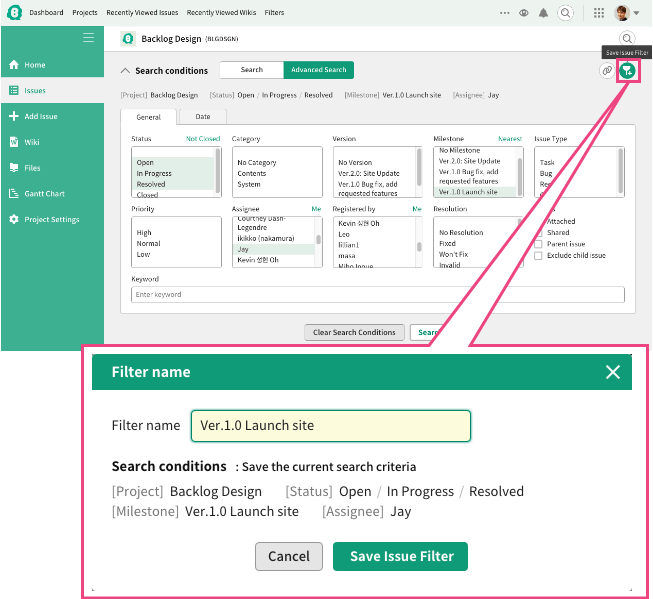 Backup Backlog Data
You can download search results in a CSV or Excel format when searching from Find Issue.