Global Navigation
Global Navigation is located on all pages in your Space and is very useful for searching issues within the Space or to go back to Dashboard. For more details, please check the following pages.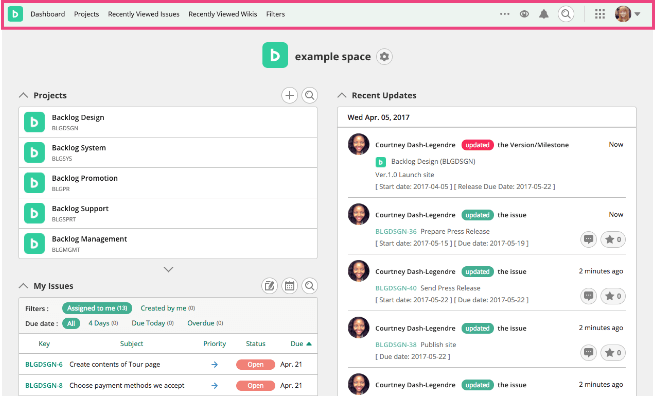 Viewed History
Clicking "Dashboard" takes you back to Dashboard.
"Projects" shows recent projects by the order you have accessed them.
"Recently visited issues" shows the recently accessed issues across projects.
"Recently visited Wiki" shows the recently accessed wiki pages across projects.
Each can be searched with keywords in its own search field.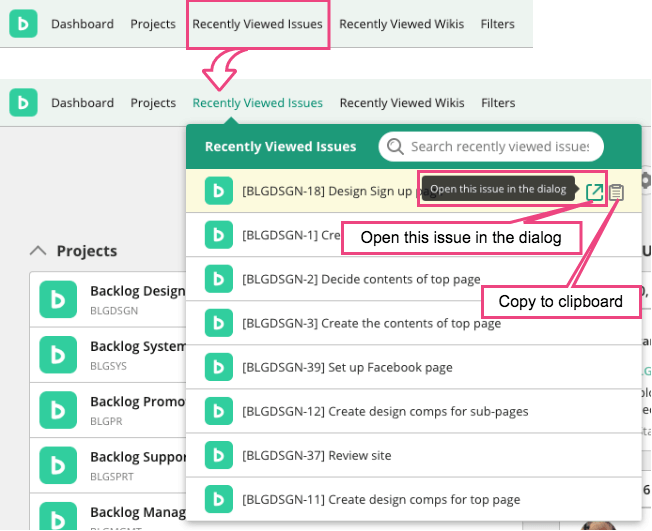 Issue filters
"Issue filters" is used to recall saved searches.
To save search criteria, search issues on Find issue page and click "Save search criteria" on the search result page. You can name the criteria so that you'll be able to find it easily.
Search filters are stored on the global bar.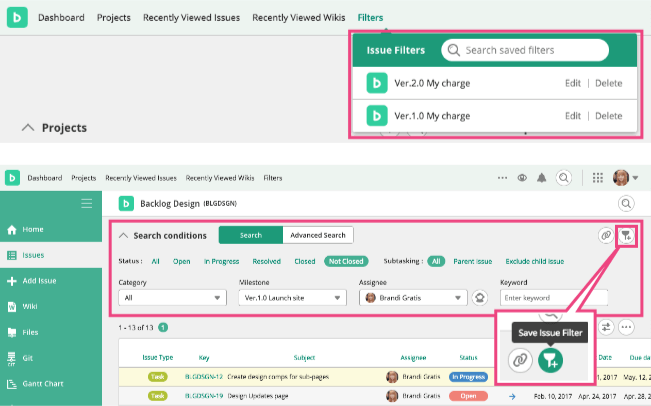 Watching issues
You can access watched issues from the global bar. Please see the summary of the Watching issue function here.
When one of your watched issues has been updated, green point will be shown in

button right top.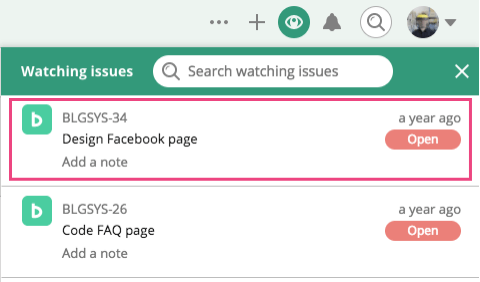 You can add a personal note to each of your watched issue. Click

button in the global bar and mouse over an issue. A text field will appear when you click the "Add a note" link. After adding text, click the "Save" button in order for the note to be added.

Notifications to me
When you receive notifications, the number of notifications will be indicated on your Global Bar. Clicking the icon will show the summary of the notifications. You can go to its Show issue page by clicking the summary. When you are notified that you have been added to a project, clicking on the notification will bring you directly to the Project Home page.
The background indicates the status of the notification:
Yellow: New
White: You haven't checked the details of the notification
Gray: You have checked the details of the notification
Please check here for details about Notification.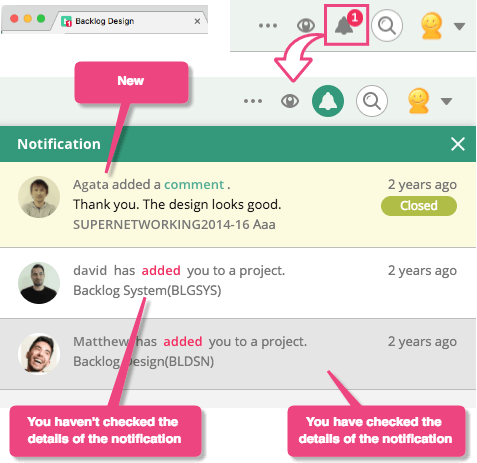 Global search
You can search issues, wiki pages and files from the search field on Global Navigation. Clicking the "Find Issues" takes you to the "Find issues for all projects" page.
For more details about searching from all projects, please refer this page.