Dashboard
When you log in to Backlog, you'll be landing on Dashboard. There are 3 sections in Dashboard: projects you are in, your issues, and recent updates. You can see the progress of all projects on Dashboard. For more details, please check the following pages.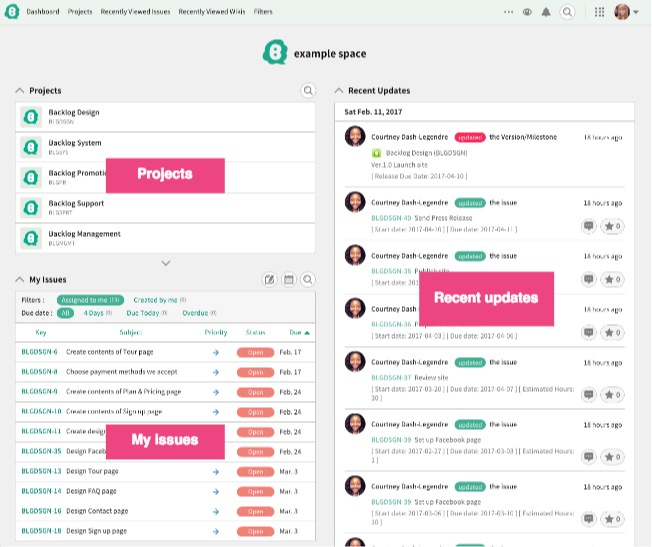 Projects
Among all projects you join, 5 projects that you have recently accessed will be shown. To show all projects, please click "Show all". search icon icon click, Search projects search field finds projects by project name or project key.
Your pull request
You will see 10 of your pull requests from all projects. If there are more than 10 issues that you are in charge, clicking shows all of your pull requests.
Also, you can filter by search queries.
Targets:
"Assigned" Issue you were in charge
"Registered" Issue you have registered
Please see here about pull requests.
By pressing the

button, title and key can be searched by filter.
By clicking your pull request's title, the details of your pull request will be hidden.
Only administrators and users can access repository in Backlog server and Git page. Reporters and guest users cannot access these pages.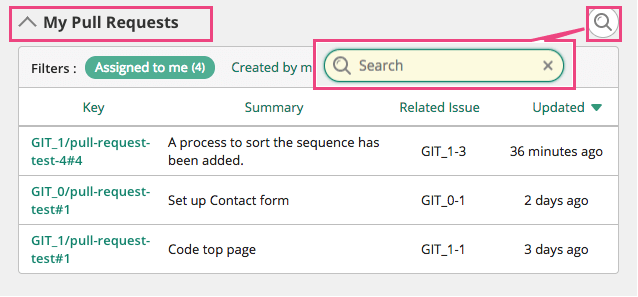 My Issues
By default, you'll see 10 issues that are assigned to you among all projects. By clicking "Show all", you'll be able to see all issues when you have more than 10 issues.
Click "Created by me" tab to switch to issues that you have added.
Buttons on the right are used to filter the issues:
All - show all issues
4 Days - show issues due within 4 days
Due Today - to show issues due today
Overdue - to show overdue issues
Numbers in [ ] shows the number of issues.
Using "Search my issues" window, you can filter with the name of issues or with key.
Edit: Clicking on the "Update my issues at once" button will direct you to the "Update issues at once" page. Please refer here for information regarding the operations on "Update issues at once" page.
Pressing calendar button beside "My issues", you'll get the URL to import the calendar of your assigned issues.
The URL can be used on calendar applications such as Apple's iCal or Google Calendar.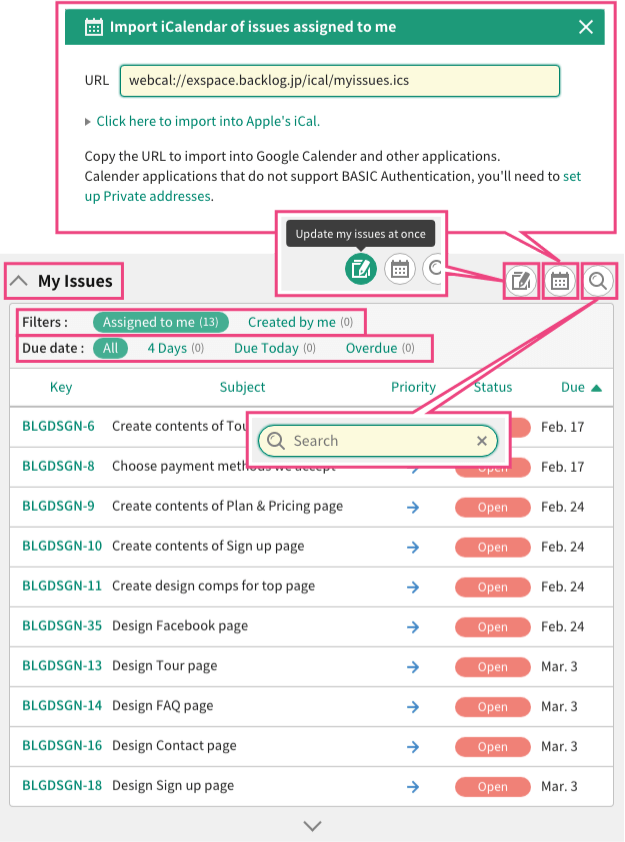 Recent updates
This section shows updates of issues, commits, and shared files done by all project members including you. You can add comments on Dashboard by clicking

button.