The new AWS Importer is here! Import your AWS architecture directly into Cacoo
Now you can import your AWS infrastructure directly into Cacoo to create exact diagrams of your architecture in seconds. Using our library of AWS shapes, the AWS Importer will automatically replicate your architecture in Cacoo for you to edit and share with ease.
Periodically visualizing your AWS configuration in Cacoo is a great way to track changes over time, analyze progress, and diagnose issues. All you need is an AWS Identity and Access Management user account to get started today.
How to use the AWS Importer
You will need to have an AWS Identity and Access Management (IAM) user account to use this feature. For information on creating an IAM user in your AWS account, please refer here. You can find these directions anytime in our Cacoo support center.
To import your AWS architecture, locate the Import icon on the left-hand side of the Cacoo Editor.

Click "Import" and select "AWS Architecture."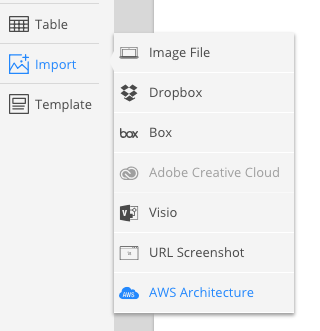 The first popup contains the necessary permissions. You can create a new IAM user or attach it to an existing IAM user. Copy these permissions using the "Copy Policy" button.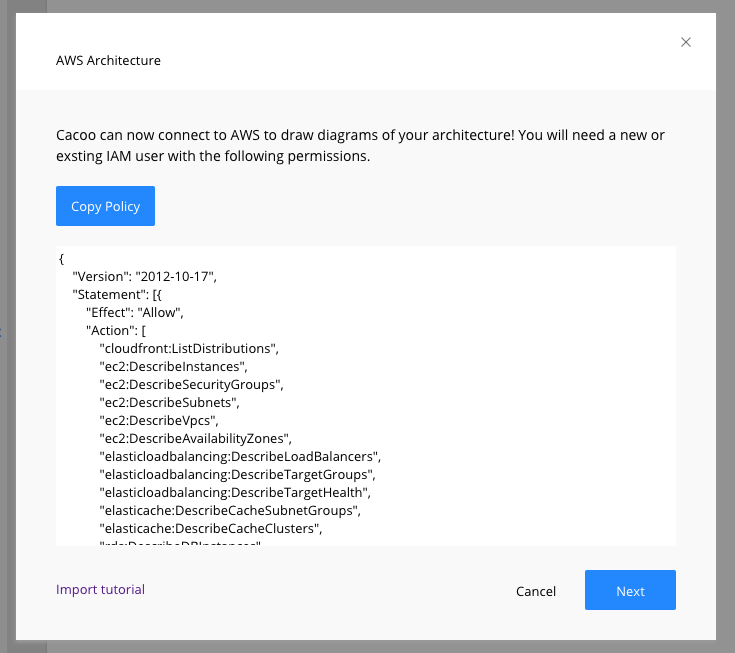 Then, after you have designated your IAM user correctly, click "Next".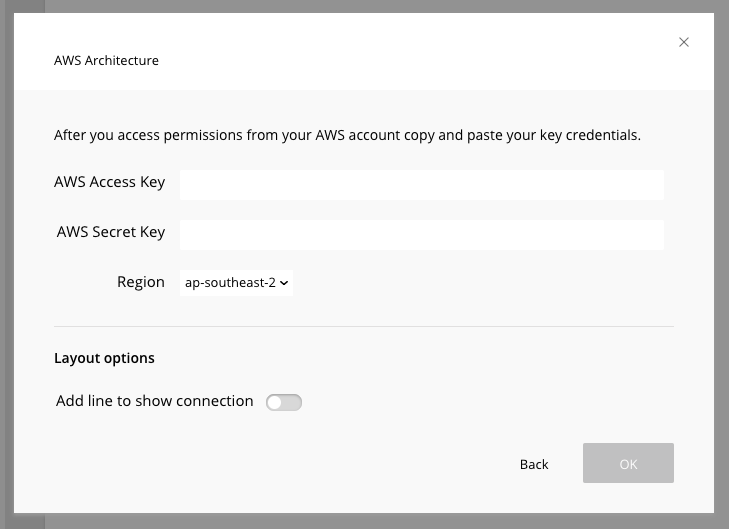 Please Note: Cacoo will not store your IAM user credentials after importing your AWS architecture.
Enter your AWS Access Key and AWS Secret Key from the IAM that you created.
Select a region and confirm in the layout options if you want to add lines to show connections.
Finally, click "OK," and Cacoo will import your AWS architecture into a diagram accordingly.
Final words
Whether you're building your architecture from scratch or reviewing it with your team, Cacoo offers the templates, shapes, and importing tools you need to efficiently create useful architecture diagrams.
Gain skills, learn strategies, move projects forward
Collaborate and bring your projects to life with Nulab
Learn more