Kyushu University reduce 60 mins of work with Backlog
Hear more from our customers and their experiences with Backlog here.
Industry: Administration, Education
Location: Japan
Number of users: 40
Executive Summary
Kyushu University is one of the top research-oriented universities in Japan. Their Information Planning Division is responsible for managing and maintaining various IT systems, including IT infrastructure (e.g. servers and networks) for the university administration. 
Our Nulab team member, Miho Inoue, spoke with staff members to understand how Backlog helped them to streamline information-sharing and issue management with external vendors.
The results: a much more efficient workflow — they saved 60 minutes of pre-meeting work and completed their meetings 30% faster.
This article was originally published in Japanese and has been translated and edited here for clarity.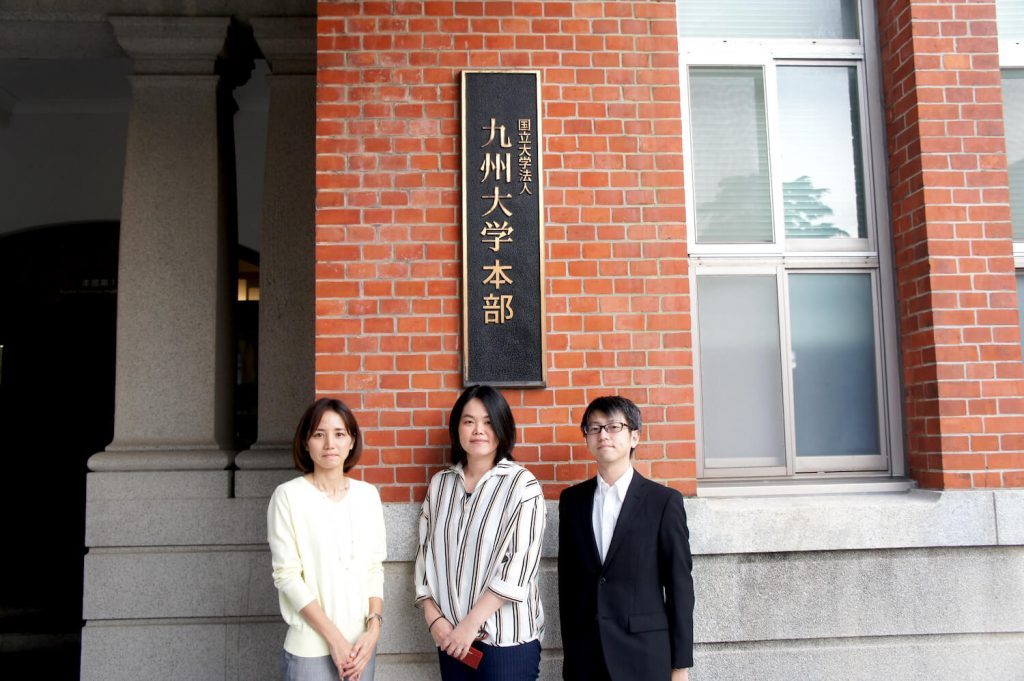 From left: Chief Nariko Nakata, Chief Sachiko Takagi, and Daisuke Yokoyama, of the Information Planning Division, Information Systems Division, at Kyushu University.
Challenges
In the past, the Information Planning Division used multiple tools to work with internal stakeholders and external vendors: they used an issue management tool for managing tasks and sharing knowledge internally, they had shared folders for sharing information with another department (Academic Affairs Dept), and they used email and Excel sheets for managing issues with vendors.
As a result, information was scattered, making it difficult to keep track of issues and share knowledge (e.g. feedback from end-users). As a result, they spent too much time searching for and creating materials to prepare for meetings with vendors. The process was inefficient and they wanted a tool that could streamline their information-sharing and issue management.
Daisuke Yokoyama, Office of Information and Communication Technology, Information Planning Division, Information Systems Division, Kyushu University
How Backlog helped
Backlog allowed them to consolidate their issue management and information-sharing into one place. Information about IT issues and work documents are now all stored in Backlog and shared with all project members. They can share the status of issues with vendors and internal departments without needing to use separate tools. 
Staff member Takagi says she used to spend 60 minutes creating materials for each meeting. But now, she can find all of the information easily in Backlog, and no longer needs to compile it in preparation.
Using Backlog's Wiki tool has also helped them stay organized. They compile and update their relevant list of issues in a Wiki for quick reference. Everyone can then check on the status of an issue at any time, so there's no need to re-confirm this during meetings. This has reduced the average meeting time from 90 minutes to 60 — a reduction of 30 minutes for everyone.
In addition, their infrastructure managers are able to complete tasks in Backlog during their biweekly meetings. This means meetings are not just more efficient, but also productive. The fact that everyone can use one tool at the same time means everyone is up-to-date and in-the-loop in real-time.
"At the infrastructure managers meeting, we can complete tasks on Backlog and streamline the meeting," says Mr. Yokoyama.
There are also less tangible but significant effects of using Backlog:
For example, email is naturally more long-winded. It's customary to write out an introductory greeting as well as a sign-off. Backlog's comment sections are far less formal and make it easier to respond to requests quickly and succinctly. 
In addition, it's common for university clerical staff in their field to change positions periodically. With more clearly organized documentation, it's easier to hand off projects and knowledge without a lapse in information or delivery.
Getting started with Backlog
The Information Planning Division find Backlog's user interface simple to understand and use. An easy project management tool for technical and non-technical staff alike.
Other staff members in the Academic Affairs Department have also been able to use Backlog without any in-depth training or onboarding.
Sachiko Takagi, Chief of ICT Support Group, Information Planning Division, Information Systems Division, Information Management Headquarters, Kyushu University
Results
Work processes have become much more efficient. They no longer need to track down and assemble materials for vendor meetings, which saves them 60 minutes of prep work per meeting. Meeting times have also reduced by 30%, now taking just 60 minutes — compared to 90 minutes previously.
Backlog has become their information-sharing hub. Using issues and Wikis, they are able to store and share work information and knowledge with ease.
Moving forward, they plan to continue to build out their Wiki to contain everything available on all internal and external work processes.
Gain skills, learn strategies, move projects forward
Collaborate and bring your projects to life with Nulab
Learn more