Xan IT Solutions improves task management by 50%
Hear more from our customers and their experiences with Backlog here.
Industry: Software development, IT consulting, E-commerce
Location: Myanmar
Number of users: 23
Xan IT Solutions Co. is a software development company that provides IT consulting services and custom software development for mobile and web applications. Their clients include local businesses and banks in Myanmar and overseas companies in Japan. 
Executive Summary
Previously, Xan IT Solutions Co.'s workflow was split across two separate platforms for task tracking and source code management. Working across separate platforms to prioritize projects and synchronize updates created redundant work.  Backlog consolidated that workflow under a single platform, saving them time and reducing the risk of errors. Features like Gantt Charts and Boards gave them new visual tools to quickly and easily manage projects. Overall, their workflow is more organized, and it's 50% easier to manage projects and track tasks now.
Challenges
Before Backlog, Xan IT Solutions Co. used an online Git platform for managing their source code. To track tasks, they used spreadsheets stored on their intranet. 
Tracking these items separately meant that tasks were not updated in real-time with code changes. For managers to know the accurate status of a project, they had to manually check both the git repositories and the task spreadsheets — taking up valuable time and effort daily.
"We have a lot of developers working together. When the spreadsheet is passed around or being used, nobody else can update it. So we never knew the real-time status of projects. It was a big problem." – General Manager Sai Num Town, Xan IT Solutions Co.
They tried introducing a new task-tracking tool (with Kanban features), but it still didn't address their need for real-time code updates. While working with a client on a project, they were introduced to Backlog, and it was finally able to bridge this gap.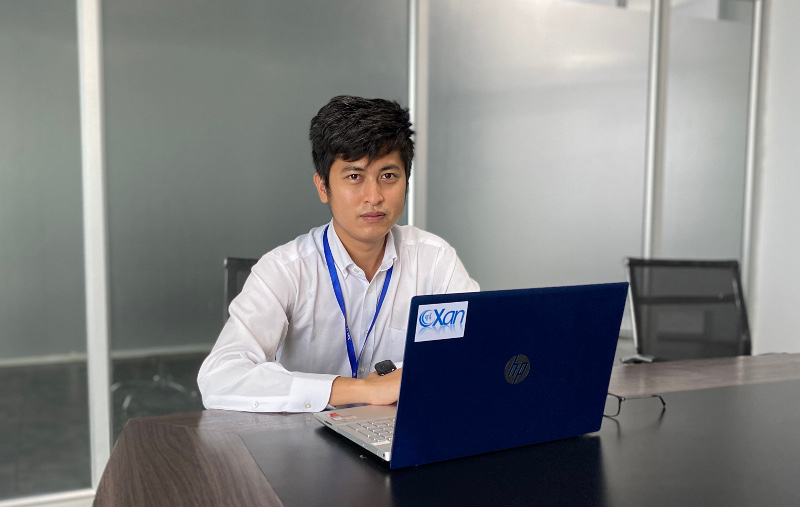 General Manager Sai Num Town, Xan IT Solutions Co.
How Backlog helped
Backlog came with project management, task management, and version control features out of the box. It consolidated their task and development workflows on a single platform, making tracking work statuses and source code updates easier in real-time. They didn't have to switch between multiple programs and platforms. And everyone involved could be notified in real time when updates were available.
Backlog's straightforward UI made onboarding a breeze. The team was already well-versed in Git, so shifting their work to Backlog took no time.
For project management, the Gantt charts and Boards provided a new visual way of organizing their work. They could quickly plan project development tasks, keep track of who's doing what, and follow the work status in real time. 
"We compile all of the tasks and issues for our developers and designers right in Backlog. Then, management can easily track every issue on the Gantt chart and Board." – General Manager Sai Num Town, Xan IT Solutions Co.
Their teams also use milestones and categories to keep tasks organized (e.g., distinguishing Android/iOS app work and versions.) Coupled with filters and issue searches, the team can easily find and retrieve task information.
In addition, Backlog's custom status feature allows them to customize issue statuses to fit different processes. For example, they created the custom statuses "Fixed" and "Solved" for their quality control and assurance process.
Backlog has email notifications, but they seldom check their emails for updates. Most of the time, they rely on the Slack chat integration to receive notifications on project updates.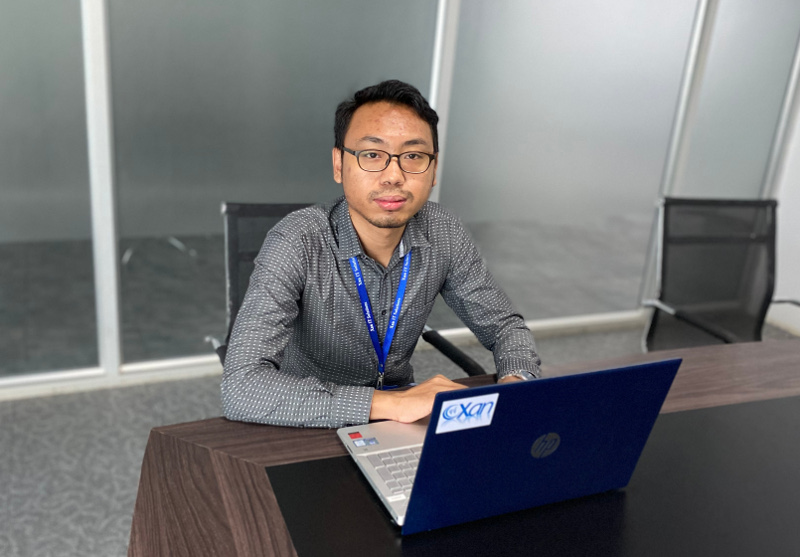 Project Manager Nay Myoh Tet, Xan IT Solutions Co.
Results
With Backlog, managers and developers at Xan IT Solutions Co. only need a single tool to track their projects and source code. 
Their work process has become more methodical and organized. Monitoring and keeping track of tasks takes less effort — it's 50% easier as managers have a bird's eye view of the project in Backlog and can easily monitor ongoing work.
"From my perspective, I am looking for a quick overview. The tasks and issues are updated in real-time, so it's easy for me to check them in Backlog. For my part, it's 50% easier to handle." – General Manager Sai Num Town, Xan IT Solutions.
Gain skills, learn strategies, move projects forward
Collaborate and bring your projects to life with Nulab
Learn more