Nulab introduces Typetalk-Backlog integration
We are pleased to announce a new Backlog integration feature today with our very own Typetalk app.
Backlog is a project management tool handcrafted by Nulab. With this new feature, you can link Typetalk Talks to Backlog Issues. You can also receive event notifications from Backlog. Instead of receiving many separate emails from Backlog, members can now easily discuss their projects in Typetalk.
Linking Typetalk Talks and Backlog Issues
We will now explain how to link talks to issues and vice versa. Firstly, you can share Talks to Backlog Issues. The Talk's URL is embedded in the description area so that members can easily refer back to it for any information regarding the task at hand. Secondly, you can create Talks for Backlog Issues. You'll find it easier to track comments and changes to Backlog Issues by referring to Typetalk.
Now that we've introduced you to the concepts, we'll show you how to implement them. From Typetalk, select the messages you want to use to create a new Talk. You will see there is now an option to "Post to Backlog." Clicking that link will prompt a dialogue box asking for your Backlog Space URL, Project Name, and Subject (Issue Name).
After filling out those fields, clicking "Post" will prompt yet another dialogue box. This time, you will recognize it as the Backlog page for creating a new Issue. Proceed as you normally would in Backlog. When you click "Add" and return to Typetalk, open the Talk drop-down menu and you should see a new Talk labeled with the new Issue's name.
Receiving Backlog notifications in Typetalk
1. Reduce email and communicate more easily
Have you ever had a quick discussion with another team member via Typetalk before responding to a comment in a Backlog issue? This new Backlog integration makes communication much easier by avoiding an email overload from Backlog comments. You can also receive event notifications about issues, file sharing, Subversion and Git.
2. Receive issue status updates
Nulab seeks to make work more fun. Knowing the statuses of various Backlog projects is very important for project management. As shown in the example below, this new Backlog integration automatically posts messages when an issue is added, resolved, and etc.
The message formats include emojis to make these status updates more fun. We hope all members update Backlog issue statuses to test this function.
Instant experience
Project administrators have permission to integrate Backlog. Just click the "Add integration" button, select your desired Backlog space and project, and click "Integrate" if you want to integrate a Backlog Issue as a Typetalk Topic.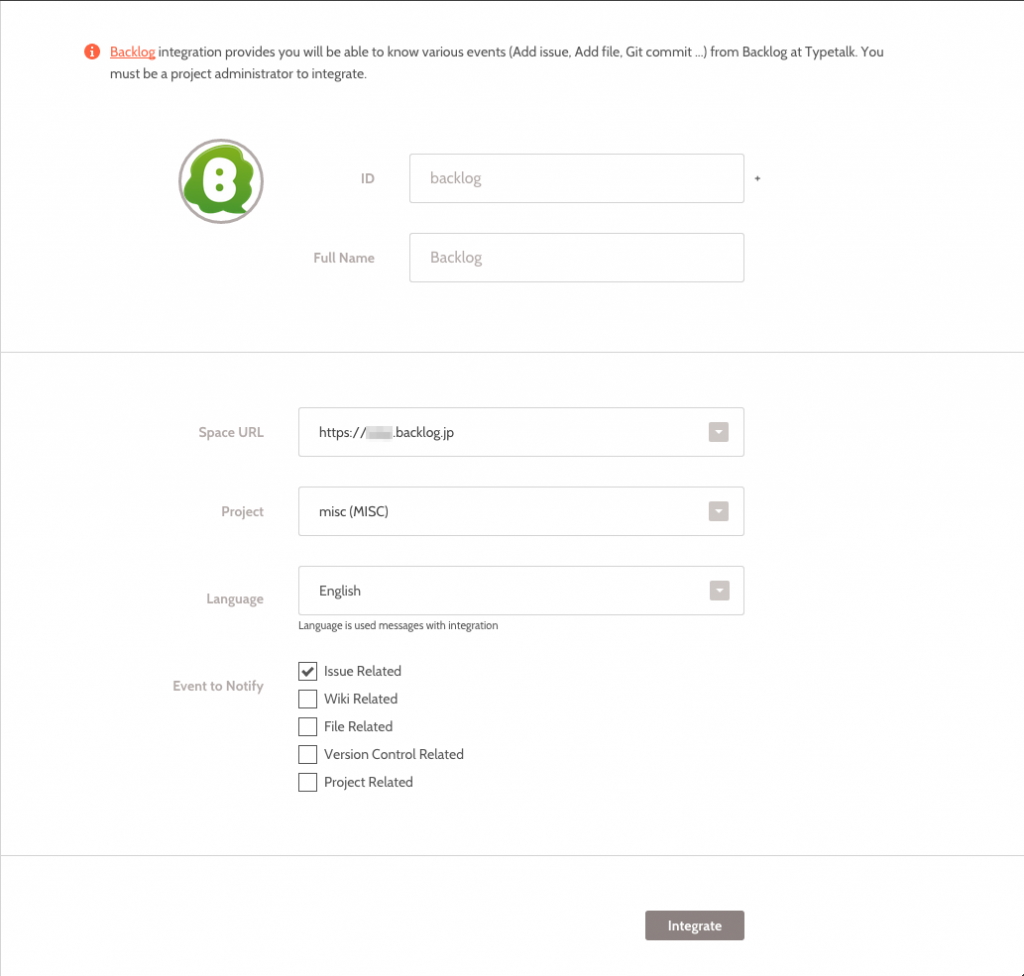 You would receive many notifications, so please choose only those events you wish to hear about.
NOTE
This Backlog integration requires Nulab Account in Backlog. Backlog space owners must enable Nulab Account. Please ask a project administrator to use Backlog with Typetalk.
Backlog Webhook also requires the authority of a Backlog project administrator to configure.
Learn more about your Nulab Account in our Nulab Account Guide.
Gain skills, learn strategies, move projects forward
Collaborate and bring your projects to life with Nulab
Learn more