Swimlane Flowchart
A Swimlane Flowchart, also known as a cross-functional flowchart, depicts operational tasks or functions across several teams. Our template gives you the pre-made structure to get started quickly on building your own.
Uses of Swimlane Flowcharts
Swimlane flowcharts provide a simplified outline of complex processes by visualizing the steps and the people responsible for handling each task. While a classic process flowchart typically has one or more 'lanes' flowing in one direction, swimlane diagrams have horizontal and vertical lanes. They go a step further by depicting multiple interconnected workflows that are carried out by different people to produce a shared outcome.
Our template uses the example of an IT helpdesk. When a customer calls IT to ask a question, the process seems short and simple. However, the back-end operations involve representatives who assist customers, researchers who study up on customer needs and expectations, technicians who design and implement solutions to meet customer needs, and vendors/suppliers who coordinate equipment and data to keep systems/inventory up to date. Much more complicated!
Swimlanes flowcharts have many uses, including:
Documenting processes for reference and instruction
Designing and optimizing organizational processes
Identifying problems or inefficiencies
Troubleshooting and accountability
Troubleshooting
With our Swimlane Flowchart template, you can alter the shapes, change the text and colors, and share the diagram with others. Join Cacoo to try it today!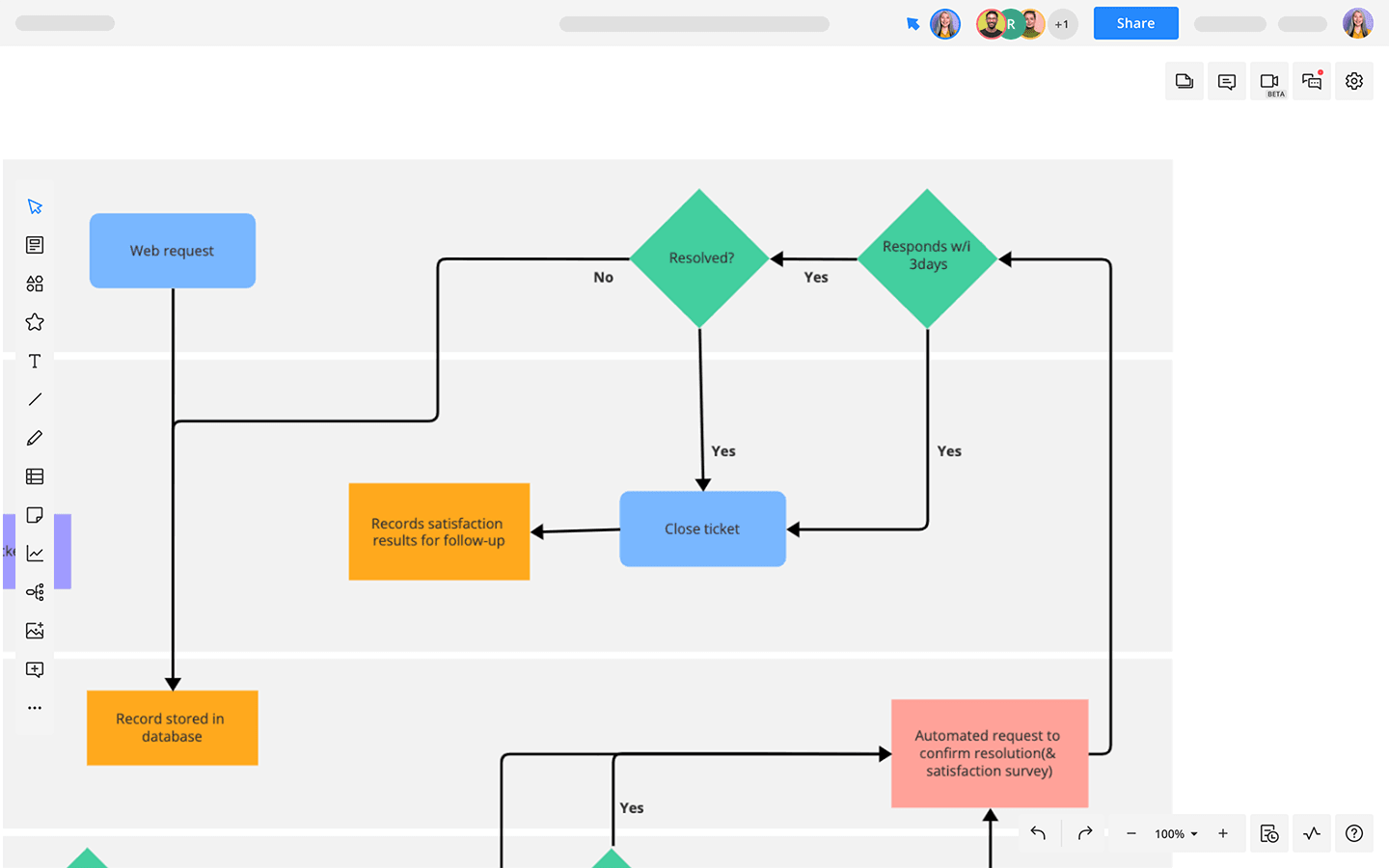 How to create your own Swimlane Flowchart
To make a swimlane flowchart, you need to know all the process steps from start to finish. We recommend keeping a list handy so that you don't forget to include important tasks. Here's how to get started:
1
Open the Swimlane Flowchart in Cacoo, and add the name of the system or process you want to diagram.
2
Next, label the horizontal lanes with the roles/departments involved in carrying out different tasks.
3
Think about the starting point and endpoint of the entire process and all the steps or decisions in between.
4
Using standard flowchart symbols, map out each task in the process, making sure to place them in the correct lane. Label the shapes with the task or action they represent.
5
Finally, use arrows to connect the shapes and visualize the 'flow' of the process. Where necessary, you can label the arrows to indicate a decision.
Once you're done, share your diagram with other collaborators who can confirm its accuracy. The finished flowchart should provide enough detail so that anyone can understand and follow the process.
Related tags