Updates from Backlog Kaizen Week
Dear Backlog users,
Backlog has been updated lately. In this update, we have added some new functionalities as well as made several improvements to existing ones.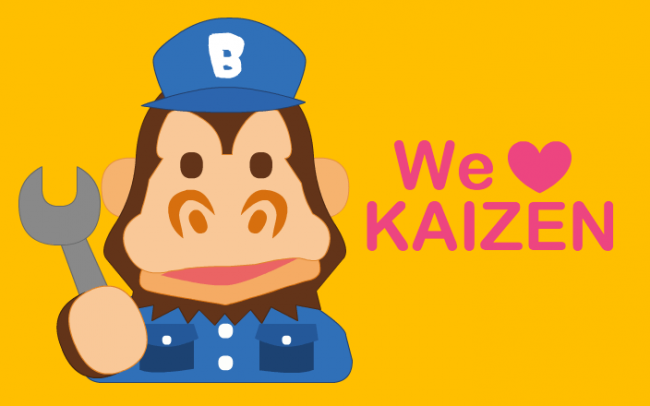 At the start of June, we held the Backlog Kaizen Week which saw more than 60 improvements, big and small, applied to the service today.
What is Backlog Kaizen Week?
Kaizen, 改善 ( http://en.wikipedia.org/wiki/Kaizen ), is a Japanese term for improvement and change. In what we call the Backlog Kaizen Week, all Nulab developers come together to join the Backlog team in improving Backlog. For one entire week, all our developers worked on nothing else except Backlog, planning and implementing changes on existing Backlog features.
List of Improvements
Curious about all the little improvements we have made? Take a look at the list below and head on over to Backlog to experience them yourself!
Dashboard
UI Improvement – Highlight Change in 'Recent Updates' on Dashboard
Issue
UI Improvement – Calendar Control
Added – Holidays on Calendar Control (Japanese Holidays Only)
UI Improvement – "Show All" in Adding Child Issue Dialog
UI Improvement – "Show All" in Bulk Editing Issues Dialog
Fixed – Gap in Issue's Status Label on IE10
Added – Copy Short Link to 'Find Issue' Page (Coming soon)
Added – Copy Short Link to 'Edit Multiple Issues' Page (Coming soon)
Improvement – Jump to Details Field on Adding Child Issue Dialog by Tab Key
Disabled – Archived Milestones in Milestones on Adding Issue Page
Fixed – Error on Advanced Search Page when Keyword Contains Only Spaces
Fixed – Search Condition Shared Among Multiple Projects
Fixed – Duplicate Issue Added when Browser's Back Button is Used After Adding an Issue
Fixed – Tab Order in Add Issue Page Instead of Automatically Moving the Focus to Subject Field
Fixed – Increased Number of Allowed Characters for Custom Attribute Description Field
Added – Help Link on 'Update Issues at Once Page'
Adjustment – Copy Button Position on 'Update Issues at Once' Page
Disabled – Attach Files when Files are Dragged and Dropped Outside of Specified Areas
Fixed – 404 Error Page when Top Left Cell in 'Find Issue' List is Clicked
Enabled – Asynchronization on 'Find Issue' Page without Screen Transition (Coming soon)
Fixed – Dialog Moves when User Selects Text in Text Field for Adding Child Issue
Enabled – Show Attached File Preview in Comment Field
Enabled – Copy Issue Key on Chrome (Pepper API Flash)
Enabled – Copy Text in Side Panel on 'Update Issues at Once' Page
Project Home
Improvement – More Progress Bar Colors for Categories and Milestones (Coming soon)
Added – Option to Recognize 'Resolved' as 'Closed' in Burndown Chart (Coming soon)
UI Improvement – Milestone on Project Home Page
Fixed – Vertical Position of Member List on Project Home (Project Members Widget)
Improvement – Easier Access to 'Edit Milestone' Page
Wiki
Added – Wiki Syntax for Text Color (without Markdown syntax)
Change – "Back" Label on 'Edit Wiki Page' to "Cancel"
Added – Avoid Special Letters to be Rendered in Wiki in Formatting Rule
Disabled – Send Email to Person who Updated Wiki
Added – Copy Short Link to Wiki Page
Enabled – Star for Modified Wiki Page
UI Improvement – File Browser on 'Edit Wiki' Page
File
Added – Short Link for File in 'Files'
Added – Short Link for Folder in 'Files'
Added – Image Preview in File List View
Git
Added – Git Repository Filter
Enabled – Load Git's Older Recent Updates by Mouse Over on "Show all"
Miscellaneous
Added – Project List Filter on 'Project Settings' Page
Added – Project List Filter for Each User on 'Add User' and 'Edit User' Page
Added – User List Filter on 'Edit User' Page
Improvement – Show Older Updates on Member Page
Improvement – Optimized HTML and CSS to Compress File Size and to Improve Performance
Improvement – Selected Icons
Change – Default Encoding to UTF-8 for Bulk User Registration(Coming soon)
Fixed – Label for Password Length on Sign Up Form
Improvement – User Icon on iPhone App
Improvement – Cleaner URLs (Without ".action", e.g. '/MyPage.action' to '/dashboard')
UI Improvement – Show All Attributes by Default Instead of Clicking "Show all" for Add Issues via Email
Added – List-Unsubscribe Header in Emails
Added – List-ID and Mailing-List Headers in Emails
Improvement – Performance for Showing User Icon Images
Improvement – Shorter Labels on 'Space Settings' Page
Improvement – HTML Title Tag
Added – Show Banner to Lead Users to Apple Store for Users Accessing from iPhone
Fixed – Show Line Breaks in Milestone Description
Improvement – Set Default User Icon Colors Randomly
---
We are working towards making more improvements and introducing new features that you have requested in the near future. In the mean time, hope you enjoy these little improvements!