Bus Topology
Planning the network infrastructure for an office, school, or library? Use the Bus Topology template to model the setup and layout of multiple computers and hardware connected to your networking hub.
Uses of Bus Topologys
Bus topology (also known as line or backbone) is a popular option for setting up the physical components of a computer network, such as a local area network (LAN). In this networking setup, the computing devices, or nodes, are arranged in clusters connecting to a single cable. You'll frequently find this arrangement in environments where computers are closely grouped in a straight line, such as office workstations, labs, and classrooms.
With a bus topology diagram, IT and computer networking professionals can visualize how all the devices, such as computers, routers, and printers, are connected and share resources. A clear overview of your network is useful to:
Design a new network setup
Understand hardware needs and connections
Diagnose problems and troubleshoot them
Scale a network infrastructure
Manage computer network resources
Sign up with Cacoo today to try this diagram! One great thing about the Bus Topology template is its versatility. You can use the existing setup depicted here or edit the connections and placement of network components to visualize other types of network topology.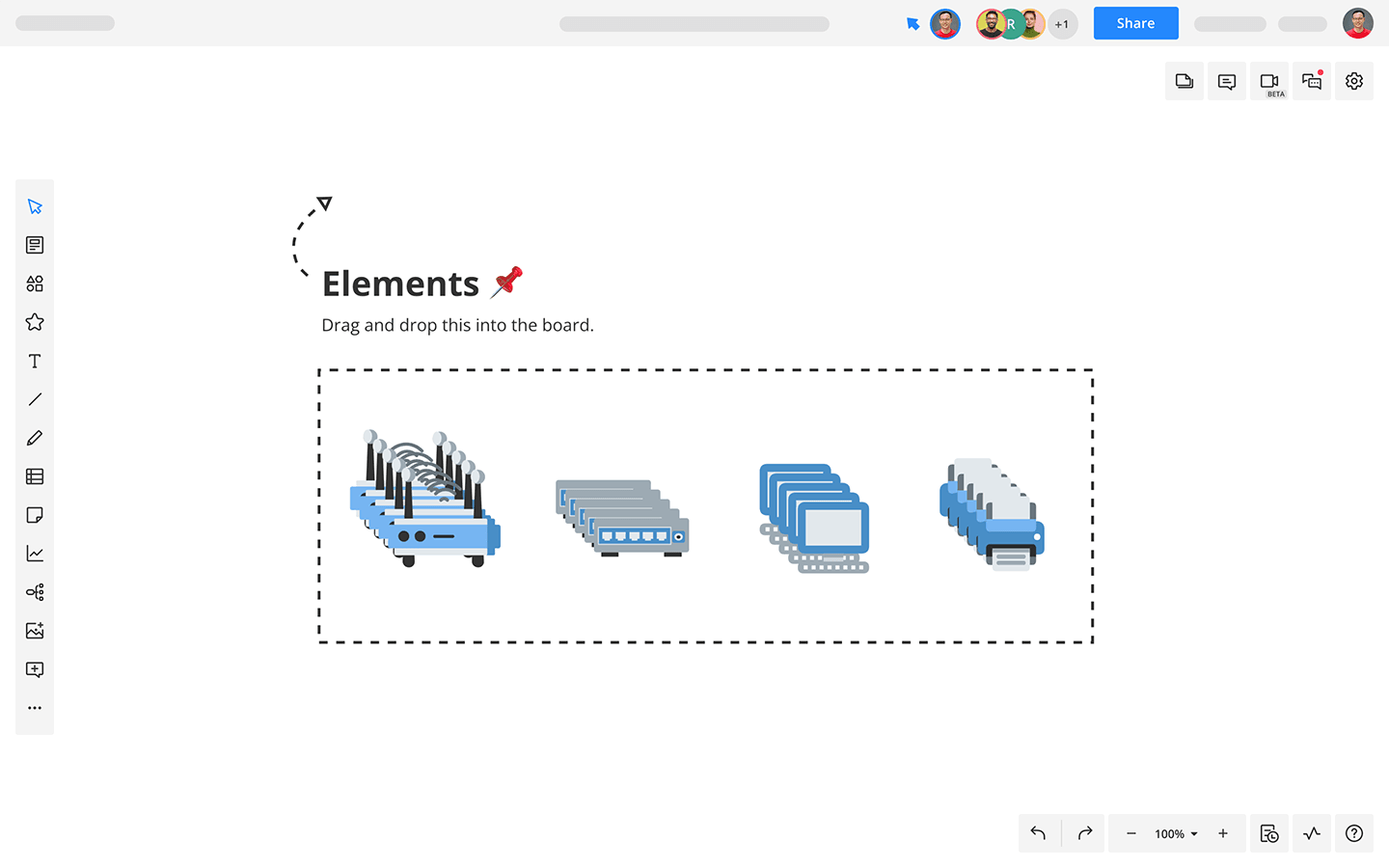 How to create your own Bus Topology Diagram
To create your diagram, you can either start from scratch or use the Bus Topology template in Cacoo. The basic steps are as follows:
1
Identify all the hardware elements and connections you'll need to include in your diagram, and remove the rest.
2
Then, drag and drop or copy and paste any additional shapes and symbols you need, such as computers, hubs, and peripherals.
3
Arrange the equipment linearly in a bus topology formation, or choose another pattern if you're modeling a different type of network setup. Just make sure viewers can easily identify the structure and flow of network resources.
4
Add connectors between the equipment to show how all the elements interact.
5
Finally, add the labels and information for the equipment, and you're all done.
A tool like Cacoo allows you to collaborate with others or share the diagram while working on it. Either way, you can get others involved to gather feedback and ensure the finished diagram satisfies your network requirements.
Related tags