Computer Network Diagram
Visually plan out your network infrastructure to improve its efficiency and security. The Computer Network Diagram shows how computer hardware and networking components, such as VPNs, DMZ, or office printers, are connected for better network management.
Uses of Computer Network Diagrams
Computer network diagrams are a visual representation of a computer network and the elements that make up the infrastructure. They range from broad schematics showing only physical networking equipment to highly detailed diagrams depicting applications, encryption features, cloud servers, and other network resources.
Network diagrams are most frequently used for:
Organizing and implementing updates to an existing network
Identifying potential or current network problems for troubleshooting
Planning the network configuration for enterprise or home use
Managing and tracking essential network components.
Tracking compliance measures to satisfy data security regulations
Documenting network protocols and components for external communication
Creating a network diagram can help organizations address problems or vulnerabilities quickly and design networks that can scale to suit business needs. To use this template, sign up for any plan with Cacoo today!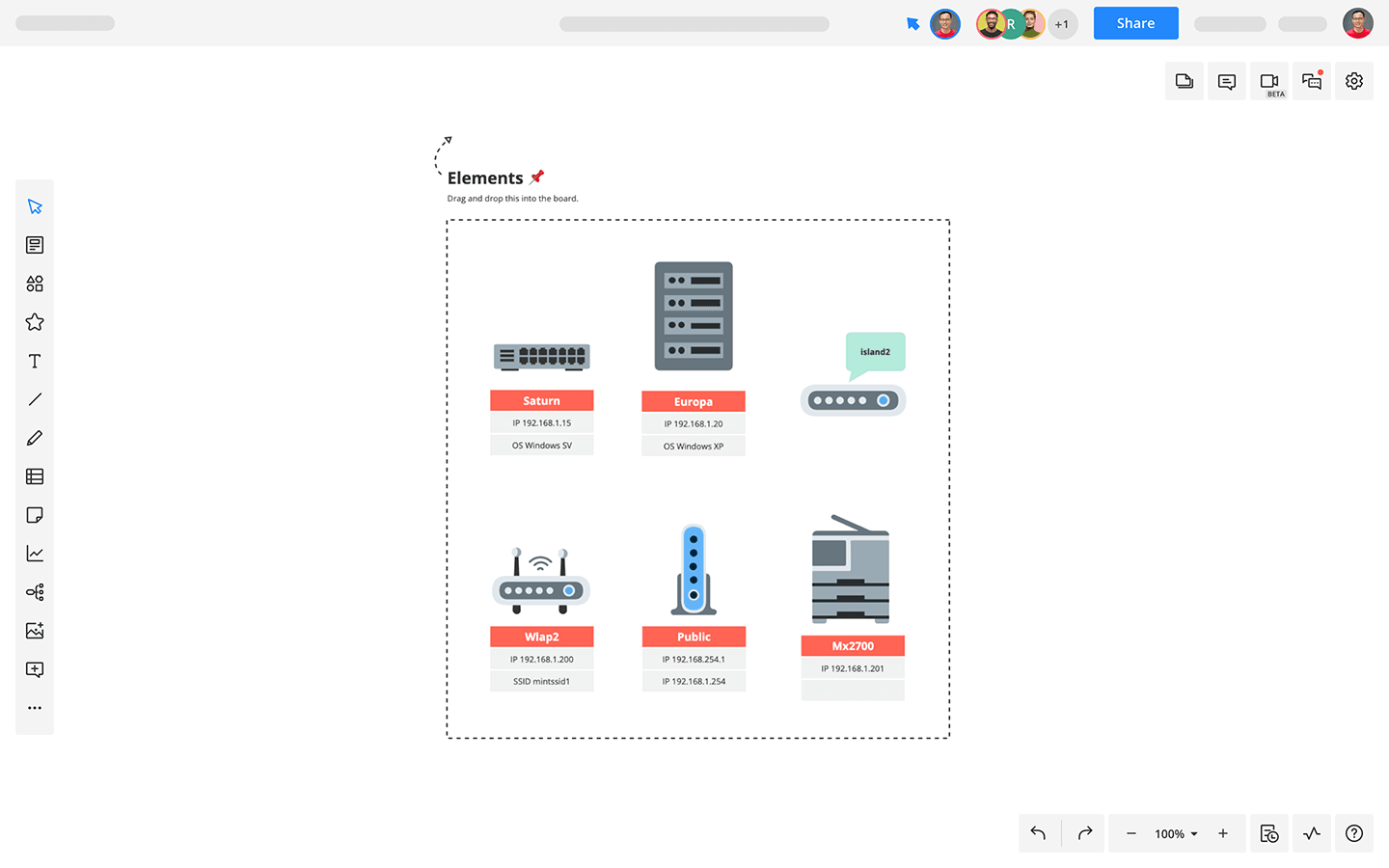 How to create your own Computer Network Diagram
You can either start from scratch or use a Cacoo template to create your network diagram. Either way, the steps are mainly the same:
1
Identify all the hardware elements and connections you'll need to include in your Computer Network Diagram.
2
Then, drag and drop or copy and paste the shapes and symbols you need, such as computers, monitors, and peripherals.
3
Arrange the equipment in a way that allows you to identify the structure and flow of network resources easily.
4
Add connectors between the equipment to show how all the elements interact.
5
Finally, add the labels and information for the equipment, and you're all done.
Just to be on the safe side, use a tool like Cacoo that lets you share your diagram while working on it. You can even involve your colleagues in every step to ensure the finished diagram satisfies your network requirements.
Related tags