Office Floor Plan
Use the Office Floor Plan diagram to optimize workspace layouts and design an environment that's both pleasant and professional.
Uses of Office Floor Plans
Creating an inviting workspace is an important part of helping employees stay engaged and productive. Office floor plans make this process easier by giving you the flexibility to visualize several arrangements before choosing the best one.
Office floor plans are frequently used to:
Evaluate space restrictions when deciding which furniture to buy
Provide visual guidelines for partition layouts
Comply with social distancing or emergency requirements
Propose professional office designs to stakeholders
With a Cacoo template, you can rearrange furniture, add doors and accessories, and fill the space. Customize it with colors and your company's style. When it's all ready, you can share it with the team and get feedback — all within one place.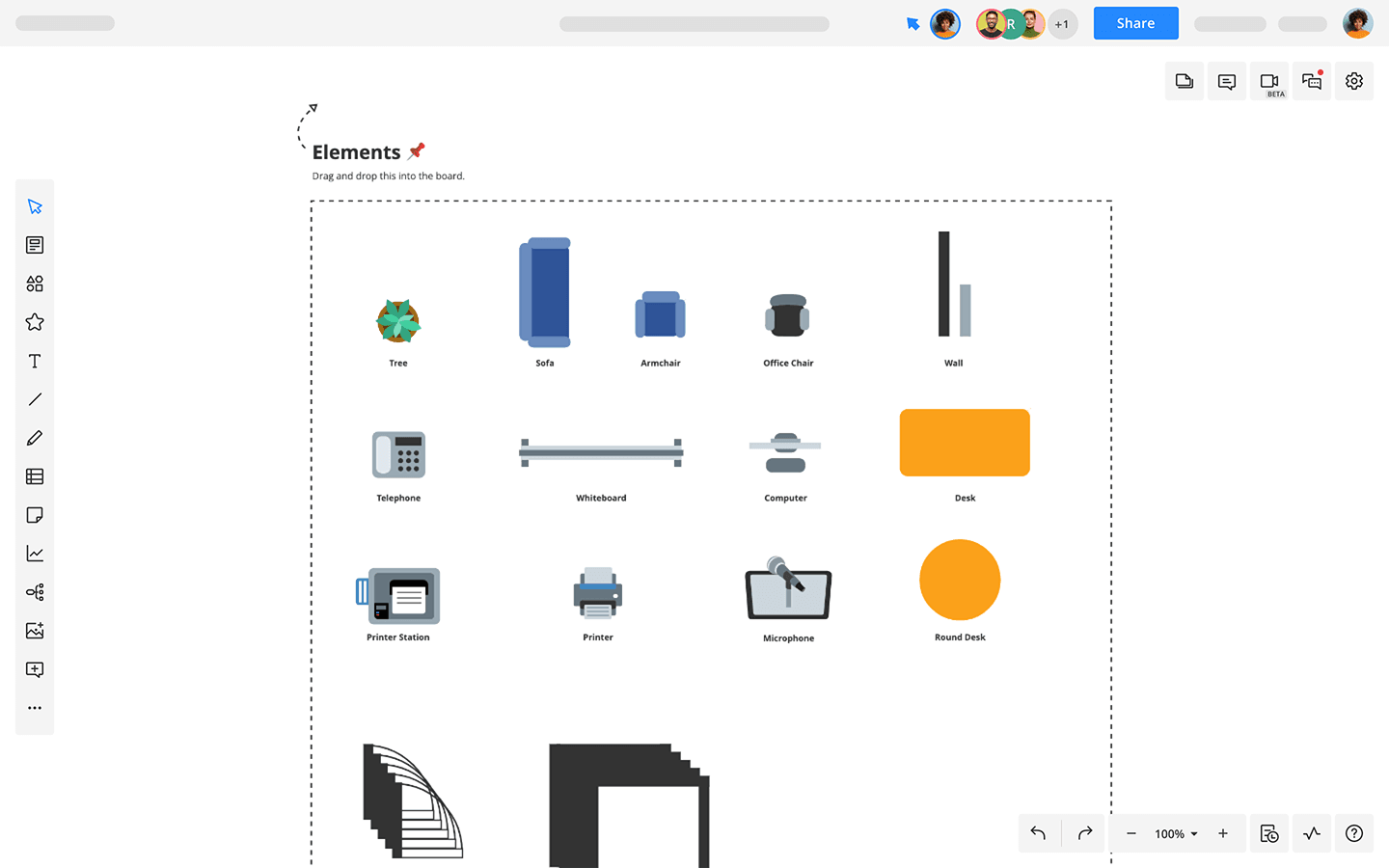 How to create your own Office Floor Plan
Making an office floor plan can save time and effort when you're ready to implement the real design. The most important thing is to have a solid idea of your office's shape and dimensions. Here's how to get started:
1
First things first, open the Office Floor Plan in Cacoo.
2
Spend some time getting familiar with the office floor plan symbols, such as tables, doorways, and partitions.
3
Adjust the bars representing the office's outer walls to match the proportions of your real office space.
4
Next, adjust the bars representing interior walls to designate offices or partitioned areas.
5
Add other structural elements that affect available space, such as doors or pillars.
6
Now, add the most important physical elements that will be in your office, including conference tables, computer stations, or guest chairs.
7
Finally, finish your diagram with accessories, such as computers and plants.
You can further customize the diagram with colors or share it with key stakeholders for help optimizing the layout.
Related tags