Product Review Template
Both current and new products can benefit from ongoing evaluation. With this Product Review Template, product teams have a readymade framework for defining the direction and strengths of a product and solving development challenges.
Uses of Product Review Templates
Product managers conduct product review meetings to evaluate how a product is performing and what changes can be made to improve it. The resulting document gives the product team a blueprint for how to move forward in developing and positioning the product.
Product reviews are useful for both new products that are currently in development and existing products being updated with new features. The most important thing is to incorporate user feedback into the process as much as possible to come up with workable solutions that will deliver the right results.
The Cacoo Product Review Template includes sections for 'Ideation,' 'Main features,' 'Weaknesses,' 'Improvement,' and 'Evaluation.' You can also add new columns for a customized evaluation process. With this template, teams can make comments, add data, and collaborate together in one place for greater efficiency.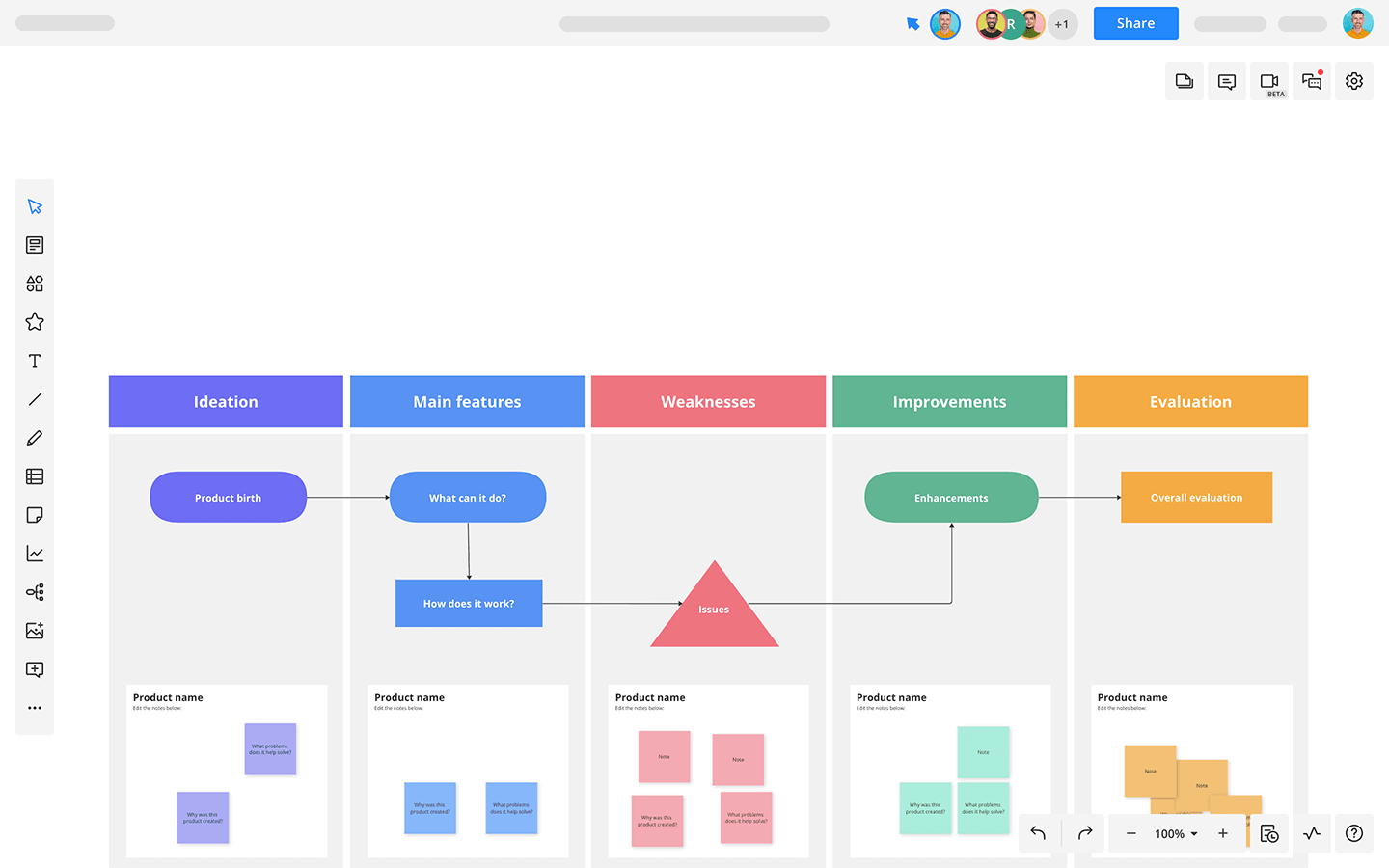 How to create your own Product Review
Before you begin, make sure you gather data about what users like and dislike about the product. Any developmental changes you make should be based on improving the user experience, so real customers are your greatest asset.
1
Start by opening the Product Review Template in Cacoo, and add the product name to the header.
2
Define the product's value proposition, and list these items in the 'Ideation' column. You should collaborate with stakeholders who have valuable insight about the product.
3
List the product's capabilities, functions, and accessories in the 'Main features' column.
4
Now, consider what the product is lacking, and list those items in the 'Weaknesses' column. What do users dislike, and what challenges do they face?
5
Think about how you can make the product better, and add those ideas to the 'Improvement' column. Also, include the basic steps required to implement changes.
6
Finally, assess the strength and value of the product overall, and add your thoughts to the 'Evaluation' column. Does the product need to be updated or completely redesigned? Is it already at peak performance?
Holding regular product reviews will help your team drive innovation and stay on top of product issues. By visualizing everything you've learned, you can become a pro at designing successful products!
Related tags