Start Stop Continue Template
Start Stop Continue Template
Run a retrospective to discover what's working well, what's halting progress, and what your team wants to try out. With the Start Stop Continue Template, your team can collaborate in real-time and add sticky notes to each section.
Uses of Start Stop Continue Templates
A retrospective is an Agile project management tool that can help teams improve productivity and overcome blockers. The Start Stop Continue exercise is valuable because it allows team members to evaluate their collective performance and collaborate on a solution together.
Here's what each section of the retrospective diagram means:
Start – new ideas the team wants to implement to improve the workflow
Stop – negative or redundant processes that are slowing down the workflow
Continue – existing processes that are working well
With this simple activity, teams can quickly add sticky notes to each section to share their ideas and assess the feedback to create action items. Try a Cacoo retrospective template today!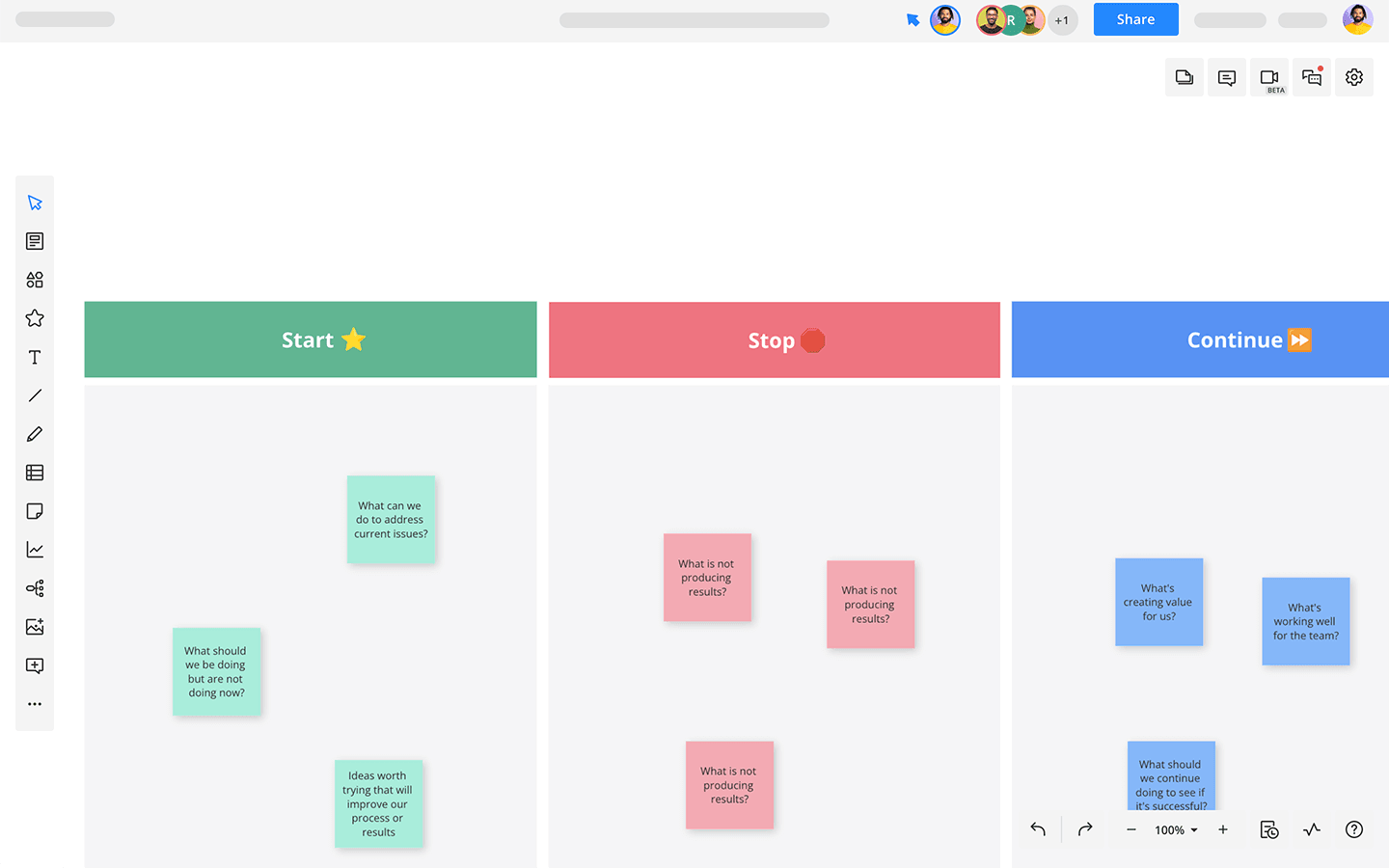 How to create your own Start Stop Continue Retrospective
A retrospective diagram is easy to fill in with your team and only takes a few steps to complete. Here's how to get started.
1
Start by opening the Start Stop Continue Template in Cacoo.
2
Consider what's missing from the project. What processes or resources would make the workflow better? Use sticky notes to list ideas in the 'Start' section.
3
Now, think about aspects of the project that aren't going well. What processes are slowing things down or adding no value to the project? List these items in the 'Stop' section.
4
Finally, think about positive aspects of the project that are running smoothly. List them in the 'Continue' section.
Once you're finished, your team can discuss each section and define the steps needed to implement your ideas. Create a list of actionable tasks, assign them, and start making improvements!
Related tags