Mad Sad Glad
Run a Mad Sad Glad retrospective to figure out what blockers your team is dealing with, what's making work more difficult than it needs to be, and what helps them achieve their best work.
Uses of Mad Sad Glad Retrospectives
In an Agile work environment, retrospective meetings offer an efficient way for your team to take action and improve between sprints. One popular retrospective exercise is Mad Sad Glad, which helps teams think about what went well during a sprint and how to make positive adjustments in the next one. The activity consists of three discussion points:
Mad – workflow issues that are frustrating or counterproductive
Sad – discouraging experiences or issues that could be improved
Glad – successful aspects of the project that made the process better
Mad Sad Glad is especially useful when managers want to evaluate processes from an emotional, human-centered perspective, rather than a performance-based one. The exercise is designed to help team leaders quickly take the pulse of team morale and collect feedback to implement changes.
The goal is to be more prepared for the next sprint and, hopefully, weed out workflow problems that hinder progress. While retrospectives are most common among design and development teams, they're beneficial for any project manager that wants to encourage continuous improvement.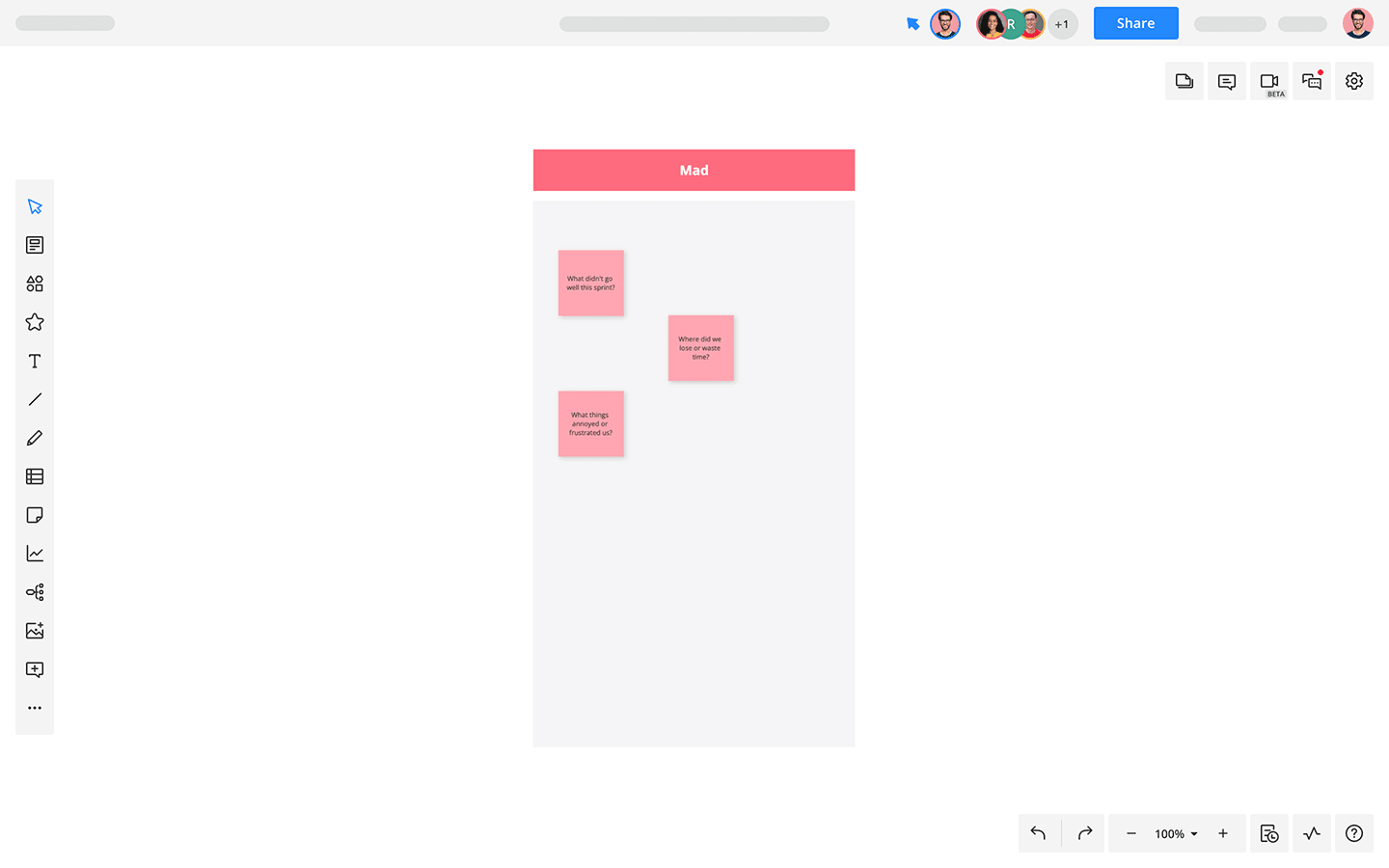 How to create your own Mad Sad Glad Retrospective
While most other approaches focus on what happened and what people did (or didn't do), Mad Sad Glad delves into the emotional journey of your team as they were carrying out their jobs. This retro is a great way to share perspectives after the fact to help team members understand each other's feelings about the project.
1
First, open the Mad Sad Glad template in Cacoo.
2
Get your entire team to express their feelings regarding the project by sharing the Cacoo template with them or working together on the same Cacoo document while using the video chat feature.
3
For each section, write down what each team member has to say. Make sure you don't dismiss any feelings — this is about emotions.
4
Discuss the sections as a group, and try to develop ideas for improving future sprints. Write down some action items, and think about how you can implement them.
5
Share the conclusions with the team, managers, business owners, and other relevant stakeholders to ensure the suggested improvements are carried out.
Related tags