BPMN Diagram
A BPMN Diagram gives organizations a detailed visual representation of any business process. Using standardized graphics, Business Process Model and Notation charts all the actors, objects, events, and flows in everyday transactions and business activities.
Uses of BPMN Diagrams
Common tasks like submitting an order for pickup or making a technical support request seem relatively simple, but they actually involve many front-end and back-end tasks. BPMN diagrams are a type of swimlane flowchart for mapping the sequence of tasks or interactions, making the entire business process easier to visualize.
Sales teams, project managers, and large teams benefit from BPMN diagrams when they're able to see the business' technical flow or practices laid out clearly. Using BPMN is beneficial for giving stakeholders an eagle-eye view of the project while also including technical components for precise implementation.
BPMN speaks a common language for both technical and non-technical collaborators. Its main use is to bridge the gap between operations and development teams, providing enough clarity for all parties involved so that they understand the process requirements.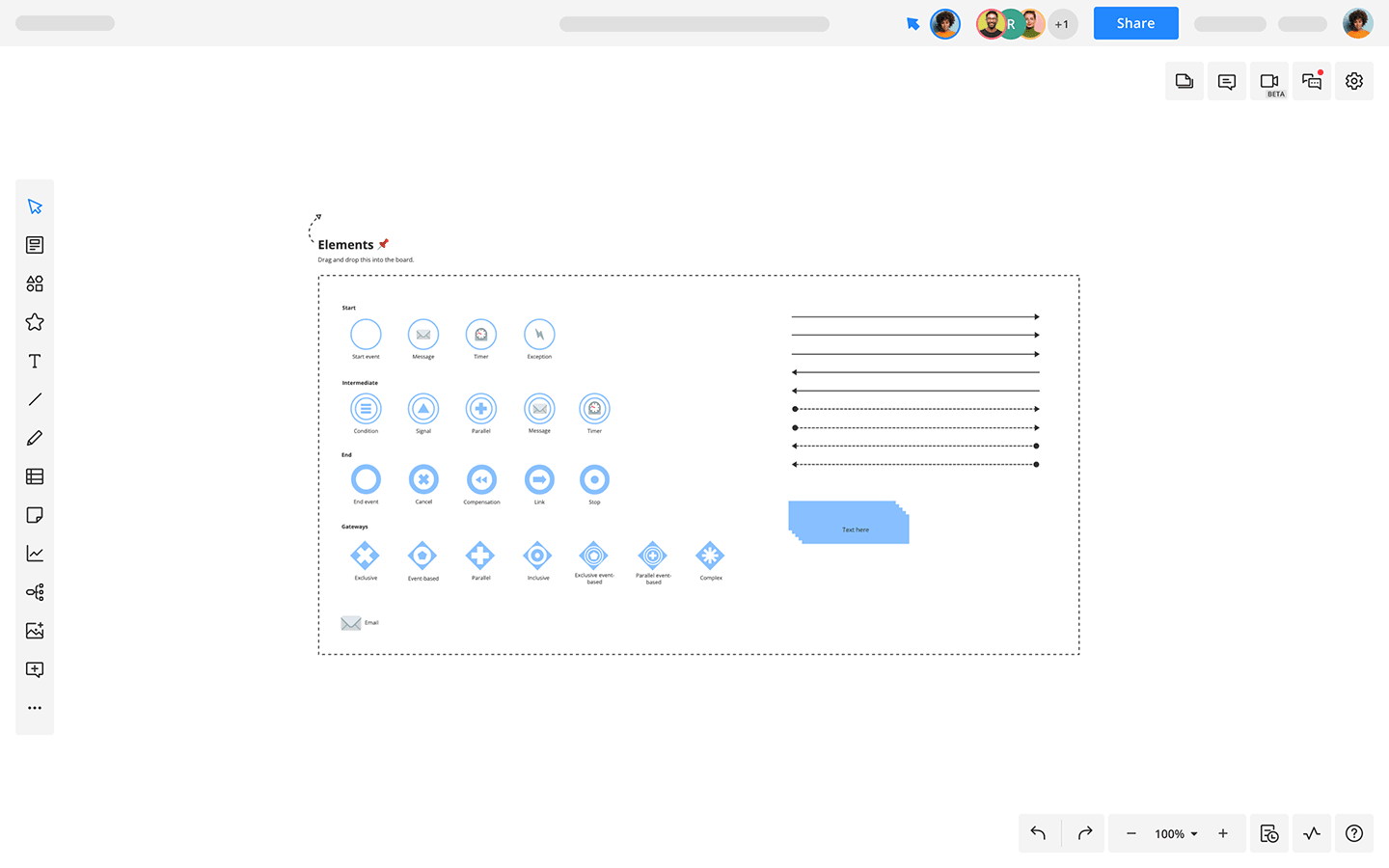 How to create your own BPMN Diagram
The BPMN form has its own graphical language, and you'll need to understand objects, swimlanes, artifacts, and other notation symbols to make a diagram. Here are tips to help you get started.
1
Open the BPMN Diagram in Cacoo, and label the swimlanes to indicate different elements of the process.
2
Try to visualize the process you want to depict, starting with the actors involved and the first steps in the process.
3
Make sure you have the right elements to identify all the parties and events involved.
4
Now, start connecting actors, objects, and events to depict how different interactions drive the sequence of activities.
5
Get a second and third opinion by sharing the diagram with your colleagues. The final diagram should visualize the process in a way everyone can understand.
Related tags