Business Presentation
A Business Presentation template will make preparing for your next business meeting, pitch, or consultation a breeze. Just add your business content and customize the slideshow with other Cacoo diagrams to make your presentation stand out!
Uses of Business Presentations
You need to give a presentation, but you're plagued with blank page syndrome — the debilitating feeling that you don't have the info, the inspiration, or the structure to get your message across.
That's why preformatted business presentations are the perfect project starter. They provide structure and guide the creative process, helping you figure out the most effective way to present information.
Business presentations are a staple of educational and professional work, which means they have unlimited applications, such as:
Presenting marketing campaigns
Pitching products and features
Training and onboarding employees
Hosting retrospective or strategy meetings
Presentation templates can be personalized with your company's logo, colors, and fonts, and you can replace the sample diagrams with whatever visual aids suit your needs.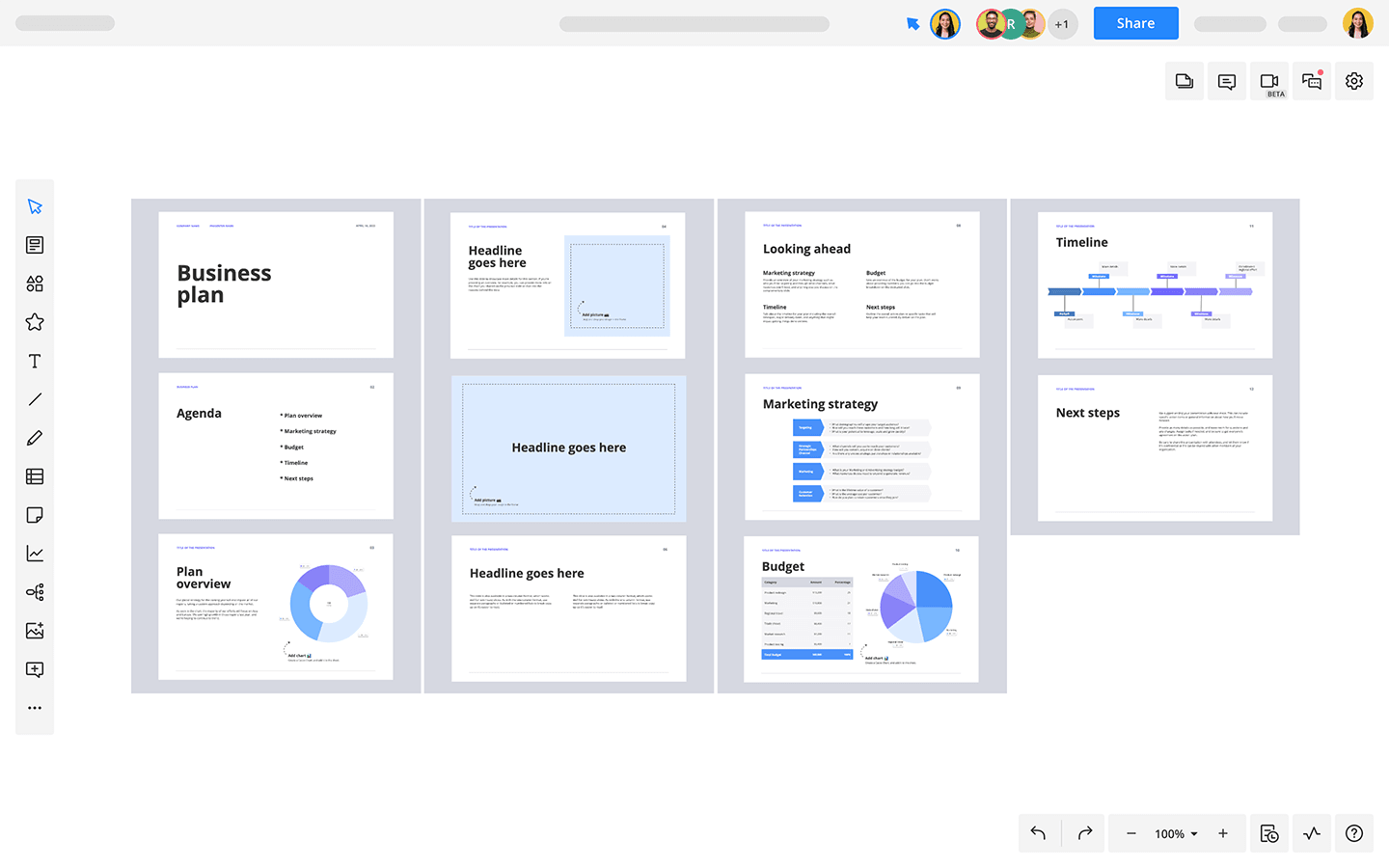 How to create your own Business Presentation
By using a template, you get an initial presentation structure and layout you can easily customize for any use case while still keeping coherence and visual consistency.
1
Try to identify the goal of your presentation. Why are you preparing this presentation, and what key points do you want to convey?
2
Write down an agenda to make sure you don't leave out anything important.
3
Fill in your presentation details, and remove any slides you don't need. Feel free to browse Cacoo's template library to add more sheets to your presentation.
4
Don't overdo it with text. Use visual aids (and your charisma) to get your message across quickly and enhance the presentation.
5
If you're working with a team, share the diagram to get their input. Feedback can make the final presentation even better and ensure that it accomplishes your goals.
Related tags