Marketing Presentation
A Marketing Presentation will come in handy, whether you're presenting your strategy and plans for the next year or pitching campaign ideas to a potential client.
Uses of Marketing Presentations
A marketing presentation allows you to compile all your insights into one easily digestible slideshow filled with compelling visuals. And using a presentation template gives you a great starting point, whether you want to showcase business results, marketing strategies, user persona research, or product positioning.
With a well-designed marketing presentation, you can:
Plan and collaborate on campaign strategies
Report on marketing performance and upcoming goals
Align sales, marketing, and product teams
Communicate growth strategies to stakeholders
Pitch consulting services to business clients
Present competitive reviews, user research, and market analysis
The Cacoo Marketing Presentation includes popular marketing diagrams that can serve as a guide for your presentation. Whether you need a SWOT analysis to evaluate business health or a customer journey map to improve client experiences, this pre-made slide deck is easy to tailor to your marketing needs.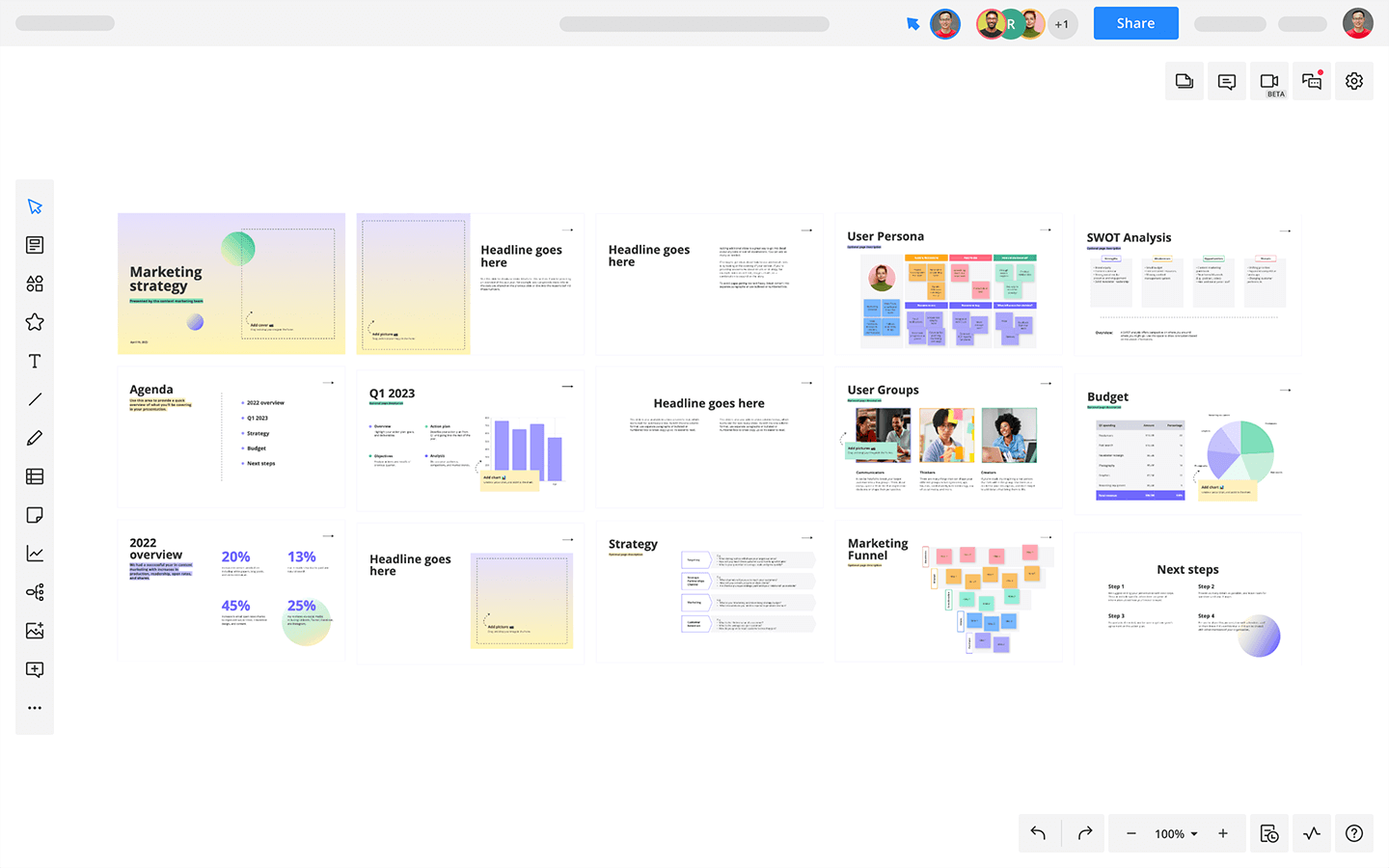 How to create your own Marketing Presentation
Using presentation templates is a great way to get your ideas and message across effectively. With a simple layout that's consistent and cohesive, a template allows you to easily customize your presentation with the content you want to include. The steps are simple:
1
Try to identify your presentation's "Why." Why are you preparing this presentation? What's the big picture you want to convey?
2
Write down an agenda to help guide the process, ensuring you don't leave out anything important.
3
Choose the best slide formats and diagrams for what you need to convey. The template includes common marketing diagrams, such as a quarterly business review and SWOT analysis. You can explore the Cacoo template library for more visuals.
4
Fill in the slides with headings, descriptions, data visualizations, and anything else needed to get your point across. Don't overdo it with the written word. Use your charisma and graphics to enhance the presentation.
5
And, of course, share the finished diagram with your team. Get their input to make it even better.
Related tags