Project Management Presentation
Project Management Presentation
The Project Management Presentation represents the summation of all the prep work, research, and planning that goes into a successful project. Provide a rundown of project goals, timelines, budgets, and resources in one concise presentation that's sure to get buy-in from stakeholders.
Uses of Project Management Presentations
A project management presentation is a compilation of visuals and data highlighting the most important parts of a project. The goal is to answer the most significant questions internal and external stakeholders have about the project and how it will be implemented.
A typical project management presentation might include:
The purpose and expected impact of the project
Timelines for each project phase
The projected project budget
Resources needed to execute the project
Staff responsible for completing project goals/tasks
Project management presentations are useful for any endeavor, whether organizations are planning a product release, construction project, healthcare initiative, or ad campaign. Cacoo allows you to customize a presentation and share it with others for easy collaboration or view diagrams online in presentation mode.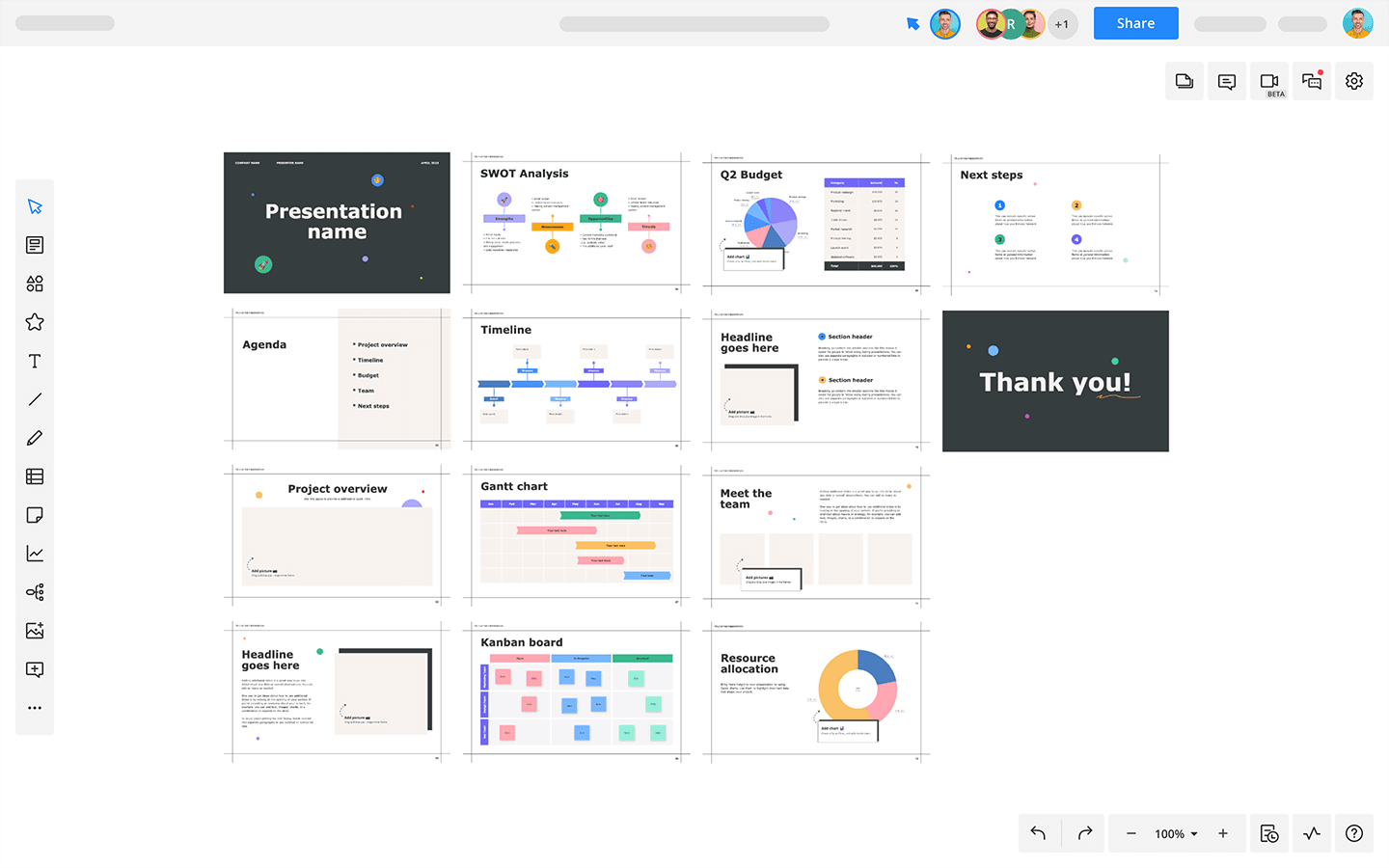 How to create your own Project Management Presentation
Planning your project is the hard part. Once you have that down, making the presentation will take no time at all. You'll need details about the amount of work involved, the expected duration, and the skill sets needed for the project. Here's how to get started:
1
First, open the Project Management Presentation in Cacoo, and add a project name on the cover page.
2
Next, fill in the meeting agenda page with topics and times. Consider how many talking points you'll need to cover in the presentation and the expected length of each topic.
3
Use the introduction section to briefly explain the point of the project, why it matters, and what you hope to communicate in the presentation.
4
Use the Project Management Diagram and Project Timeline Template to outline the implementation strategy and milestones for the project.
5
Now, fill in the Organizational Chart diagram with the names and roles of key members involved in the project.
6
Finally, remove any content you don't want to use, and customize the presentation with more diagrams or brand colors and graphics.
If you need additional diagrams, explore Cacoo's template library for more project management templates.
Related tags