SWOT Chart Template
Analyze your company's strengths, weaknesses, opportunities, and threats virtually just like you would in the meeting room — with sticky notes! The SWOT Chart Template lets the whole team collaborate to assess your organization's competitive positioning.
Uses of SWOT Chart Templates
A SWOT chart is a diagram used to analyze internal and external conditions that help or hinder your organization. In business management, SWOT charts function as both a visualization and brainstorming tool. They provide a simple way to assess positive and negative factors and come up with ideas for either leveraging those conditions or overcoming them.
The four quadrants of the grid include:
Strengths – positive internal traits or conditions that are beneficial to you
Weaknesses – negative internal traits or conditions that could hinder you
Opportunities – positive external conditions that could be advantageous
Threats – negative external conditions that could be disadvantageous
A SWOT chart is most beneficial for identifying opportunities that align with organizational strengths. However, they're also useful for managing weaknesses and threats and setting new business goals. With Cacoo online diagramming software, team members can fill out, add, and edit virtual sticky notes in real-time for a collaborative experience!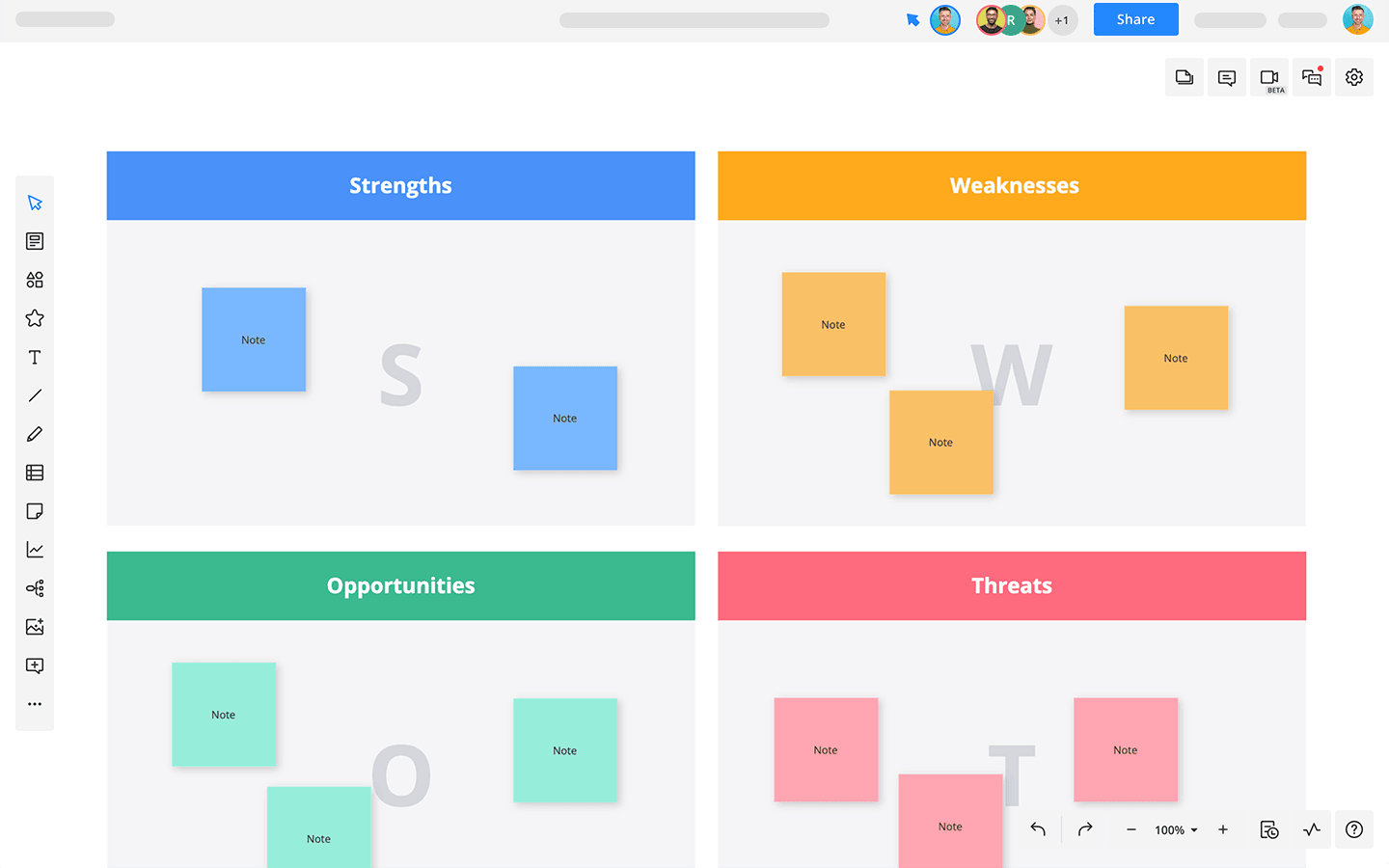 How to create your own SWOT Chart
Making a SWOT chart takes a little collaborative effort, information about your organization, and a good understanding of the market landscape. To get started, open the SWOT Chart Template in Cacoo.
1
Using the sticky notes, list internal factors that have a positive impact in the 'Strengths' section. Think about conditions that help the organization succeed, such as good leadership or an internalized supply chain.
2
Use the 'Weaknesses' section to list internal factors that have a negative impact or hinder performance. Limited budgets, poor stakeholder support, or inefficient workflows are just a few examples.
3
Next, consider external factors you can take advantage of to improve the organization, and list them in the 'Opportunities' section. Untapped markets, supplier discounts, and regulatory changes can all lead to business opportunities.
4
In the 'Threats' section, list external factors that could be problematic. Supply chain shortages, new or advancing competitors, and changing consumer trends are common threats.
5
Finish the analysis by comparing the information across quadrants. Consider to what degree the weaknesses and threats hinder the strengths and opportunities. Think about what you can do to mitigate disadvantages and leverage any benefits.
Related tags