SWOT Analysis Template
Whether you're making personal or professional decisions, a SWOT Analysis Template makes it quick and simple to evaluate the strengths, weaknesses, opportunities, and threats in any situation. Use the analysis results to brainstorm actionable goals and strategies.
Uses of SWOT Analysis Templates
A SWOT analysis is an evaluation tool for assessing internal or external factors that may be advantageous or disadvantageous to your goals. The analysis is useful for both brainstorming the best goals to pursue and determining whether the environmental or organizational conditions are favorable. Here's what each section of the diagram means:
Strengths – positive internal traits or conditions that are beneficial to you
Weaknesses – negative internal traits or conditions that could hinder you
Opportunities – positive external conditions that could be advantageous
Threats – negative external conditions that could be disadvantageous
A SWOT analysis is most beneficial for identifying opportunities that align with your strengths. However, they're also useful for evaluating weaknesses and threats so that you can brainstorm how to mitigate them. SWOT diagrams are a popular tool in business and marketing, but they can be used for situation analysis and goal-setting in any industry.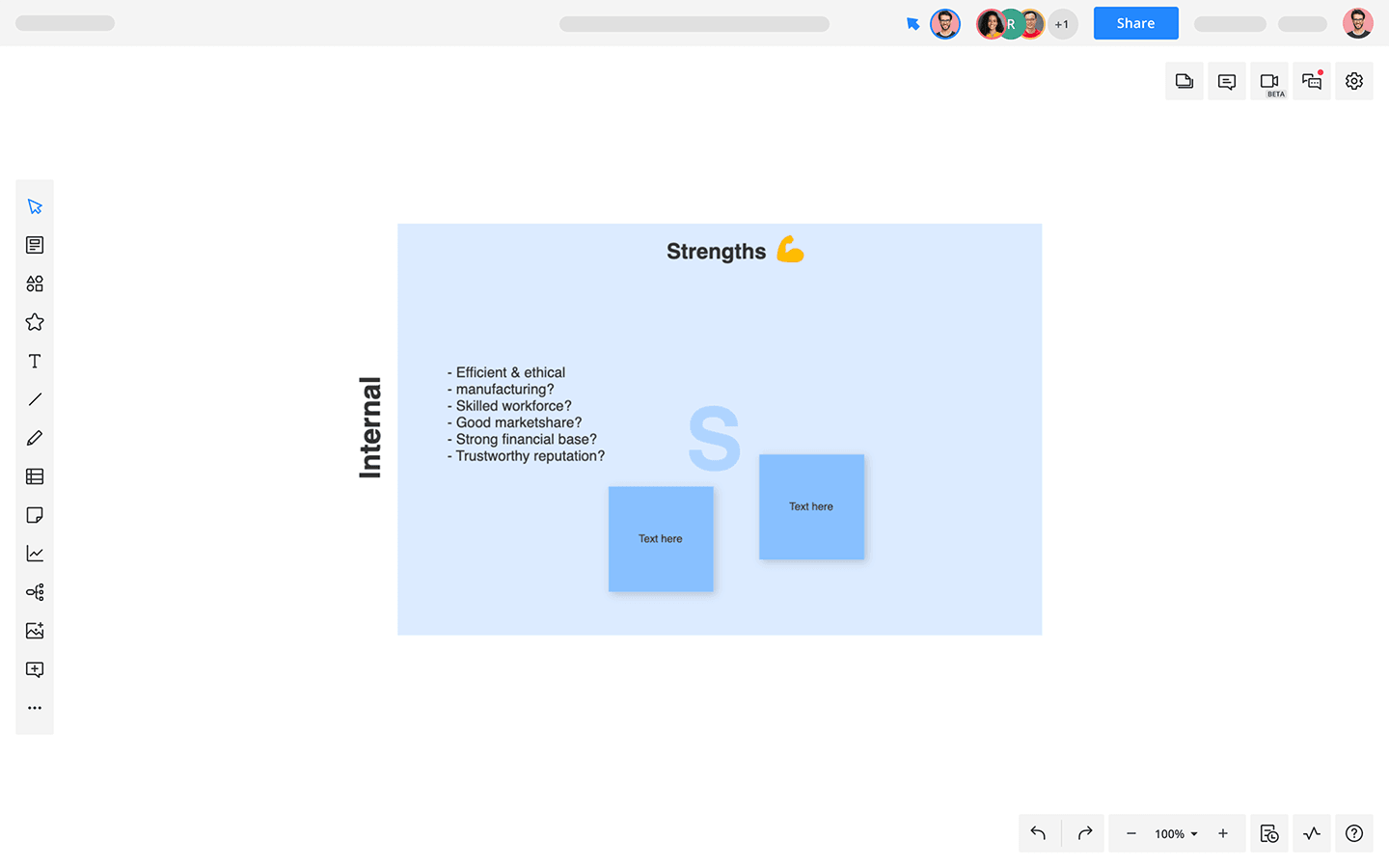 How to create your own SWOT Analysis
1
Start by opening the SWOT Analysis Template in Cacoo.
2
In the 'Strengths' section, list internal conditions that will help you succeed. For example, does your organization have a highly skilled workforce? Cost-efficient workflows?
3
In the 'Weaknesses' section, list internal conditions that could create limitations. Does your organization lack market visibility or quality resources?
4
Now, think about external conditions you can use to your benefit, and list them in the 'Opportunities' section. For example, your organization may be better positioned than competitors to enter an emerging market.
5
In the 'Threats' section, list external conditions that could be problematic. Are there supply chain shortages or changing consumer interests?
6
Finally, conduct the analysis by comparing the information in each section. Consider to what degree the weaknesses and threats hinder the strengths and opportunities. Think about what you can do to mitigate disadvantages and leverage any benefits.
For organizational analyses, include other team members in your assessment. Gather as much data as you can, so your team can develop actionable items to improve company operations or projects.
Related tags