Venn Diagram Three Circles
Venn Diagram Three Circles
Where's the only place where three is not a crowd? That's right — the Venn Diagram Three Circles template! A classic Venn diagram is the perfect visualization tool for showing the similarities and differences of three items or concepts. So, third-wheeling is not an issue here.
Uses of Venn Diagram Three Circless
Venn diagrams are everyone's go-to tool for visualizing relationships between items or ideas. Each circle contains ideas or attributes that relate to a single category, while the spaces where circles overlap contain similarities between multiple categories.
The Venn Diagram Three Circles template can be used for grouping and brainstorming ideas or identifying patterns in almost any context. Here are just a few examples:
Teaching – assessing patterns and related ideas in mathematics, science, and literature
Goal-setting – evaluating strengths, weaknesses, and interests to decide what goals to pursue
Sales & Marketing – identifying commonalities in customer needs, user behavior, and market trends to improve conversions and targeting
Management – comparing strategic, operational, and client objectives to brainstorm the best solutions
With its unlimited applications, it's easy to see why the Venn diagram is so timeless and popular. Get it in Cacoo today!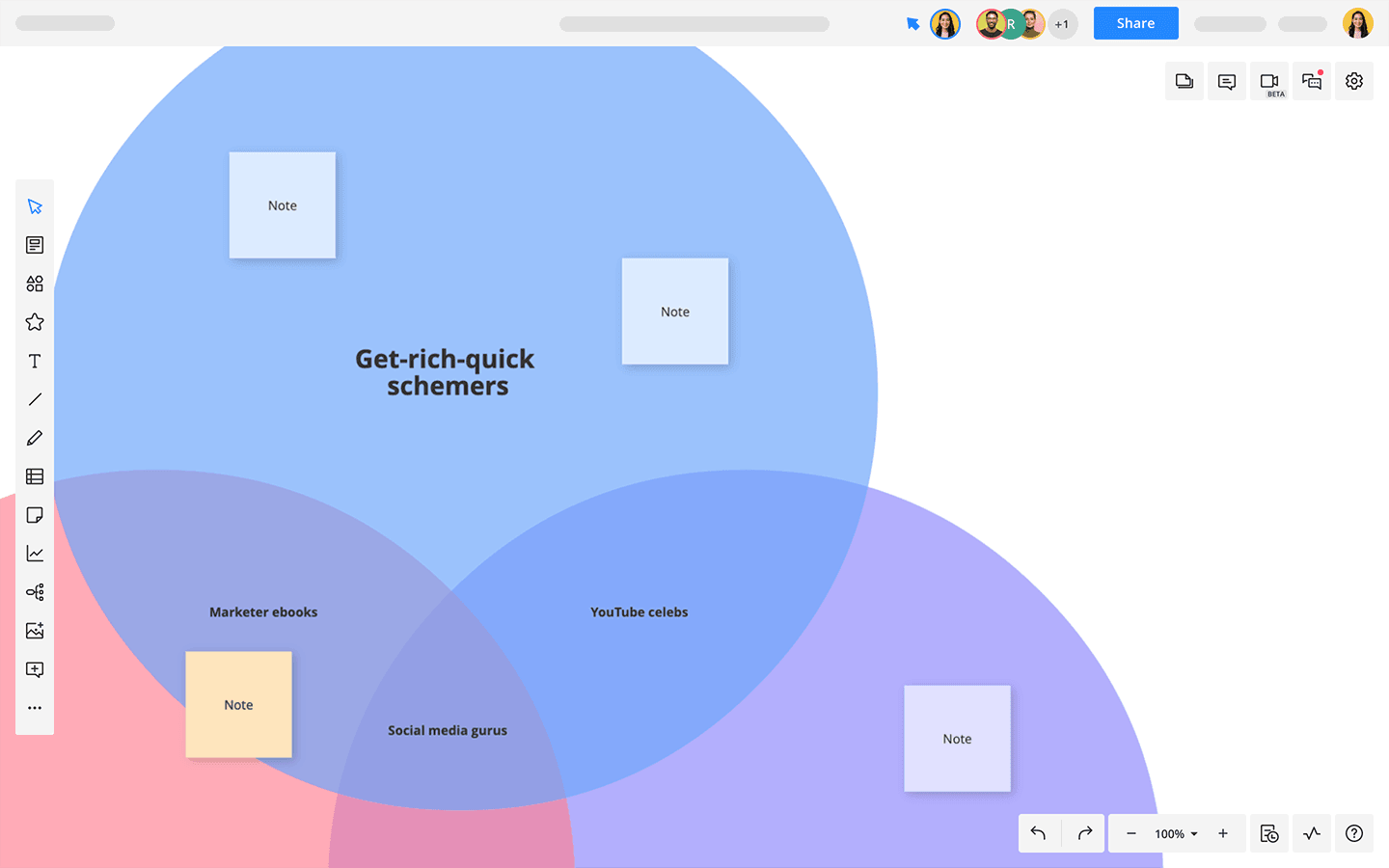 How to create your own Venn Diagram
Only one thing is required to make a great Venn diagram — your ideas! Think about the topics you want to explore, and then open the Venn Diagram Three Circles template in Cacoo to get started.
1
Label each circle with a category or idea you want to evaluate.
2
Next, fill in the open portion of each circle with ideas that relate to the category.
3
Now, fill in the areas of overlap with common ideas that relate to adjacent categories.
With Cacoo, you can add context to your diagram by adding comments to explain the thought process. Then, feel free to share the diagram with others to get more input and build on your ideas.
Related tags