4 Circle Venn Diagram
Explore commonalities and differences with ease using our 4 Circle Venn Diagram template.
Uses of 4 Circle Venn Diagrams
Wondering what apples, bananas, and oranges have in common? How about marketing, sales, and product teams? New customers and existing customers? The classic Venn diagram offers a quick way to compare relationships between different sets of information.
With this four-circle variation, you can evaluate the similarities and differences between a larger quantity of categories or ideas at once. The 4 Circle Venn Diagram is a rapid brainstorming tool with unlimited applications, including:
Education – assessing patterns and related ideas in mathematics, science, and literature
Business & Marketing – identifying commonalities among customers, competitors, and markets for better targeting and resource management
Project Management – visualizing how individual or team responsibilities and goals overlap
Mentoring & Coaching – conducting self-evaluations to brainstorm new goals or career/education paths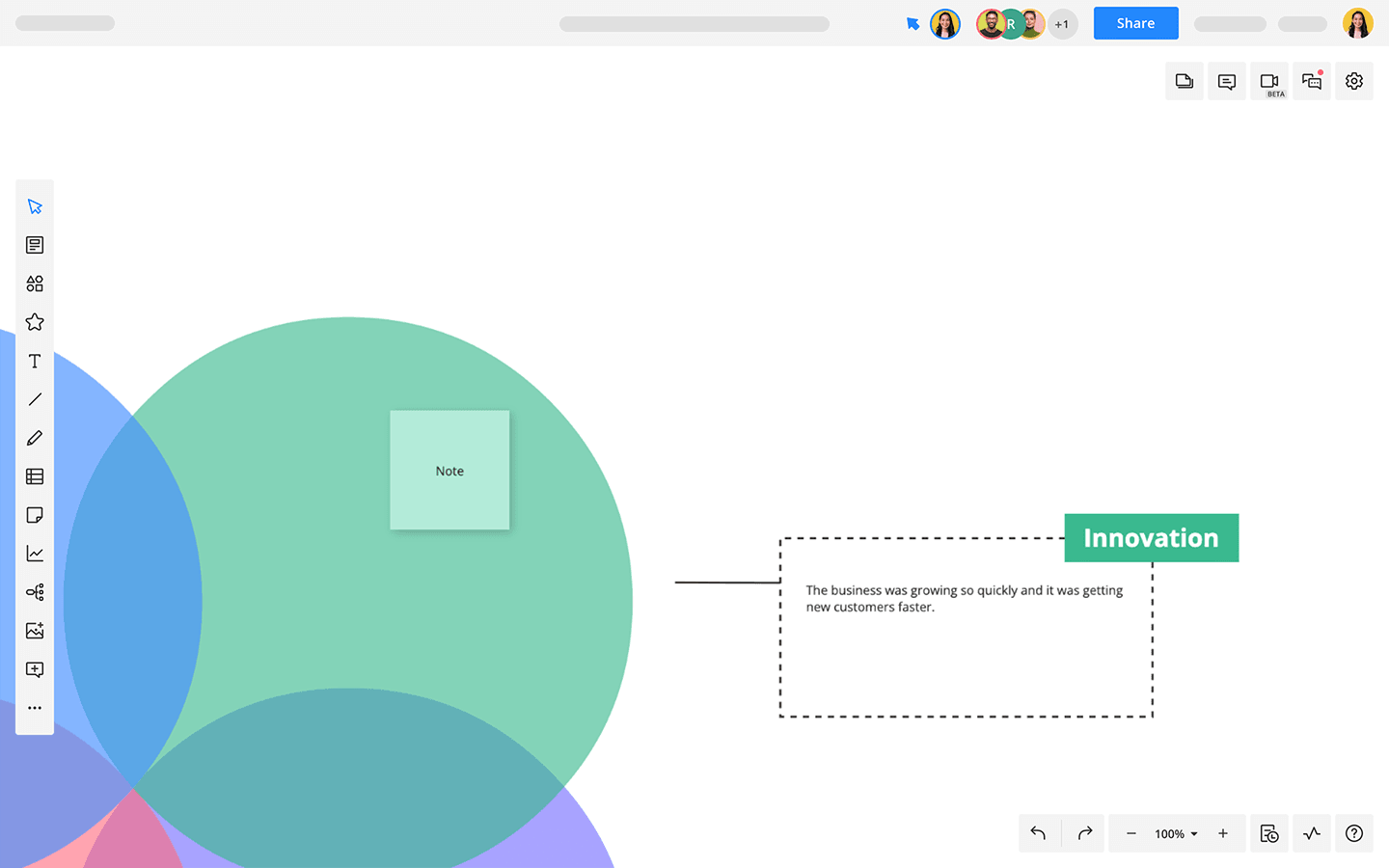 How to create your own 4 Circle Venn Diagram
A Venn diagram is simple to make and a proven method for jumpstarting the brainstorming process. Here's how to create your own.
1
First, open the 4 Circle Venn Diagram template in Cacoo.
2
Click on each of the existing labels to input your own ideas or categories.
3
If you like, add a brief description of what each category should consider to make sure all collaborators understand your goals.
4
Fill in the open portion of each circle with ideas that relate to the category.
5
Fill in the overlapping spaces with common ideas that relate to adjacent categories.
Now, all you have to do is share the diagram with others and let them add their input as well. Reap the benefits of collective thinking by working together as a group and building on each other's ideas.
Related tags