Marketing Mix Template
This colorful Marketing Mix Template makes it easy for marketing teams to visualize a marketing strategy for any product, business, or service. Use the 7 Ps of marketing as a framework for developing well-rounded promotions.
Uses of Marketing Mix Templates
The marketing mix consists of tactics and conditions for maximizing the value and reach of marketing campaigns. It provides a comprehensive overview of the essential factors and touchpoints to consider when developing a marketing strategy.
What began as the 4 Ps of marketing has evolved into the 7 Ps: Product, Place, Price, Promotion, People, Process, and Physical Environment. The goal is to assess your organization's marketing impact from as many angles as possible, such as product quality, pricing, branding, company culture, and sales channels.
A marketing mix diagram is useful for:
Identifying and evaluating target audiences
Planning and testing marketing strategies
Analyzing and optimizing conversions
Optimizing marketing spend
Assessing competition, market gaps, and positioning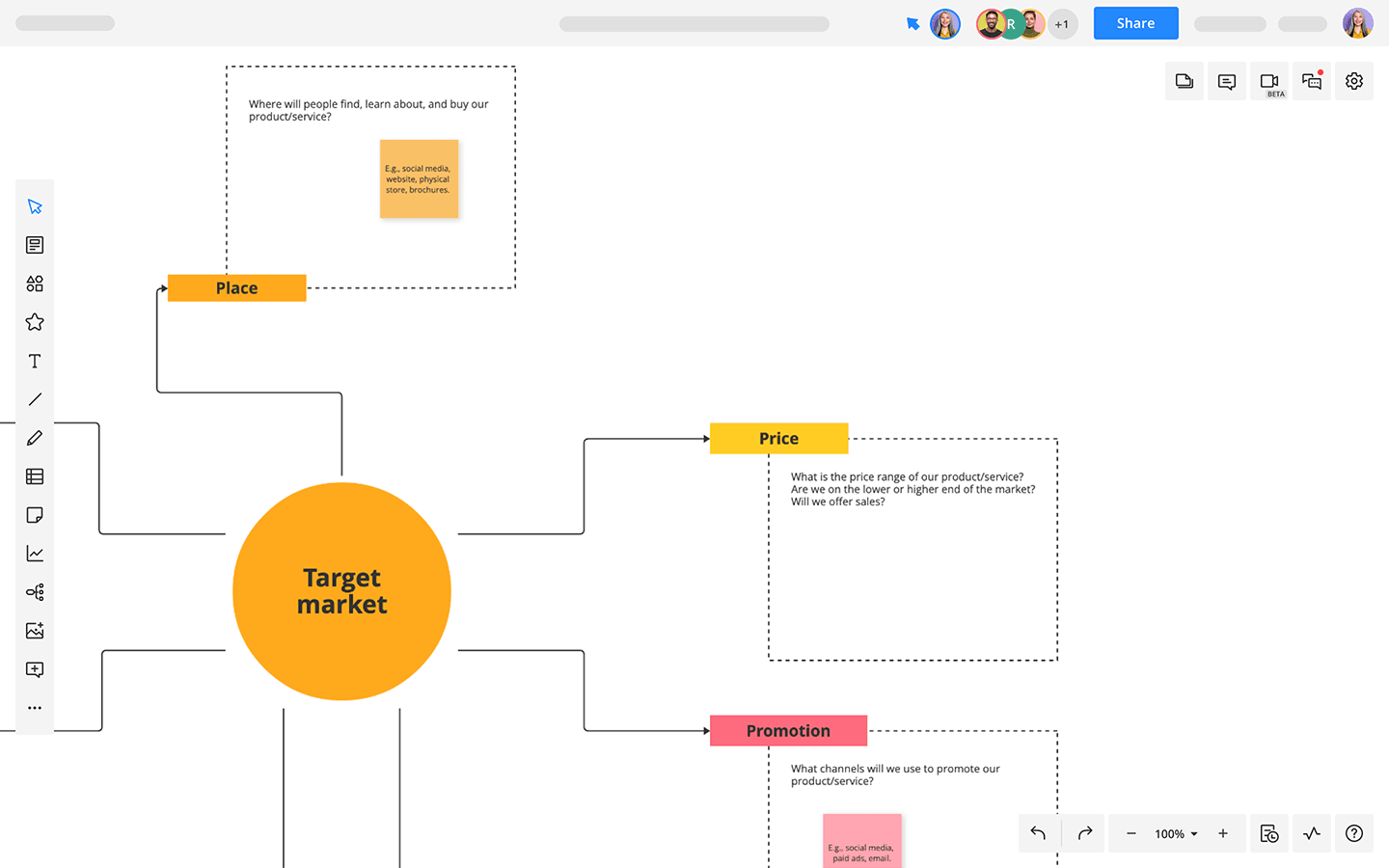 How to create your own Marketing Mix Diagram
Like any project, a marketing mix works best when you go in with clear goals. So, identify what you want to accomplish by the end of the process. Do you want to know how your product marketing compares to the competition or explore ways to reach your audience better? Get a handle on your objective, and then get to work.
1
Open the Marketing Mix Template in Cacoo.
2
Start editing the content to serve your purpose. For example, you can label the central circle with your target market.
3
Fill in your ideas in each category. The circles already include factors to consider, but you can add or remove content to better suit your type of organization.
4
If you like, add comments or description boxes to include additional thoughts or context to help others understand your objectives.
5
Share the diagram with your teammates to get their input, or add it to your next marketing presentation!
Related tags