SWOT Template
Perfectly pinpoint your company's market position by conducting a SWOT analysis. Our colorful SWOT Template makes a great addition to business and marketing presentations, providing a clear breakdown of an organization's strengths, weaknesses, opportunities, and threats.
Uses of SWOT Templates
A SWOT analysis is a diagram for evaluating a business's health and the competitive landscape. Marketers and business leaders frequently use this tool to brainstorm ways to grow an organization and determine whether the company is in a good position to pursue new opportunities. The SWOT acronym stands for:
Strengths – positive internal traits or conditions that are beneficial to you
Weaknesses – negative internal traits or conditions that could hinder you
Opportunities – positive external conditions that could be advantageous
Threats – negative external conditions that could be disadvantageous
Instead of the classic grid format, the Cacoo SWOT Template is specifically designed for sharing your findings in a business presentation. Build your own diagram, and customize it with your chosen fonts and brand colors when you sign up for Cacoo today!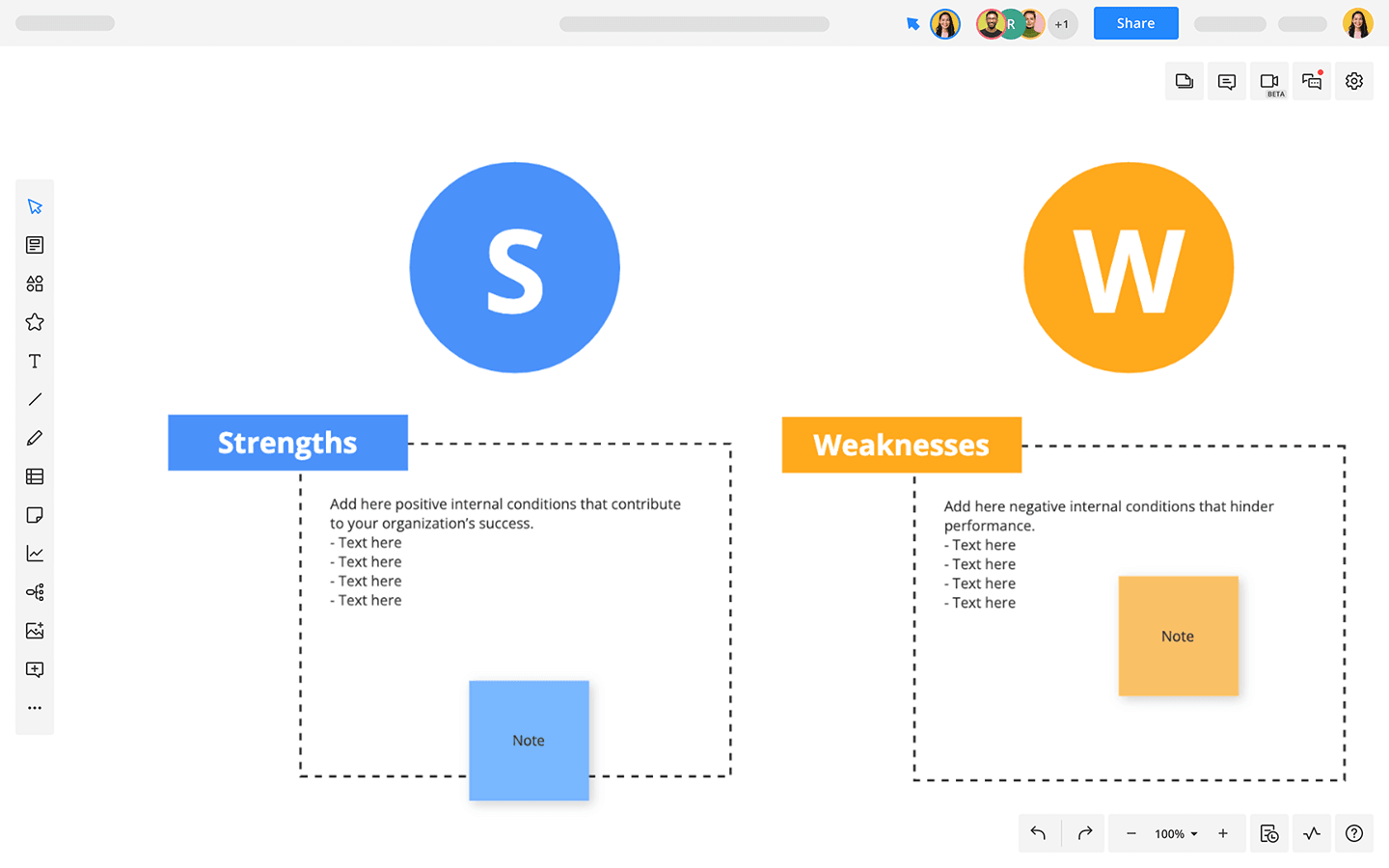 How to create your own SWOT Diagram
The SWOT Template works best when you've already conducted a SWOT analysis and want to present the content to stakeholders. Start by opening the diagram in Cacoo.
1
In the 'Strengths' section, add a summary of positive internal conditions that contribute to your organization's success.
2
In the 'Weaknesses' section, add a description of negative internal conditions that hinder performance.
3
Next, use the 'Opportunities' section to describe external conditions your organization can use to its benefit.
4
In the 'Threats' section, write a summary of external conditions that could pose problems or limit the organization's ability to pursue opportunities.
Related tags