User Persona Template
Try using our User Persona Template to put the customer's needs and thoughts first. By evaluating customer goals and motivations on a deeper level, marketers can make better strategic decisions.
Uses of User Persona Templates
Not sure where to get started on a new campaign or project? With a user persona, you can define the attributes of an ideal customer to improve your targeting strategies.
Different types of customers have unique needs and reasons for choosing a product or service. The goal of a persona diagram is to help you think about the customer or user experience from their perspectives, so you can design better products or processes.
User personas are valuable for any industry and can be used to:
Improve the sales cycle or customer journey
Brainstorm strategies to increase your customer base
Identify opportunities to reach new customer segments
Increase sales, product engagement, and customer retention
Determine how to allocate marketing resources
Make the Cacoo User Persona Template your own by adding details like the target customer's job role, age, interests, expectations, goals, or challenges. You can even include a picture to make the persona as realistic and true to your customer base as possible!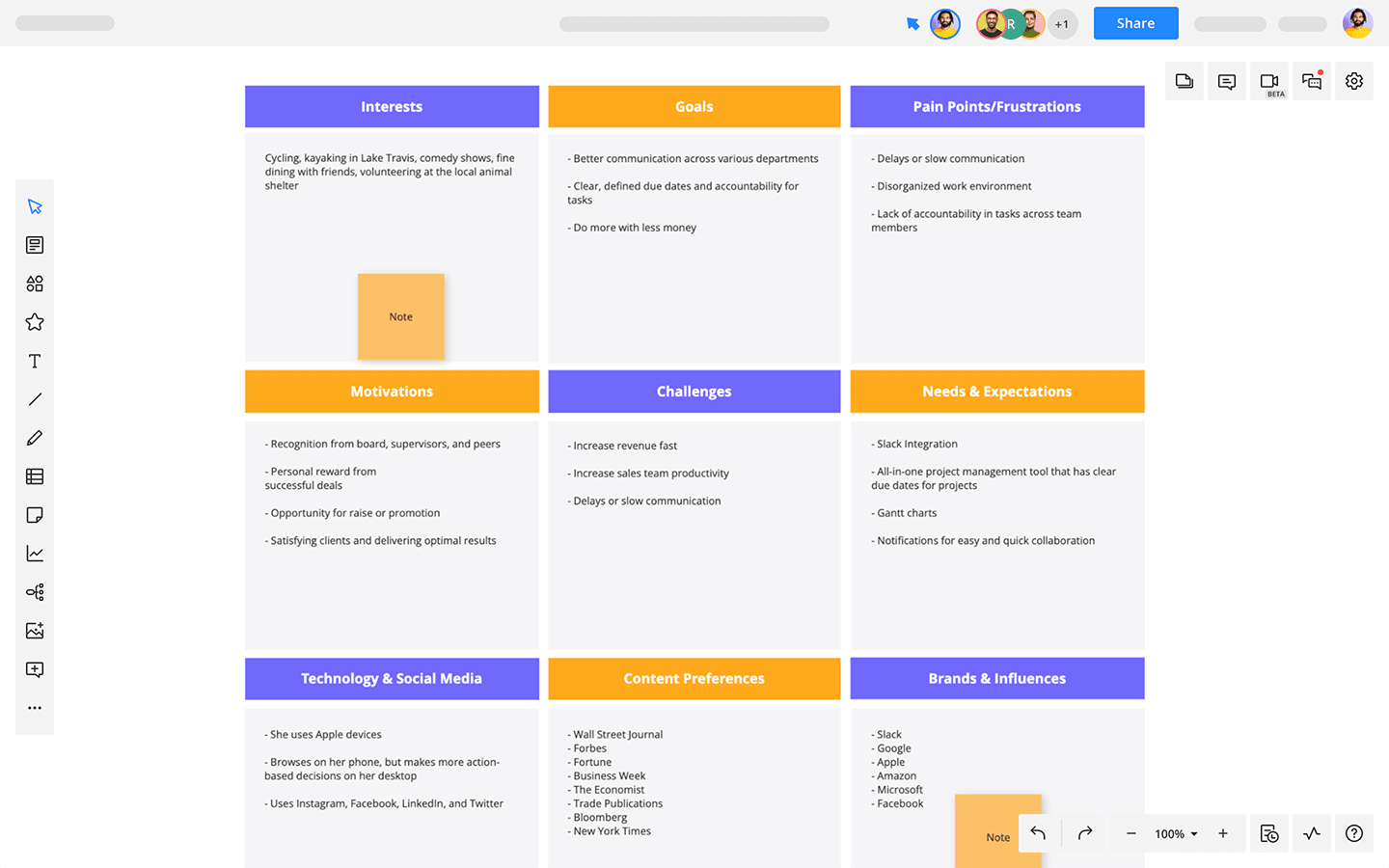 How to create your own User Persona
With a Cacoo template, you can quickly create multiple customer personas to define different types of ideal clients. Follow these steps to make your own.
1
Open the User Persona Template in Cacoo, and fill in the main identifying details (name, age, etc.) on the left sidebar.
2
Optionally, you can insert a photo of the customer persona. This may be a stock photo or a real photo if you worked closely with a client to develop the content.
3
Start with the first attribute box, and add details that fit into each category.
4
Add or remove categories to customize the diagram to your needs.
5
For more detail, collaborate with others to flesh out the ideas. You can also create additional diagrams for each audience segment you want to represent.
With your finished persona, you should have an in-depth picture of your customer's needs. Use the diagram to brainstorm steps you can take to improve the customer experience.
Related tags