User Story Map Template
A great user experience doesn't happen by accident. With the User Story Map Template, you can track every interaction from start to finish for a detailed analysis of user personas, activities, and tasks. Compile all the data into one handy diagram to manage UX design goals and make products that delight your clients.
Uses of User Story Map Templates
A user story map provides a framework for developing a product or feature by focusing on user goals and needs. Mapping the user journey is an important part of human-centered design, and it combines several elements of UX research, such as user personas and user stories. The goal is to solve problems and create better solutions by understanding users' intentions and how they're likely to interact with the product.
User story mapping is commonly used in UX design, product development, and marketing to:
Design and implement new products
Add new features to existing products
Streamline user interfaces
Optimize user engagement with products
Give clients intuitive experiences using the User Story Map Template and many other UX design tools when you sign up for Cacoo today! The sticky note format allows you to easily rearrange information in the diagram to prioritize the most important features and tasks.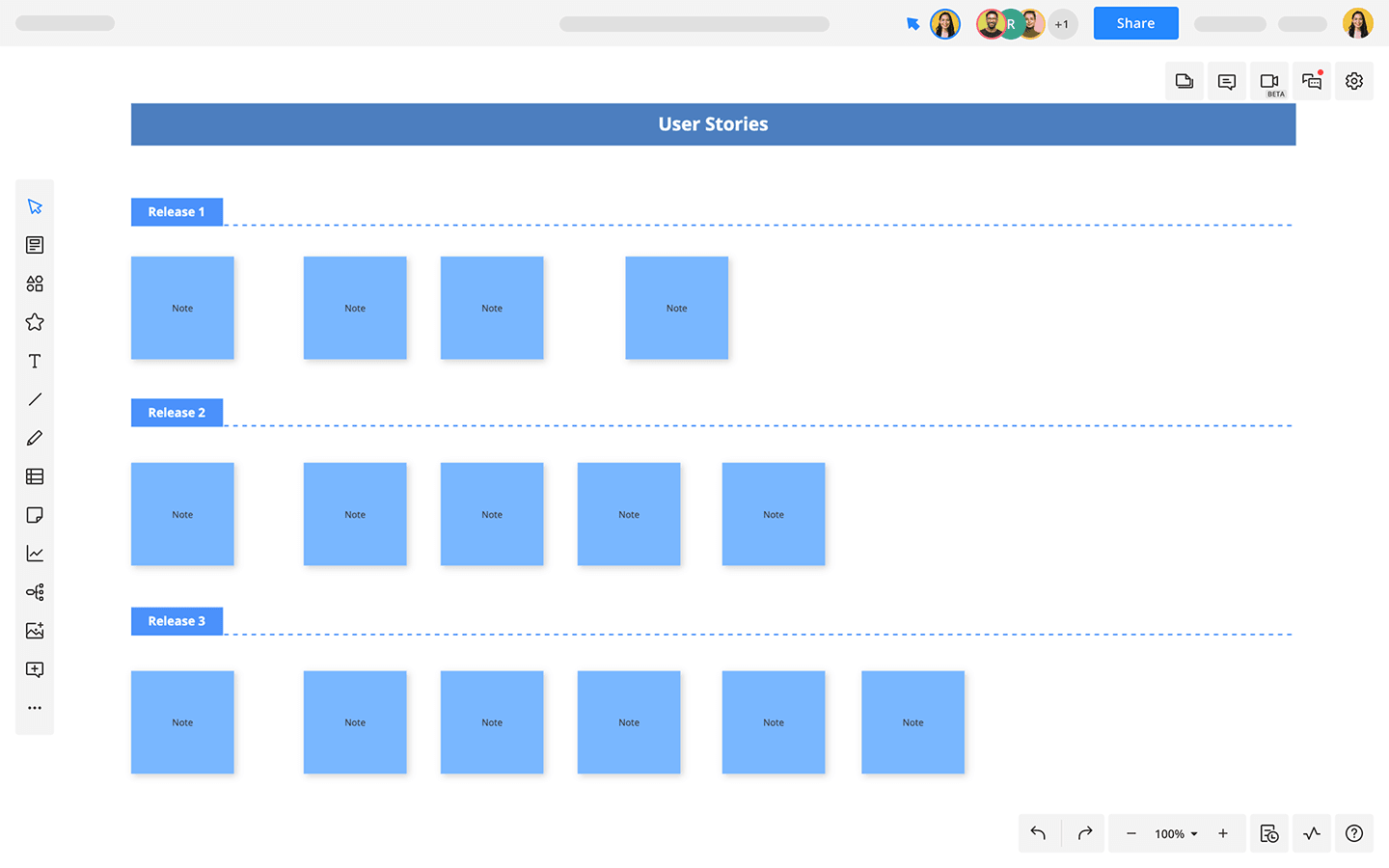 How to create your own User Story Map
To make a high-quality user story map, you'll need to do plenty of UX research to gain a clear picture of what users want and need. Open the User Story Map Template in Cacoo to get started.
1
Using the sticky note, list the user segment you're targeting in the 'User Persona' section.
2
Fill in the 'User Activities' section with the most common reasons why clients use the product.
3
In the 'User Tasks' section, describe the most common tasks clients perform while interacting with the product.
4
Now, use the 'User Stories' section to show the relationship between user activities and tasks. In other words, summarize the user's intentions when performing specific interactions.
5
Finally, use the 'Release' sections to describe the features/solutions you want to implement to address user needs.
Developing a user story map is often a collaborative effort, so be sure to share the diagram with stakeholders to get more input. By looking at the user experience from many angles, your team can design products your clients love to use!
Related tags