Easylive.io case study:
Overcoming remote work and scaling challenges with Backlog
Executive Summary
We had a chat with Nicolas Mortreux, Web Developer in charge of the international technical relations, and Romane Linck, Head of Marketing and Communication Strategies. They told us how their remote teams and different departments use Backlog to communicate, coordinate, and organize multiple projects while avoiding bottlenecks, fixing bugs, and saving time.
Challenges
Why did you start using Backlog? What obstacles did you want to overcome?
Our diversity and internationality are our strength. We have colleagues based in Paris, Bordeaux, Strasbourg, New York, San Francisco, and Montr∞al. Since our clients are from everywhere in the world, having this international dimension is essential to us. But working with remote teammates based in different time zones has definitely its challenges, especially for a fast-paced company like ours.
After our launch, we started growing at a great rate. As our company grew, the number of new, big projects (and ideas) to work on grew as well. At a certain point, it became very challenging to keep track of the projects that needed action or of the bugs our developers needed to fix. Our work was becoming quite chaotic. We needed a tool that could help us put all the pieces together: coordinate the work among different teams, set priorities, share information, monitor bugs.
That's how we started using Backlog. Your software is the perfect mix between issue tracking and project management.
"In many companies, the communication between the Sale team and the Software Development team may be quite rough and difficult sometimes - but not if you use Backlog!"
How Backlog Helped
How do you normally use Backlog?
We use it to process and manage bugs, address our clients' requests, and, overall, organize all our projects.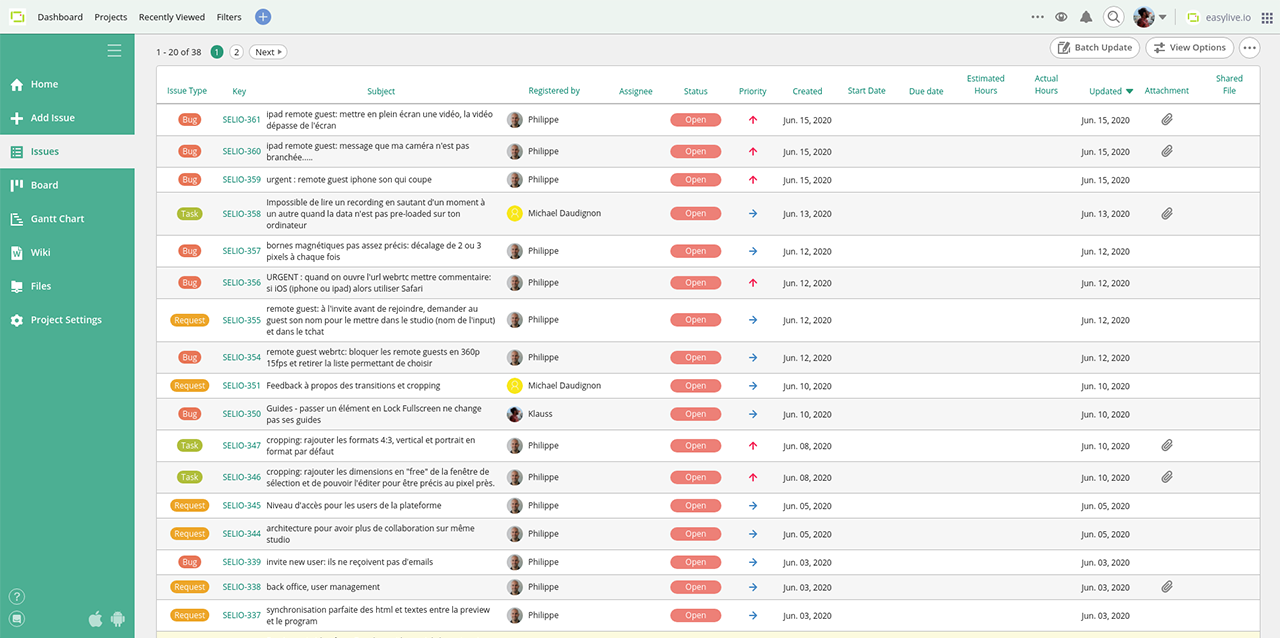 Examples of easylive.io using Backlog
Did Backlog help you improve internal communication?
Yes! Backlog didn't replace emails completely, but we do extensively use its comment sections. It's easier and more agile to talk directly about a specific task in the comment section, especially when you need some additional information to complete that task. There is no risk that some critical updates get lost in the overloaded email inbox.
We also use Backlog to store files, videos, and pictures when we open a new issue or if we want to share further details in the comment section. That makes the task more user-friendly and understandable for everyone.
Can you mention a recent time-consuming project you organized using Backlog?
During the first semester of 2020, we rebranded our entire website. We spent months working on it. It was a complex project that required the assistance of several departments and constant monitoring.
Backlog made it easier to organize tasks, see what content or support was missing, and monitor the progress made by each team during each step of the process.
Your platform has been of great help to ensure the smooth success of the redesigning activity. It unquestionably facilitates remote teamwork.
Thanks to Backlog, we had everything under control.
Is Backlog helping you save time?
Quite a lot. Now we reach short term goals so much faster because we have this at-a-glance insight into who's doing what by when. There is also a positive impact on long term goals, as we can efficiently organize our general roadmap, keep track of its progress, and spot potential bottlenecks.
Also, we don't have to spend time going through emails and messages on chat apps to understand if there are new bugs and requests for new features. Now, everyone can address everything on one single platform: all the issues, all the questions, all the information is right on Backlog. In the morning, I just have to check Backlog to have a complete picture of what is going on.
What's your favourite Backlog's feature?
The Gantt chart. It's an amazing visual tool to check the development of projects. And thanks to the different colors, you don't have to open a task to know its status. Colors tell you directly if it's close, resolved, in progress, etc.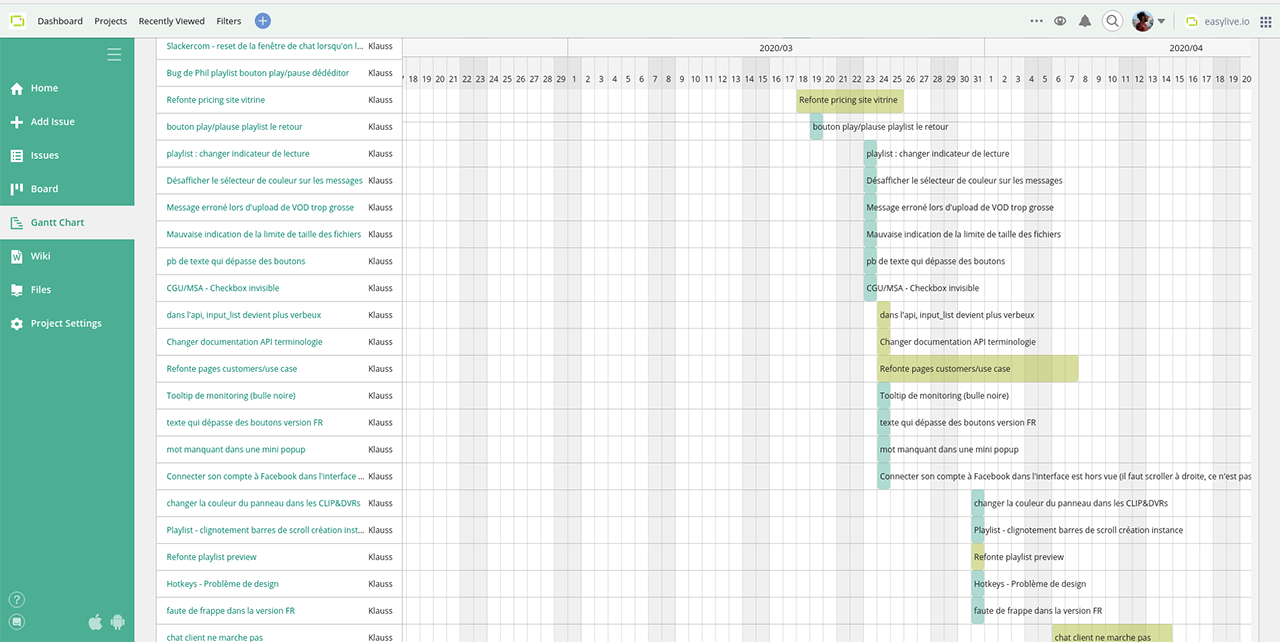 Example of Gantt chart used by one of easylive.io teams
Results
With Backlog, we improved our internal management. We achieve more, more efficiently. We communicate and coordinate better.
Now we have a very fluid workflow between our Sale team and our Software Development team, which leads to more dynamic support to our customers. Once a new task has been assigned, the Sale team simply look at Backlog to know the progress made by the developers. Once they have checked the task status, they can update our clients and tell them if a bug has been fixed, if the work is still in progress, if a feature is ready, and so on. In many companies, the communication between the Sale team and the Software Development team may be quite rough and difficult sometimes - but not if you use Backlog!
Backlog is a remarkable bug tracking and task management tool that makes remote work extremely easy while improving overall team performance. Working on projects has never been this straightforward!

Founded in 2012,
easylive.io
provides a cloud-based, all-in-one live streaming production service that allows to professionally broadcast live content everywhere. easylive.io's clients include the NFL, the Paris Saint-Germain Football Club, and the UCLA Bruins.
Industry

Software & Web Services

Location

France, USA, Canada