Daily Standup Meeting Template
Daily Standup Meeting Template
The Daily Standup Meeting Template allows you to fill in what you did yesterday, what you'll do today, and what blockers you have, instantly making your entire team's workflow more connected. You don't even have to be standing up for this one anymore!
Uses of Daily Standup Meeting Templates
Daily standup meetings are an Agile tool for managing sprints and driving steady, measurable progress throughout projects. The main goals are to encourage transparency and productive communication so that teams can focus their attention in the right places and overcome blockers quickly.
Because these meetings are so frequent, they're meant to be short and sweet. You can use daily standup meetings to:
Align teams or departments on project goals
Prioritize daily project agendas
Identify issues stalling your project
Evaluate the overall effectiveness of workflows
Improve team communication and collaboration
To guide your meetings, the Daily Standup Meeting Template includes three simple sections: what did you do yesterday, what will you do today, and blockers. Share this online diagram with your team in advance of meetings, or fill in the information together remotely in real-time. Try Cacoo today!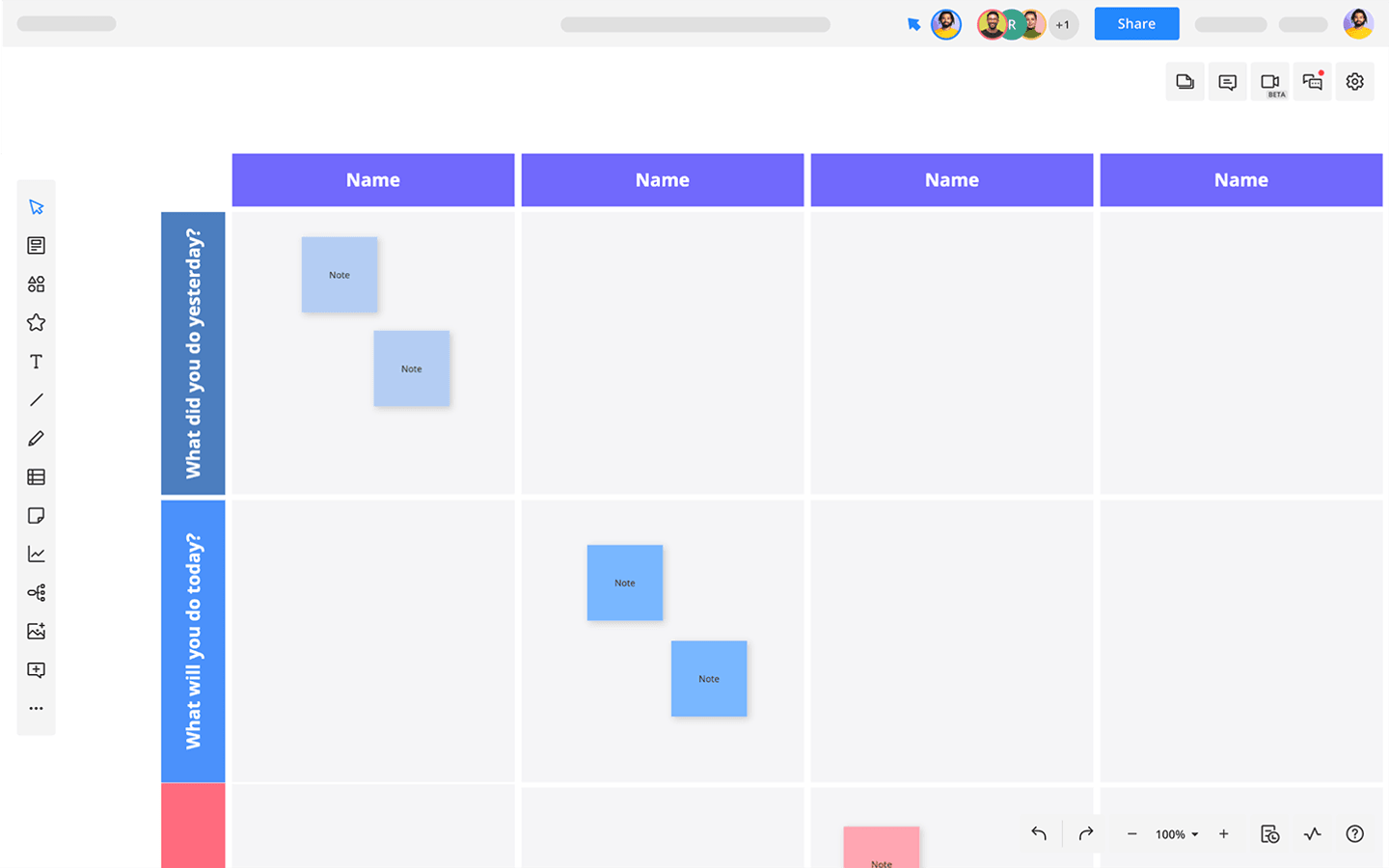 How to create your own Daily Standup Meeting Diagram
The template is ready to use as is. All you have to do is gather your team for the meeting.
1
Open the Daily Standup Meeting Template in Cacoo.
2
Let each team member fill in what they did yesterday, what they're planning to do today, and what issues or obstacles are blocking them.
3
Host a quick meeting to share your thoughts. With Cacoo, you can collaborate online in real-time and use chat or video chat to discuss team progress and blockers.
4
Duplicate the sheet as many times as you like, so you can keep a record of your standup meetings in one place. We recommend naming each sheet by date to keep track of them.
Related tags