Smart Coach case study:
Simplify the organization of complex, time-consuming projects
Executive Summary
Every year, 30% to 40% of soccer teams playing in the Champions League uses SmartCoach Technologies products, in addition to several Olympic champions and sports federations such as the Brazilian National Soccer Team (CBF). In the USA, teams like the San Antonio Spurs, the Philadelphia 76ers, and the Miami Dolphins are among their clients.
We spoke with Marco Pozzo, CEO of the company, to understand how Backlog helps his international team work remotely on complex projects and deliveries.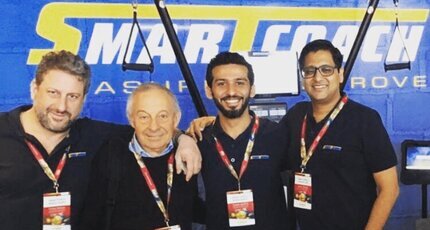 SmartCoach Technology team
Challenges
Why did you start using Backlog? What obstacles did you want to overcome?
When I founded the company, organizing the workflow was pretty easy, I had everything under control. It was a very small team. Now, it's all a different story. We are an international team, and we are growing fast. We started using Backlog because we needed a tool that could support our expansion and keep communication among departments clean and in check.
We use Backlog to channel all information, optimize our work processes, and never miss anything while working on a task. In the beginning, we used WhatsApp groups, emails, Excel sheets, Word documents. It was chaos. Backlog solved everything. The problems related to communication and organization have gone.
"We recently redesigned our entire line of products. It was an incredibly complex project that involved several teams including external consultants. Backlog was fundamental to succeed."
How Backlog Helped
How do you normally use Backlog?
We have many projects on Backlog. Daily, we use Backlog to control orders. Each order is tailored around our customer's needs, so every order is different and pretty complex. Our Sales department adds order details in the system, and the Production team begins to work on it. With Backlog, we keep track of every step of the process. We don't need to call, text, or email each other continuously to learn what progress has been made. We log into Backlog and check the status: open, in progress, produced, shipped, in transit, dispatched. Everything is clear.
Every department of our company uses Backlog to follow and organize their projects and tasks.
If I look at Backlog now, I can see 30 issues open to work only on our continuous software development and upgrade.
Could you share a recent time-consuming project you organized using Backlog?
We recently redesigned our entire line of products. It was an incredibly complex project that involved several teams including external consultants. Backlog was fundamental to succeed.
We needed to monitor the design and development of mechanics, electronics , software, and firmware. Every team used Backlog to organize their workflow, and I could follow the progress made. Without Backlog, it would have been impossible.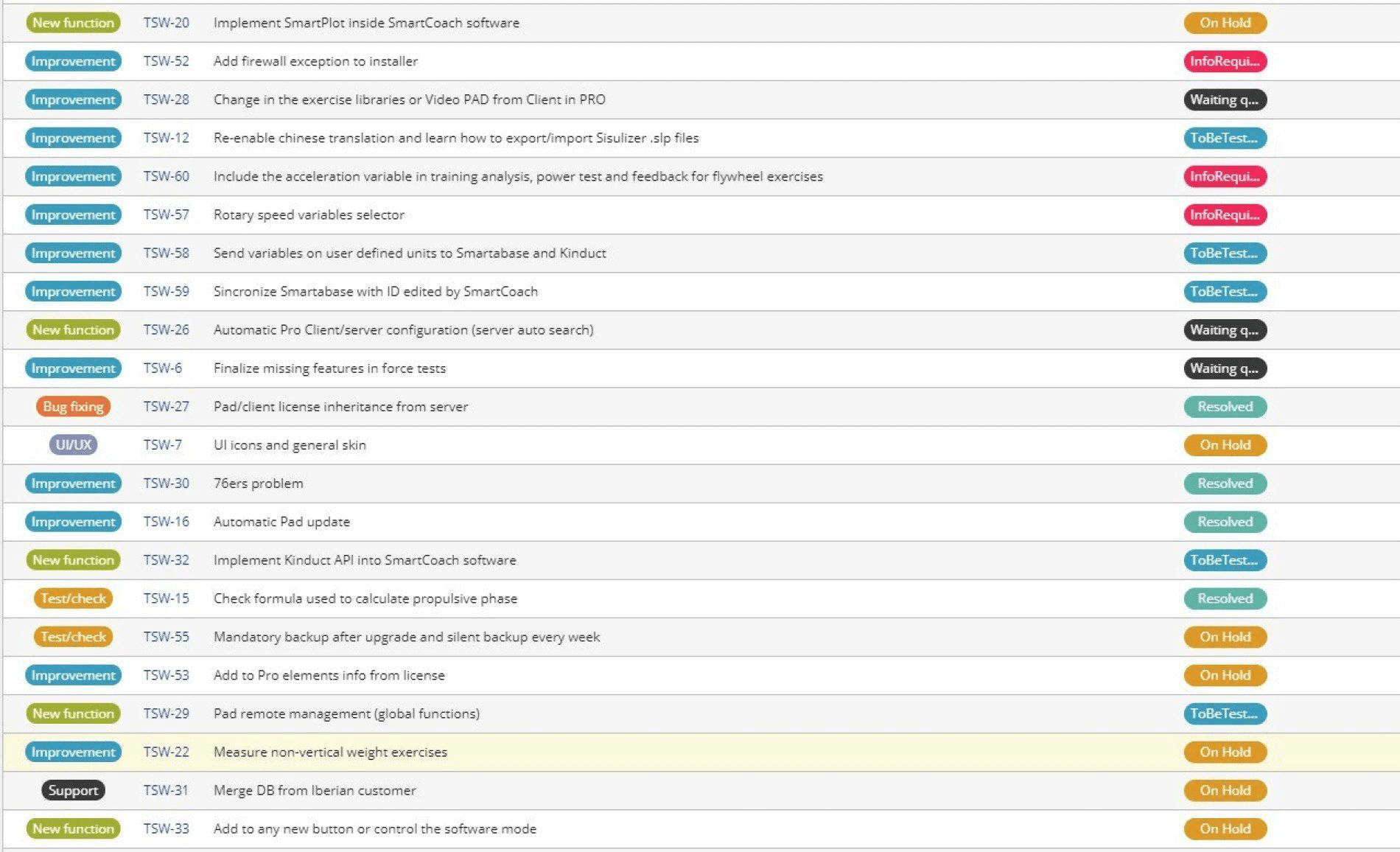 Example of issues created by SmartCoach Technology on Backlog
Did Backlog help you improve internal communication?
We were supposed to meet in person several times in the past months, but with the pandemic travelling is not an easy option. Backlog is even more essential now to communicate efficiently. It really became the spine of our work.
Our team members are based in different time zones. Backlog is our central hub where everything is written, stored, and accessible. It really helped us tear down language, cultural, and time zone barriers.
Do you also use Backlog to work and communicate with external contractors?
Yes. It's less frequent now, but we used to collaborate with external contractors for projects related to our software. We worked with contractors based in India and Spain. In these cases, we created a new account on Backlog for them, and we asked them to only use Backlog to communicate with us and update us on the status of tasks.
Especially for external people, Backlog is very useful. They often need information that only internal teams know, so we use your software to upload and share the information they need. We can also add attachments like PDF or images - everything is there. Like this, it has become a pretty easy and straightforward collaboration.
What's your favourite Backlog's feature?
Before the pandemic, I used to be on around 20 flights every month. I wasn't in front of the PC this often, but I still needed to check the workflow and tasks' status. I downloaded Backlog's app on my mobile phone and I could easily keep track of everything. Handy tool.
My personal assistant uses Backlog too. If there is a due date, a meeting, or an email to write - all those small but essential tasks I need to do for management - she assigns them to me with a deadline to remind me about them.
Results
With Backlog, communication among different departments of the company has become smooth and easy. We can efficiently structure the organization of projects, while keeping track of tasks and deadlines, with internal and external teams based in various time zones.
Backlog is an excellent remedy to the confusion created by emails, spreadsheets, and texts. All information is in one place, deadlines are clear, we can track each project's progress by simply logging in to Backlog. We couldn't ask for a better tool.

SmartCoach Technologies
is a young and fast-growing tech company that produces measurement devices and software for professional strength training and monitoring.
Industry

Information Technology

Location

Sweden, USA, Italy, India