Mastering project management software for first-time users
Backlog Staff
May 22, 2023
For an organization to succeed, certain things need to happen: products must be launched, marketing campaigns must be planned and executed, and customer support issues must be addressed.
Compare your organization to an orchestra. If everyone in an orchestra were to play their own music whenever they felt like it, the result wouldn't be a beautiful symphony. But when everyone plays the right music, at the right time, using the right instruments, the results are incredible.
Projects are the same. If the team isn't coordinating properly, the whole project falls apart. But if everyone works together towards a shared goal, with clear instructions, timelines, and resources, the project is a success.
As a project manager, you're the conductor. It's your job to keep everyone on track and give them the tools and structure they need to succeed. The best way to do that in our digital world: project management software.
Keep reading to learn how you can start using project management software to create an environment that gives your team every chance possible to be successful.
What is project management?
Before we dive into the finer details of project management skills and tools, it's helpful to zoom out and consider project management more broadly.
In our project management guide, we define project management as:
"The act of creating and maintaining an environment in which an objective can be achieved according to a plan"
It's important to note that anyone can be a project manager. Just because "project manager" isn't in your job title, it doesn't mean you're not a project manager in some sense. In fact, almost everyone in a professional environment is, at least in part, a project manager.
Have you ever assigned work to a teammate? Broken down a big task into smaller pieces? Or had to complete a series of assignments by a deadline? If the answer is "yes", congratulations: you've been a project manager.
The challenge, though, is how you can better manage future projects. And the solution lies in using the right project management tools in a thoughtful, intentional way.
Meet Backlog: simple, intuitive project management software
Project management software is an indispensable tool for project managers. But these tools can be complicated, and if you don't know what you're doing, it's easy to feel lost.
Enter Backlog: a simple, intuitive project management software designed for beginners and experts alike. It's the perfect solution for teams and individuals taking their first steps into project management, with affordable, scalable plans and a range of powerful, flexible features that enable seamless task management, collaboration, communication, file sharing, and reporting.
Backlog serves as your team's central hub for all active projects, replacing scattered spreadsheets and endless email chains. It's easy to consolidate projects into Backlog, empowering project team members to see both the bigger picture and the smaller tasks that need to be completed to drive project progress.
We'll walk you through how to use Backlog so you won't feel like a beginner anymore.
How to use project management software for the first time
If you're new to using project management software, it can be difficult to know where to start. There are a lot of different tools out there, each with its own purpose. We suggest looking for a solution that offers a free plan so that you can try it out to determine whether it's a good fit for your business.
We will walk you through how to set up a new Backlog account. If you'd like, you can open your free account now and follow us step-by-step.
Setting up your Backlog account
Your first step is to set up your account and choose the best plan for your business. At Nulab, we offer a variety of plans for businesses, big and small, ranging from a free plan for small teams working on small projects to more sophisticated enterprise-grade plans built for large organizations.
Once you've completed this basic step, it's time to create your first project. This is a precursor to everything else: it's where you'll add new team members, assign project schedules, and share files.
Creating a new project in Backlog
It's simple to create a new project in Backlog. Simply select Add Project from your dashboard or click on the + icon on the navigation bar and select Add Project. Give your project a name and a project key (i.e., an internal code you can use to categorize the project.)
Adding team members to a project
From here, you can invite team members to your project. Just navigate to the Members tab, select a user or team, then click Add selection to project. You can add a message with more information, and your project team members will automatically receive an email invite to the project.

If you'd like to give other team members the ability to manage your project's settings (such as enabling charts or adding integrations), make sure to assign them to be a Project Administrator.
Once you've created a project and added the relevant team members, it's time to start building out the tasks your team needs to complete to make this project successful.
Using Backlog to manage tasks and workflows
In essence, a project is the combination of a series of unique tasks and workflows, all of which must be completed successfully to deliver on the project's goals. In most instances, the best way to manage your projects is by breaking them into a series of smaller tasks that can be assigned to different team members.
In Backlog, a task is referred to as an issue. For each issue you create, you can add checklists, due dates, priorities, statuses, categories, and more.
Add all the details your team needs to complete each issue and assign tasks to the individuals responsible for them. You can include a start date and a due date to make sure your team completes their work on time, and you can also assign priority levels to each task.
For more complex tasks with multiple stages, you can create Parent and Child issues. Here's an example of how this would work in practice. Let's say you're a VP of Marketing, tasked with launching a new product via an email campaign:
Parent Task: New Product Launch Email Campaign
Sub Tasks:
Meet with the product team to learn about key features of the new product
Write copy for email campaign
Edit email copy
Design the email
Program the email into the email-sending software
Send email
Report on results of email campaign
Each of these subtasks can be assigned to a different person. For example, you might assign the email copywriting task to your Content Writer, the design task to your Graphic Designer, and the reporting of the results to your Marketing Manager.
Backlog makes it easy to assign these tasks to each individual, ensuring everyone is aware of their responsibilities and incorporates them into their workflow.
Here's an example of what this looks like for your team members. The screenshot below shows an individual team member's tasks on their Backlog dashboard. They can see all of the tasks that are assigned to them, the status of those tasks, and any relevant due dates.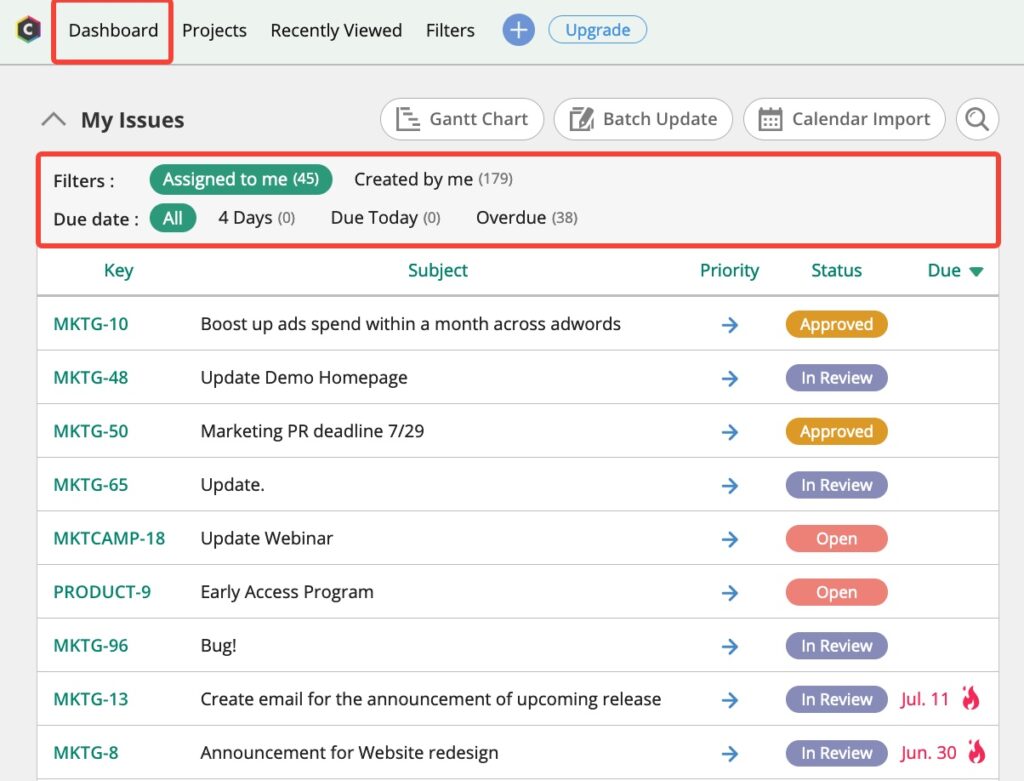 This simple approach to customizing every project and task makes it easy for project managers to delegate work to their team, making sure projects get completed on time, every time. It's easy to stay up to date with progress thanks to Backlog's integrations, which enable project managers to get updates in tools like Slack, Microsoft Teams, and more.
Using Backlog to collaborate and communicate with team members and stakeholders
As a project manager, you're not just focused on managing the work – you have to manage people too. A key part of that is breaking down barriers to collaboration and communication: a mission that's dramatically easier when you use project management software.
Backlog comes with a range of built-in collaboration tools that make collaboration and communication both seamless and efficient. Users can comment on individual tasks, tag other team members when they have a question, need some help, or want to move the project along to the next stage.
When a team member is tagged in a comment, they'll receive a notification alerting them to the comment, helping ensure that everyone gets their questions answered quickly.
Notifications can be sent via email and also appear in each user's Backlog dashboard. There's even color coding to make notifications easy to understand.
In the below example, Notification 1, in yellow, is a new notification, Notification 2, in gray, is a read notification, and Notification 3, in white, is an unread, unchecked notification.
Users can filter their notifications to focus on the tasks that matter most. These real-time updates make for more efficient workflows that help teams collaborate more effectively and work towards accomplishing their shared goals.
Using Backlog to monitor and evaluate projects
Assigning tasks and communicating with your team is all very well, but how can you tell whether your projects are actually moving forwards toward completion?
Results matter, and it's crucial that your project management software enables you to monitor the progress of your project plan and identify any areas where additional support is required.
Backlog comes with several intuitive monitoring and evaluation tools that offer project managers a series of simple, visual ways to quickly determine the progress of their projects. These include:
Let's take a closer look at how you can use each of these to streamline your project management process.
Kanban boards
A Kanban board is a visual representation of the progress of each task within a project. Depending on the nature of your project, you can set your own columns that represent the progress of different tasks.
In the example below, a development team uses a Kanban board to address technical issues within a webpage. When a task, or stage of a task, is completed, it's moved to the next column, providing a simple, visual representation of the project's progress.
Gantt charts
Gantt charts display a high-level view of a project life cycle, displaying what tasks must be completed and by when. They make it easy for project managers to quickly understand how their projects are progressing and identify areas where their team is falling behind.
It's easy to create a Gantt chart in Backlog. Every team member can view their own personal Gantt chart to stay on top of their workload, and project managers can view a Gantt chart that displays the progress of their project against the project plan.
Burndown charts
When a project has many moving parts, one of the greatest challenges project managers face is determining whether the project will be completed before the deadline.
A burndown chart offers a visual representation of this progress against the project schedule, showing the remaining amount of outstanding work that must be completed. If the Actual line is far above the Estimated line, it's likely your team is falling behind and needs additional support.
Get started with Backlog today for free
Whether you're taking your first steps in your project management career, or want to revolutionize the way you organize tasks, choosing the right tool will help you become a project management pro much faster. Backlog is designed for beginners, with a simple, intuitive interface that's easy to learn how to master, supported by advanced features that support you as you grow.
The platform contains every project management tool you could ever need, from the ability to create and assign tasks to highly-visual charts that display your team's progress toward its goals.

Try Backlog for free today to experience the difference a purpose-built project management tool can make to your workflow. Need some more pointers to help you get started? Our Help Center has a range of guides and videos that explores popular features and answers any questions you have.