The definitive guide to online whiteboard tools
How to choose the right online whiteboard software for your team
Whether you're a software developer discussing code architecture or a designer sketching a new user interface, the whiteboard has long been the go-to solution for capturing, organizing, and developing ideas.
However, as teams have shifted towards remote and hybrid work, virtual whiteboard tools have become essential for collaboration and creativity. When it comes to visual ideating, users opt for real-time over real-life.
Using features such as sticky notes, annotations, live cursors, and video chat, online whiteboard tools allow teams to brainstorm ideas and work as if they were in the same room.
Finding the right online whiteboard tool may seem daunting with so many options. In this guide, we'll walk you through the key considerations to keep in mind when selecting whiteboard software. From robust features and intuitive interfaces to seamless integrations and security measures, we'll equip you with the knowledge and insights to make an informed decision for your team.
Whether you're a remote team, a creative agency, or a project-driven organization, choosing the right whiteboard software can empower your team to collaborate effectively and turn ideas into reality. Let's get started!
What is an online whiteboard?
An online whiteboard is a versatile digital tool that emulates the functionality of a physical whiteboard in a virtual space. It provides users with a blank canvas where they can freely draw, write, annotate, and visualize ideas using a variety of digital tools such as text boxes, formatting options, shapes, images, lines, connectors, and sticky notes. The beauty of an online whiteboard lies in its ability to facilitate real-time collaboration and communication among individuals or teams, regardless of their geographical locations.
With an online whiteboard, multiple users can work on diagrams simultaneously to brainstorm ideas, sketch diagrams, plan projects, and present information. With additional features like live chat and video calls, screen sharing, and even live cursors for seeing who is editing what as it's happening, working with an online whiteboard tool takes whiteboarding to the next level. Plus, shared files for storing whiteboards means never losing a brilliant brainstorming session to an eager eraser again.
Benefits of an online whiteboard tool
Using an online whiteboard tool promotes visual thinking, encourages active participation, and fosters a sense of shared understanding among team members. It also eliminates the constraints of physical proximity and time zones, allowing teams to collaborate efficiently in real time.
Whether used for brainstorming sessions, project planning, teaching, or presenting, an online whiteboard provides a dynamic and flexible space for driving effective collaboration. Here are some key advantages.
Remote collaboration
One of the most significant advantages of online whiteboards is their ability to facilitate remote collaboration. With team members spread across different office locations or working remotely, online whiteboards provide a central platform where everyone can gather and contribute in real time.
Interactive discussions
Another key advantage is the ability for multiple users to work on the same whiteboard simultaneously, enabling team members to see live progress and give early feedback. This fosters a sense of shared ownership and encourages active participation.
Visualizing and organizing ideas
Teams can create mind maps, flowcharts, and other diagrams to illustrate concepts and plans. The visual nature of the whiteboard helps clarify complex ideas, enhance understanding, and ensure that everyone is on the same page. Additionally, the ability to move and rearrange elements on the whiteboard allows for flexible organization and structuring of information.
Enhanced creativity and innovation
Online whiteboards offer a creative space where teams can brainstorm new ideas and explore innovative solutions. Additionally, the collaborative nature of online whiteboards encourages the cross-pollination of ideas, providing unique opportunities for inspiration.
Documentation and accessibility
Unlike traditional physical whiteboards, online whiteboards allow for easy documentation and archiving of content. Teams can capture and save whiteboard sessions to readily access past discussions and ideas. This is particularly beneficial for capturing meeting minutes, tracking project progress, or updating out-of-office team members who can quickly get up to speed by reviewing previous whiteboard sessions.
Integration with other tools
Many online whiteboards integrate with other tools and platforms commonly used by teams. These integrations can make it easy to import and export files to your cloud storage, share diagrams with project members in your project management software, or automate notifications in your chat app about diagram activity.
How to collaborate using an online whiteboard tool
Online whiteboard tools have many features that can help you maximize collaboration, optimize productivity, and enhance communication. Here are some ways to effectively use an online whiteboard tool.
Try a template
Whether brainstorming or project planning, selecting a template that aligns with your objectives can save valuable time. Customize the chosen template to suit your unique needs, and you can jump right into generating ideas.
Add shapes, text, and images
Use shapes to create diagrams, flowcharts, or process maps. Insert text to provide clear explanations or instructions, and incorporate images like photos, icons, or graphics to make your content visually appealing and engaging.
Interact with a video call
Leveraging video calls within the tool allows your team to discuss ideas, brainstorm together, and provide instant feedback, all while simultaneously collaborating on the virtual whiteboard.
Add sticky notes
Sticky notes make it easy to jot down quick thoughts, label sections, or create to-do lists. Arrange and rearrange sticky notes to establish logical connections between concepts or group-related ideas.
Include context with annotations
Whether drawing attention to critical elements, providing further directions, or giving feedback, annotations help you highlight key points in context.
Invite feedback
Using the tool's sharing capabilities, you can invite colleagues, clients, or stakeholders to view and provide input on your whiteboard. Additionally, the ability to comment and discuss specific elements within the whiteboard minimizes misunderstandings.
Present to others
Presentation mode displays your content in a structured manner and enhances the storytelling aspect of your presentation. Deliver compelling and impactful presentations that leave a lasting impression on your audience. And you can share them afterwords for your audience to review.
Embed your work
With the embedding functionality, you can integrate your whiteboards into websites, blogs, or other digital platforms, expanding its accessibility and ensuring your ideas reach a wider audience. Share your whiteboard without requiring recipients to have access to the online whiteboard tool.
What is the best online whiteboard tool?
When choosing the best online whiteboard for your team, several options stand out with their impressive features and intuitive interfaces. Each one has unique features and pricing structures, so it's important to consider your team's specific needs and budget when deciding. Here are a few top contenders:
Miro
Miro is a popular choice for online whiteboarding, known for its extensive collaboration features and flexible canvas. It offers many templates and integrations, making it suitable for various uses.
Pros
Miro is great for Agile workflows and can be used to track the progress of sprints, Kanban boards, and user stories. It also easily integrates with tools like Jira, Asana, Zoom, and Azure. The platform has gained recognition for its solid collaboration and robust workshopping capabilities, including noteworthy features such as voting and timers.
Cons
It has a higher price point for larger teams or enterprise needs. Certain features, including custom templates, video chat, and advanced diagramming shapes, are only available on Miro's paid plan.
Pricing
Miro's Team plan starts at $10 per user per month, offering unlimited boards, external integrations, and advanced collaboration features. Additional plans are available for larger teams and enterprise needs.
MURAL
MURAL's online whiteboard tool offers an intuitive interface and a wide selection of templates.
Pros
MURAL is a versatile platform that caters to visual thinking, design thinking, and Agile methodologies. The platform's strengths are its responsive customer service, visually appealing whiteboard, user-friendly interface, workshopping features, and extensive library of pre-built templates.
Cons
Compared to certain alternatives, MURAL has a higher price point and limited customization options for templates. It also lacks video chat functionality, and users have reported a steeper learning curve, plus difficulties with navigation and zooming in and out.
Pricing
MURAL's Team+ plan starts at $9.99 per member per month, providing unlimited murals, integrations, and priority support.
Cacoo
Cacoo's online whiteboard tool presents a range of benefits for teams seeking collaborative solutions. With its real-time features, multiple users can brainstorm and share ideas effortlessly.
Pros
Cacoo's extensive feature set makes it a versatile platform for visualizing concepts and fostering team creativity. Users appreciate that the platform's user-friendly interface doesn't require a steep learning curve. Its video chat and screen-sharing options also make it a popular choice, as does its wide range of templates, shapes, and icons. Additionally, the platform has competitive pricing, and its free plan includes features like custom templates, video chat, and advanced diagramming shapes, making it a cost-effective choice.
Cons
Drawing freehand using the tool can be challenging for some. The platform also doesn't have import/export support for OmniGraffle and Sketch.
Pricing
Cacoo's Pro plan starts at $6 per user per month, providing access to advanced features, unlimited diagrams, and ample storage. Business plans and pricing are also available for larger teams and enterprise use.
Microsoft Whiteboard
Microsoft Whiteboard is an excellent choice for teams already integrated into the Microsoft ecosystem.
Pros
Easily accessible for those already using the Microsoft Suite. Real-time collaboration, sticky notes, and intelligent ink recognition. Available for free with a Microsoft account.
Cons
Users have expressed dissatisfaction with Microsoft Whiteboard's limited editing options, particularly the lack of formatting options, shape, and diagramming objects, and the restricted text capabilities with no options for changing the font. Collaboration features are also limited, as Microsoft Whiteboard only allows one person at a time to use each tool, hindering simultaneous collaboration. It is also only compatible only with Microsoft platforms, which may restrict its accessibility for some users.
Pricing
Access is available under the Microsoft 365 plan, which starts at $69.99 per year for one person or $99.99 per year for up to six people to share.
Limnu
Limnu provides a simple yet powerful online whiteboard experience. Its minimalist design focuses on delivering a smooth drawing experience and real-time collaboration.
Pros
Provides a simple, realistic online whiteboard experience and easy sharing and collaboration. Its minimalist design focuses on core functionality and ease of use. Many of Limnu's features are tailored toward teaching, strongly focusing on classroom-centric capabilities. Educators highly rate the platform for its realistic marker feature.
Cons
Users have reported issues with video calls on the platform. Limnu also lacks screen-sharing functionality and does not offer templates.
Pricing
Limnu's Team plan is $8 per month per user, offering unlimited boards and video calling. A 14-day free trial is available for testing the platform's capabilities.
Conceptboard
Conceptboard is a feature-rich whiteboard tool for creative collaboration. It offers extensive tools, including sticky notes, commenting, and task management.
Pros
Conceptboard is convenient because it integrates with popular productivity tools and visual and audio content. Users have reported it as easy to use, particularly for drafting ideas and concepts in a remote work environment.
Cons
Users have reported potential lag issues when dealing with a large amount of content on the whiteboard, and mastering advanced features may require extra time for learning. Uploading and embedding personal content can be challenging on the platform. Video and screen-share functionality is only accessible with a paid plan, and screen-sharing is not supported on Safari browsers.
Pricing
The premium plan starts at $6 per monthly user. A 30-day free trial is available for testing out the platform.
Key virtual whiteboard features
Online whiteboards come equipped with a variety of features that enhance collaboration, creativity, and productivity. Here are some key features to look for when choosing a whiteboard online.
Drawing tools
Whiteboards offer a range of drawing tools, including shapes, icons, text, lines, tables, and sticky notes. These tools allow users to draw, sketch, and annotate ideas freely. Look for whiteboard tools that provide a variety of brush sizes, colors, and shapes to accommodate different drawing styles and preferences.
Shape library
A shape library offers a collection of pre-built shapes and symbols, including popular icons and standardized symbols like UML and flowchart symbols. These shapes can be easily added to the whiteboard canvas, enabling users to create professional-looking diagrams and visuals without manually drawing each element.
Text and typography
Whiteboards should allow users to add text boxes and customize typography. This feature is crucial for labeling diagrams, adding explanatory text, or emphasizing key points. Look for whiteboard tools that offer a variety of fonts, sizes, colors, and formatting options to enhance readability and visual appeal.
Sticky notes
Sticky notes are virtual notes that can be added to the whiteboard canvas. They are excellent for capturing quick thoughts, organizing ideas, and creating to-do lists. Sticky notes can be easily moved, grouped, and rearranged, making them an effective tool for collaborative brainstorming sessions. Your tool should make them easy to add.
Real-time editing
One of the most critical features of the best online whiteboards is real-time collaboration. It enables multiple users to work on the same whiteboard simultaneously, making instant edits, additions, and comments. Look for whiteboard tools that provide real-time collaboration, ensuring everyone can contribute and see live updates without lag — bonus points for live cursors.
Media integration
Whiteboard tools with media integration capabilities allow users to enrich their boards with images, videos, and other multimedia elements. This feature is useful for presenting visual references, incorporating design assets, or demonstrating concepts through video clips. Ensure the whiteboard tool supports easy importing, resizing, and manipulating media files.
Templates and grids
Whiteboard templates and grids provide a structured framework for organizing information and designing visual content. They can be especially helpful for process diagrams, wireframes, or project planning. Look for whiteboard tools that offer a range of templates and grids suitable for various purposes or ones that allow you to create custom templates.
Collaboration tools
Beyond the whiteboard itself, collaboration tools enhance the overall teamwork experience. Look for features like chat functionality, video calls, user presence indicators, and live cursors that allow users to communicate and collaborate effectively while working on the whiteboard.
Integration with other tools
Whiteboard tools that integrate with other platforms, like project management software, video conferencing tools, or cloud storage solutions, can streamline workflows and improve productivity. Seek out whiteboard tools that offer integrations with commonly used tools in your workflow to ensure a seamless collaboration experience.
Examples of online whiteboarding sessions
Whiteboarding sessions offer a versatile platform for collaboration, idea generation, and problem-solving across various domains. Here are a few examples of how whiteboarding sessions can be utilized.
Brainstorming sessions
Whiteboarding sessions are ideal for brainstorming. Teams can gather in a virtual whiteboard and freely generate ideas, sketch concepts, and map potential solutions. The visual nature aids in capturing and organizing ideas, enabling teams to explore new possibilities and spark creative thinking.
Closing a sales deal
Online whiteboards can enhance your sales effectiveness, build trust with prospects, and ultimately seal a sales deal successfully. Craft a compelling pitch, address customer pain points, and visually demonstrate how your product or service can be the solution.
Whiteboard interviews
Online whiteboard tools offer an interactive approach to job interviews, allowing interviewees to showcase their thought processes and problem-solving skills live. Candidates can create flowcharts, wireframes, and other diagrams to help interviewers understand their ideas and evaluate their expertise.
Design challenges
A whiteboard design challenge is a common element in the product designer interview process, providing interviewers or colleagues with a visual glimpse into the skills and processes of a designer in action. Using an online whiteboard tool, interviewers can assess their creativity and problem-solving abilities in action.
Product team planning
Online whiteboard tools help product teams collaborate by providing virtual spaces for brainstorming and planning. Team members can easily share ideas, create mockups, and iterate on concepts together.
Project planning
Teams can use the whiteboard to create project timelines, visualize workflows, and outline tasks and milestones. With real-time collaboration, team members can contribute their expertise, identify dependencies, and collectively design an efficient project plan.
Design reviews
Designers often use whiteboarding sessions to present and review their design concepts, using them to sketch wireframes, user flows, or UI mock ups. Whiteboarding sessions help streamline the design review process and ensure a shared understanding of design goals.
Problem-solving and root cause analysis
When faced with complex problems or incidents, teams can utilize whiteboarding sessions to analyze root causes and brainstorm potential solutions.
Agile workflows and retrospectives
Agile teams can use multiple whiteboards to visualize user stories, sprint plans, or Kanban boards. During retrospectives, teams can reflect on their performance, discuss challenges, and identify areas for improvement, all within the whiteboarding session.
Teaching and presentations
Educators can use digital whiteboards to illustrate concepts, solve problems step-by-step, and engage students in interactive learning. Presenters can use whiteboards to deliver dynamic and visually appealing presentations, enhancing audience engagement.
Storyboarding and scripting
In media production or storytelling, whiteboarding sessions help teams create visual storyboards, plot narratives, and plan camera angles. They can use the space to refine ideas, align on creative direction, and streamline production.
How to choose an online whiteboard
Here are some factors to consider when choosing an online whiteboard.
Collaboration features
Look for real-time editing, multi-user collaboration, and interactive tools that foster virtual teamwork. Consider features like chat functionality, live cursors, and user presence indicators that enhance collaboration and communication within the whiteboarding session.
Ease of use
It should be easy for team members to navigate, create, and edit content on the whiteboard without a steep learning curve. Consider tools that offer a straightforward user experience, allowing teams to focus on their work rather than struggling with complex functionalities.
Permissions
Look for features in your whiteboard tool that allow you to assign user roles, such as admins, editors, and viewers, to control who can make changes or collaborate on the whiteboard. Check if the platform supports shared folders, which can help you organize and share content with specific team members or departments.
Sharing
Consider whether you can easily share your whiteboards with others through shareable links, enabling access without requiring them to create an account. Also, look for a presentation mode that lets you present your content during meetings or training sessions.
Integration capabilities
Look for integration options with project management software, communication tools, or cloud storage solutions. Integrations ensure a smooth workflow and allow easy import/export of files, syncing of data, and efficient collaboration.
Design features
Consider whether it offers a range of drawing tools, shape libraries, sticky notes, lines/connectors, or text customization options to suit your team's needs. Look for features that enhance visual representation, organization, and flexibility in expressing ideas and concepts.
Security and privacy
Ensure that the whiteboard tool offers data encryption, user access controls, and compliance with relevant data protection regulations. Trusting that your team's information will be handled securely and confidentially is crucial.
Pricing
Consider the affordability and value provided by the different pricing tiers. Assess whether the pricing aligns with your team's budget and requirements. Some whiteboard tools offer free plans or trial periods, allowing you to test the tool before committing to a subscription.
User reviews and recommendations
Learn from the experiences of other teams and their feedback on usability, features, and overall satisfaction. User reviews can provide valuable insights and help you make an informed decision.
Nulab is there for every stage of your online whiteboard workflow
Cacoo
Cacoo's free online whiteboard tool visualizes concepts and fosters team creativity. It offers robust collaborative capabilities, a user-friendly interface, and a wide range of templates, shapes, and icons.
See our online whiteboard tool
Backlog
Backlog by Nulab is a comprehensive project management tool that easily integrates with online whiteboard tools. It allows teams to visualize their project tasks, timelines, and progress on a collaborative digital whiteboard canvas.
See our project management software
NulabPass
Our integrated authentication platform provides secure and centralized user authentication, seamless access management across multiple Nulab applications, streamlined login processes, and simplified user administration.
See our security subscription
Why choose Nulab's online whiteboard tool
Cacoo goes beyond the standard functionalities, empowering your team to unleash their creativity and collaborate effectively. Here are some of the key features that make Cacoo stand out.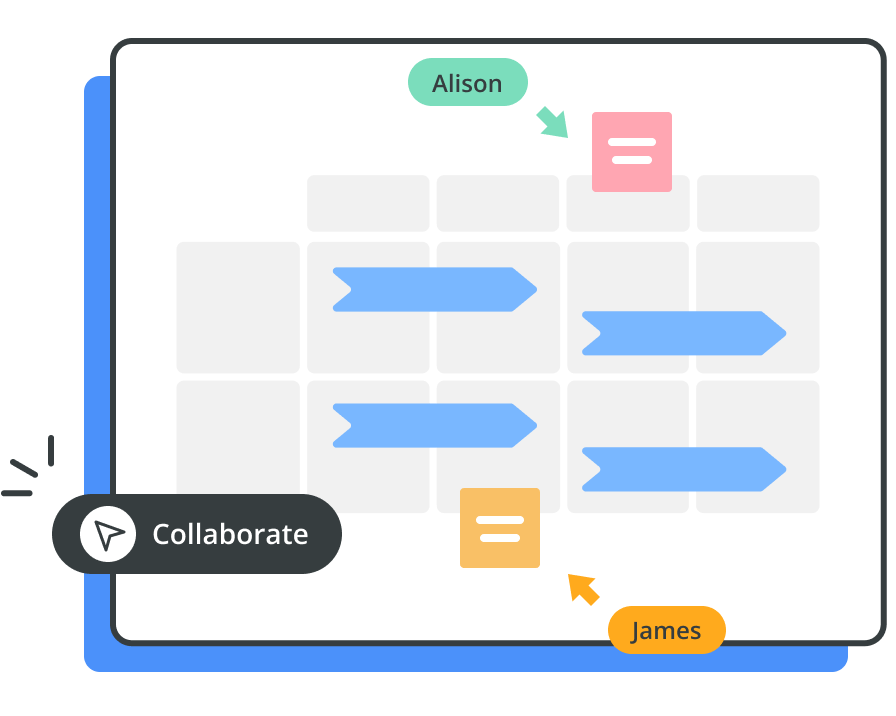 Real-time collaborative editing
Cacoo allows your team members to work on the same whiteboard simultaneously, regardless of geographical location, contributing your ideas and making instant updates to the whiteboard together.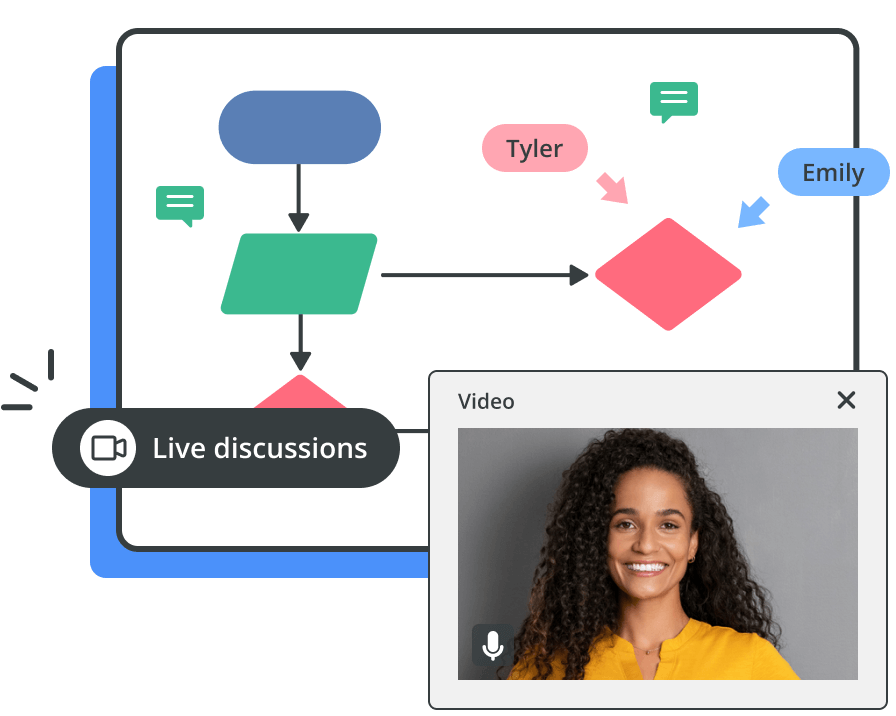 Robust feedback features
Engage with your team through comments, chat, video chat, and screen sharing to foster open communication and facilitate real-time collaboration. Use drawing tools to illustrate concepts, highlight important points, and visualize ideas or quickly add ideas using sticky notes.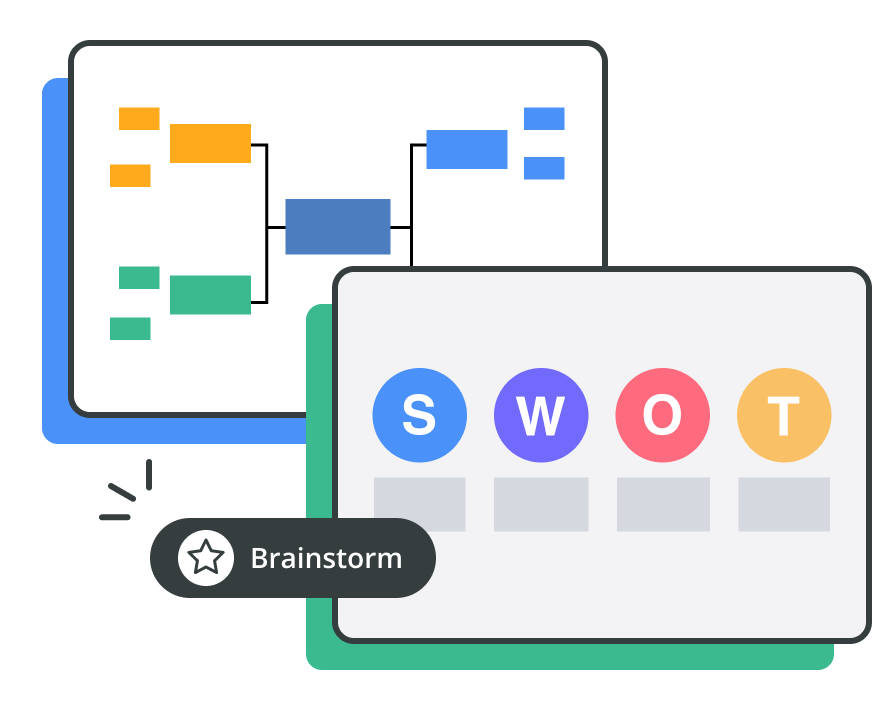 100s of templates
Teams can kickstart their whiteboard brainstorming sessions by selecting a template that aligns with their goals and objectives, providing a structured framework for generating ideas. Whether it's a mind map for organizing thoughts, a decision flowchart for finalizing solutions, or a SWOT analysis template for strategic planning, Cacoo's collection of templates caters to various brainstorming techniques.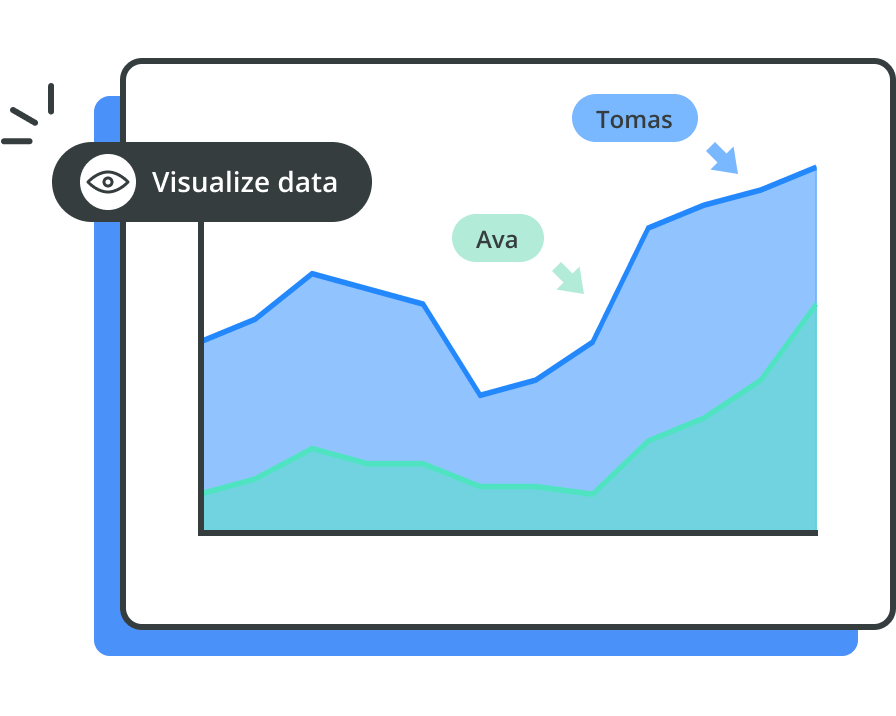 Diverse visualization tools
Cacoo allows you to incorporate images, tables, and dynamic charts into your whiteboard. Ensure that your ideas are conveyed comprehensively and concisely by capturing all the essential elements in one place.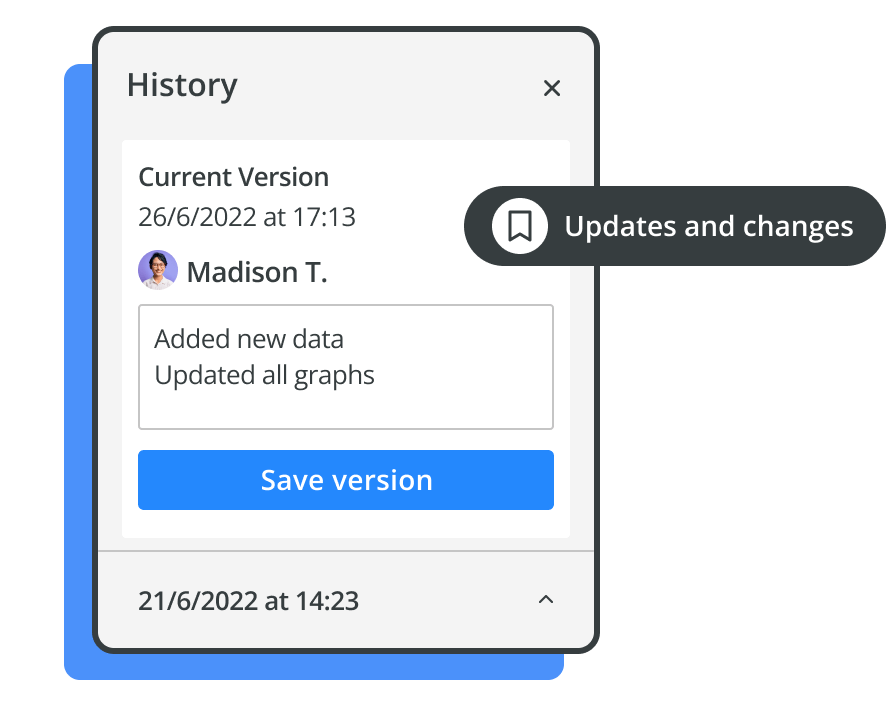 Easy version tracking
Save different versions of your whiteboards, allowing you to revisit previous iterations, track changes, and analyze the progress of your ideas over time. This feature is particularly valuable when collaborating on long-term projects or when you need to reference earlier concepts.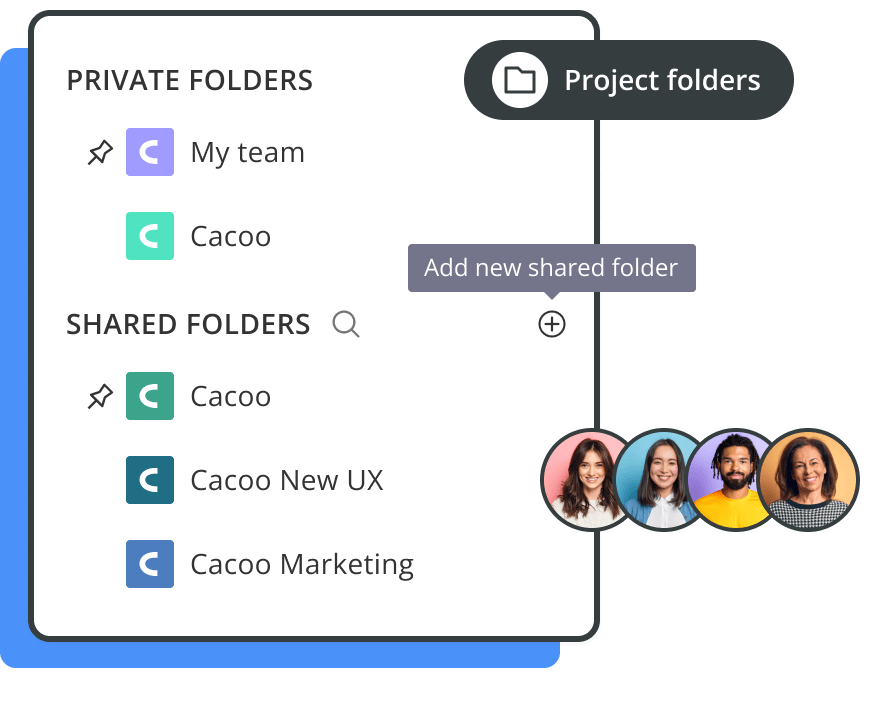 Organized folders and robust access control
Cacoo's unlimited shared folders let you create dedicated folders for different projects or teams, each with its own members and permissions. This organizational structure ensures that your whiteboards are easily accessible.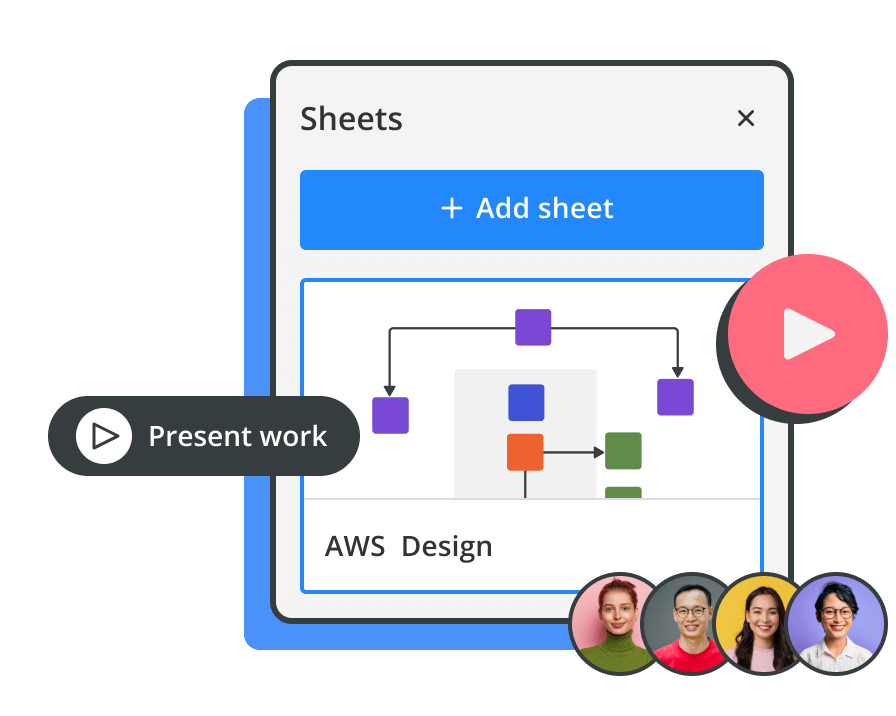 Various presentation and sharing options
Engage your audience and gather feedback by presenting your ideas directly from the whiteboard. Viewers can provide comments and feedback on specific sections, making capturing and incorporating their insights easy.